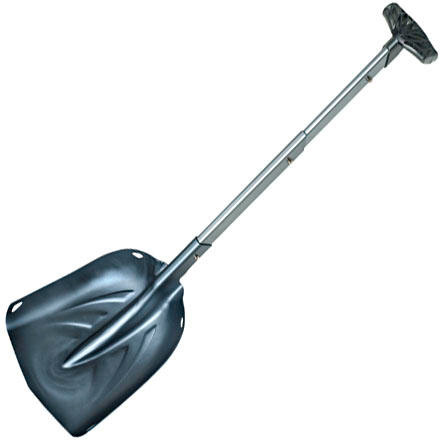 Black Diamond designed the Transfer 7 Shovel with a trapezoidal shaft to increase strength and ensure fast, easy use in any condition. By moving away from the traditional round shaft, Black Diamond created a handle that extends with a simple pull and cannot be rotated on accident. This makes the Transfer 7 faster to set up than standard shovels, and the large blade moves snow like a tractor when your partner's life depends on it.
Something to consider...
Familiarity:

I've put it through the wringer
My one beef with this shovel is the shape of the blade. Yes, it's great for cutting into and moving large volumes of snow, but for me - its short coming was in digging pits.



The back of the blade is far from flat, so it's extremely difficult to make a nice, clean, vertical wall to examine the snow pack and do accurate tests when digging a pit. I always had to let my partner do the finishing touches with his shovel, otherwise our pits just looked like a hack job.



Other than that, if I were to be trapped under the snow - I better hope that my buddies digging me out all have this shovel b/c its definitely capable of moving large volumes of snow pretty quickly.
Unanswered Question
whats the length of the collapsed shaft...
whats the length of the collapsed shaft with the blade off? also i cant decide which shovel to get, this one, backcountry.com s version of the g3 avitech, or the brooks range sharktooth longneck? any suggestions are apreciated. ill just be using it for short hikes and for taking a avalanche safety course.
Base Building
Familiarity:

I've used it once or twice and have initial impressions
Although meant for the remaining on a backpack in case of an avalanche, I've used this shovel to dig out areas in snow for setting up tents. Fits well on the back of my Osprey Variant 52. Great multi-purpose snow shovel.
Can one realistically use this shovel...
Can one realistically use this shovel without the middle section? The middle section could make a great splint...
It would not work well. The handle section is smaller than the middle section, so it would not fit properly into the shovel. If it did work at all, it would be a very loose fit that would make digging very difficult.

Carry a SAM Splint if you're worried.
Just wondering if this shovel will fit in...
Just wondering if this shovel will fit in the North Face Recon pack. Thank you.
Jeff, I think it will fit but will also take up most of the room in a pack that size.
Great little shovel. Fits well in a backpack for sidecountry days and isn't too large to hinder movements on/off lift or skin track.

One con is that it is fairly small and can't move as much snow as some of the BCA models, but it cuts in very well.

Much more sturdy than the plastic models and nearly as light.
this is the shovel you want, hands down. I use this with the covert pack and it fits great
Really not sure about this one
I dont want to hate because its a great product and has solid build quality but it doesnt really fold up too well...
the handle stays about a foot long and it makes it hard to pack. If I could I would go with a different shovel that folds smaller
what is the material of this shovel ? all...
what is the material of this shovel ? all aluminum ? Thanks.
sorry, just saw that blade and shaft are aluminum
This thing will keep digging until you cant dig any more
the triangle handle doesnt flex at all and stays rigid even under heavy wet snow

only thing keeping it from 5 stars is the fact that with a simple design change the handle could go further into the blade and be much more compact but instead the handle ends up being like 15in long at its shortest
Just got this shovel and love it. It seems like you could use if for anything from uncovering your ski-partner to burying gold in your back yard. The long, telescoping shaft is great especially when combined with the large blade. Easy to break down into a more compact size. It is incredibly sturdy and it's shape allows for very efficient snow transfer. Can't understand why it wasn't crafted more like the D3 or D7 to allow the handle to slide all the way into the blade making it much more compact. However it's not a big deal if you don't mind a simple disassemble.
From rescueing your buddy to building big kickers this shovel does it all
comes with authentic shovelling action
With a big blade and long shaft, this is great shovel for making short work of digging in any type of snow. The trapezoidal shaft feels really sturdy, and the grip is pretty comfortable too. Only downside is that it's not very compact when assembled. I agree with the previous reviewer that it seems they could've designed the shaft to slide further down into the blade. Built for big pits and even bigger cheese wedges.
Does this shovel fit into the black diamond...
Does this shovel fit into the black diamond agent avalung pack?
Fits perfectly when disassembled. Handle in the sleeve, top of shovel into the pack first.
My first shovel was with a short handle and after getting this one I'll never go back to my old one.
Just got back from a week long snow camping trip and a summit with this.
Overall great design. I can't say enough how happy I am that the handle isn't round; with frozen hands you don't want to mess with finding the buttons and this solved the problem quite simply. Moved a TON of snow quick. Bigger blade is definitely worth the weight, especially if you're digging pits often. The shovel was a bit cumbersome when trying to start off the snow cave but after the initial small areas were cut this thing was a block machine.

Only downside: the blade can get roughed up relatively quick if you're digging close to the ground or rocks, so don't dig near rocks or the ground, duh.
Can anyone compare this to the Transfer...
Can anyone compare this to the Transfer 3, is there really a significant difference? Thanks.
Best Answer
Well it is just a smaller blade, so when you need to move snow, like in an avalanche accident, you are going to move less snow with each shovel stroke...you decide if the weight and size of the 7 is worth it! I think so!
Sorry to answer an answer, but you shouldn't ask yourself the question if the size and weight are worth it, but those that go with you. If they have the transfer or deploy 3 and you have the 7, trade for the day with them.
There is a pretty significant difference in volume of snow moved. The Transfer 7 holds .7 gallons - the Transfer 3 holds .3 gallons. The blade lengths are nearly identical.

If you're digging out lighter snow - or have the strength to lift larger loads of heavy snow, the Transfer 7 is the way to go.

If you need something that will hold smaller amounts (if you aren't as strong, you can dig a lot longer if you're moving less snow), for carving out tighter spots in a cave or are really concerned about saving space in your pack, go for the Transfer 3.
This fits perfectly into my CamelBak Snoblast. Not looking for a true backcountry shovel - more for making some small jumps or small digging. This is perfect for the job. Good size and the extension makes it a little more bearable. Great quality shovel - and I like the handle design. It was this or the deploy 7 and I went with this for the longer handle and bigger shovel since I wasn't worried about space in my pack.
The blade just barely fit into my old 2002 Dakine Poacher but nonetheless it fit. Fortunately, I just picked up a new Poacher and the avi pocket is much bigger so it fits no problem. I'm a big fan of pretty much everything on this shovel. The blade design is extremley strong and able to clear a ton of snow very quickly. I bought this basically because of the handle design. The rectangular shaft and handle provide a ton of grip and it is dead simple to set up.
Great light weight shovel
I bought this shovel and although I haven't used it yet, it is very lightweight.