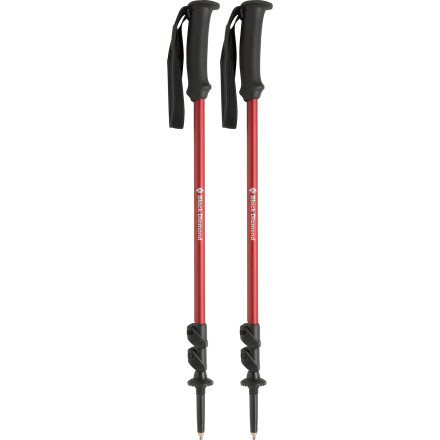 Community Images
When trekking starts to take its toll on your joints, the Black Diamond Trail Back Trekking Pole helps take pressure off. Its aluminum shaft keeps the pole light, the rubber grip is durable and comfortable, and its 360° padded webbing strap makes each pole specific to your left and right hands. The FlickLock clamps let you adjust the length with ease for easy transport and for steep uphills and downhills, and you can switch out the Tech Tips with rubber or carbide tips depending on the terrain you're trekking.
Aluminum shaft
Rubber grips
360° padded webbing strap
FlickLock adjustable clamps
Tech Tips
Durable, well made, great price
Familiarity:

I've used it several times
Used a few times, the latest on a 25 mile, 1 day "hike-a-thon" in AZ. Poles are light enough, locking held up nicely with a lot of use up and down extremely ROCKY trails. Poles and carbide tips are very durable, and the rubber grips/straps worked well. Seems to be able to handle a fair amount of weight, and a great help for tired knees on the descent. Recommended.
Great Poles!
Familiarity:

I've used it once or twice and have initial impressions
Recently purchased the Black Diamond Trail Back Trekking Poles for a hike planned to the high country of Colorado. These poles were a great asset to the top of Grays Peak (14270 ft). Sturdy, easy to adjust, and carbide tips stuck to granite like glue. FlintLock adjustments were very secure and never slipped. Definitely saved me on the descent a couple times in loose rock. Weight is a little more than other models but insignificant. Wish they were a little more compact when collapsed to be able to fit in backpack instead of on outside. I would definitely recommend these poles for anyone wanting a Great Quality product at a reasonable price!
Very Pleased with First Time Purchase
Familiarity:

I've used it several times
In preparation for a first time hike in the Grand Canyon, I decided to purchase trekking poles for my husband and myself. Not ever having used them, I did some research, read reviews, and chose the Black Diamond Trail Back poles and we are very happy with them. In South Florida, we only have one park with hills where we can train, but even there I could feel the difference the poles made. In Arizona, the trekking company provided us with the exact same poles to use for our hike to the bottom of the Grand Canyon. The S. Kaibob trail is steep and rocky, so using poles really saved the knees. After the GC hike, we used our poles to hike trails near Sedona and Tucson, where they were also helpful with rocks and crossing streams.

The flicklock mechanism are easy to use, the poles easy to adjust, and the price was right!
High Quality Trekking Poles
Familiarity:

I've put it through the wringer
These are my third pair of trekking poles (after breaking my first two). I'm a big guy and want trekking poles that are sturdy. These are definitely the right fit. They are durable (but a little heavier), and comfortable to hike in for days on end. Overall, I highly recommend. Just for reference, I'm 6'4" and 240lbs, these are long enough for me. They also work great for my wife, who is 5'4" and 110lbs. At a great price, these are a great buy.
Great Poles!
Familiarity:

I've used it once or twice and have initial impressions
These trekking poles are great for the price! $80 for a solid set of poles is hard to pass up. They are a bit on the heavier side, but not by much, and not by much that it really effects me. These survived a few days in PA on the Appalachian Trail. If you have ever hiked PA you know that it is straight rocks....rocks everywhere.

Even after limited use I would still be fine suggesting these for an entry set of trekking poles!
2nd set of trekking poles
My wife and I love these. I bought a pair about 1 1/2 years ago and after my wife tried them we purchased another pair. Solid, reliable, easy to adjust and really takes the stress out of steep descents. We do a lot of hiking in the Rockies. Just love these poles. Sturdy.
How far do these extend to?
Sturdy, a little long
Familiarity:

I've used it several times
My only complaint with these is they don't pack down to a small enough size to give me the option of storing them inside my pack. They could also be a little lighter, but durability is worth a little more weight.
They Don't Break
Familiarity:

I've put it through the wringer
Simple, affordable, functional. What more could you ask of a trekking pole? There are plenty of more expensive ones, but these ones continue to do their job well enough for me.
First trekking poles - good choice
Familiarity:

I've used it several times
This is my first pair of trekking poles. I bought them in anticipation of some big hikes this summer and I'm glad I did. I hiked Half Dome twice in 3 days and these definitely helped take some of the load off my knees. I also took these up Mt. Whitney and I'm very glad I did. Aside from just taking some load, they are very helpful in keeping your balance as you cross streams or icy patches on the trail. The standard metal tip on these is almost magical in how well it grabs the terrain, even slick granite.



I've been pretty impressed with the flicklock mechanism so far. They are very easy to use and they told tight very well against anything but full body weight on the poles. I have noticed that the straps slip a little, but it really hasn't been a big deal for me, so still 5 stars!



Also, these poles are fantastic for mounting a GoPro and getting a wide angle selfie!
Great Poles at a great price
Familiarity:

I've put it through the wringer
I bought these for doing multi-day hikes in pacific northwest where the single track trails can get pretty nasty in the spring time thaw. They have performed very well. THe flicklock system stays in place with no slippage and the hand grips are very comfortable. The baskets are easily screwed into place for when i like that option. Overall, I'm very happy with these trekking poles, especially at the $80 price tag.