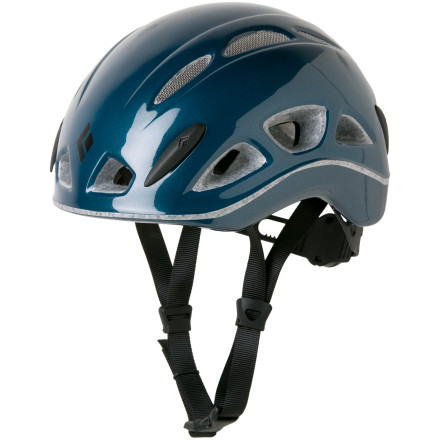 Detail Images

Community Images
A low-profile design and weight of only 8.3oz make the Black Diamond Tracer Helmet ideal protection for climbers who don't want to look like construction workers. For a precise fit, this ultralight co-molded EPS foam helmet comes in three sizes and has a one-hand adjustment knob for micro-changes when you need to add a stocking hat. Fourteen vents give the Tracer Helmet excellent air flow, and the top six are covered with a mesh screen to keep them from filling with debris.
Ideal for sport climbing and other times when you don't "need" a helmet
Adjustable rear lets this helmet be adjusted for wearing over a beanie
Designed to take a single impact—replace if this helmet takes a solid hit
Most of the Tracer helmets are produced in Black Diamond's facility in China.
Love it
Gender:

Female

Familiarity:

I've used it several times
Great helmet, very light. I keep forgetting I have it on. Looks nice too.
Sized a bit small, otherwise great
Just what I wanted in a helmet, meaning enough of a hemisphere-shaped accessory to convince my climbing buddies to let me on the rope.

My size Large weighs 10.6 oz, if anyone cares.

According to the sizing chart, the Large should fit 23in+. I have a 23inch dome, and am glad a got the large. It barely fits (at it's widest) over my skull and a light beanie. I cannot crank it all the way down over my bare head. So, I'm guessing if you are on the edge of a size, you should size up!
Finally a light helmet that FITS!!!!
These helmets are VERY light and come in multiple sizes! Small, Medium and Large.
We wanted a helmet like the Petzl Meteor III, but that one comes only in one size - HUGE! Even though the Meteor supposedly fits 53cm heads, it is quite a stretch to say that it does.
The shell is really large. If you have a large head, the Meteor III would probably be a great choice.
We also tried the BD Half Dome, which has more than one size, but it was the old hard plastic and was quite a bit heavier.

So we wanted one of these new types of shells (EPS Foam) instead of the old hard plastic shells, but one that would fit. The Tracer does fit very well. Yes, all the EPS foam helmets are less durable in the sense that you can't just throw them around and sit on them, but for the comfort and lack of neck pain while belaying -- its worth the trouble, at least for us.

Plus, the ventilation holes on the Tracer have a mesh that protects from debris coming into the helmet.

Yes, it could use some work on the strap system, but we found it fit behind our ears ok.
We are very happy with it. The one size fits all concept just isn't working for us, so we are glad we found the Tracer.
I used my helmet fro ice climbing for the first time and I got hit on the head quite a few times and the helmet protected me. The only reason it loses a satr as the strap is not long enough so it cut into my chin. I have a very small head circumfrence but a long shape so with my beanie on, it was slightly uncomforatble.
Saved me from some headaches
I used my helmet fro ice climbing for the first time and I got hit on the head quite a few times and the helmet protected me. The only reason it loses a satr as the strap is not long enough so it cut into my chin. I have a very small head circumfrence but a long shape so with my beanie on, it was slightly uncomforatble.
I am trying to find a perfect helmet for...
I am trying to find a perfect helmet for backcountry skiing in mountain terrain, including the occasional need to climb vertical ice, which would also protect me on fast descents through narrow forrested trails. So far my radar has picked up on this helmet and the Camp Pulse. Any opinions comparing these two, or any other recommendations out there?
This helmet would do great for climbing. However, its not really designed to protect from impacts that occur when your head hits something on the side - like a tree, rock, or ice when you're skiing down. I would look for a skiing helmet. The smith maze is pretty comfortable, only slightly heavier and probably one of the lightest skiing helmets out there.
Hmm...but how well would the Smith Maze protect my noggin against falling rockand ice from overhead during a vertical climb segment? I'd like to carry just one helmet if possible. I looked further into it and learned that the Camp Pulse is indeed safety rated for both climbing and skiing, but I could not find similar confirmation about this helmet.
Unanswered Question
Does this helmet protect against side...
Does this helmet protect against side impact?
"It's too heavy on my head", "I sweat too much when I wear it", "It feels awkward while wearing it." These used to be my excuses for not wearing a helmet while sport climbing. The BD Tracer no longer allows me to use these excuses and, thus, I find myself wearing my helmet nearly all the time now. This is good. It's lightweight, well ventilated and fits snugly on my head. It hasn't slid back or sideways while on my head so I don't end up looking like that cockeyed-helmet-n00b guy we've all seen at the crag. :-)
I always wear my helmet while alpine or multi-pitch climbing but tended to leave the helmet at home for sport climbing. When I realized this is a flawed line of thought, I went looking for a lightweight helmet I'd want to wear all the time. Friends have the Petzl Meteor III and I found that to look bulky. The BD Tracer felt slimmer while still offering enough cranial protection for my tastes. Many days of climbing with the helmet have solidified this helmet as my new favorite and I'm wearing a helmet nearly 100 percent of the time now.
Regarding the size, I've been wearing a Petzl Elios size 2 and purchased the BD Tracer in size medium. With the medium, I've got a little bit of adjustability on each end of the adjustment dial so I can put on a skull cap underneath the helmet on those chilly days.
Great helmet, very comfortable and very adjustable. The blue is a kinda weird blue, as its not blue nor green but somewhere in between. Has good holds for mounting a headlamp, and durable (Smashed the lamp a few times and didnt break a single hold. Very good helmet at a good price! Good buy!
Tracer protects my dome on Teton adventures
Middle Teton solo mission. Dropping in on the Glacier Route. Tracer rules for ski mountaineering.
Very light weight, very well ventilated, very cool even with 1,051 watts/m2 bearing down from the sun and off the snow in the bowl; nicely adjustable; very comfortable; better than any ventilated cap I have. Only downside: it would be nice to have a thicker absorbent band in the front to keep sweat from running down into my eyes.
I have used this helmet for years and I love it! It is light and doesn't look huge on my head. I mostly use it for canyoneering and I'm able to wear a hat under it just fine. I also love the wire mesh vents on the top so your head can breath but you are still protected from little rocks. I would buy this helmet again.
Absolutely a great helmet. I've used it a few times, and it breathes very well, doesn't get in the way, and best of all, its super comfortable. It's also a good looking helmet, and fits nicely over a beanie, and under a hood. Another awesome thing, it's super light! You forget it's on your head!
Fantastic, but with some size issues
Nice light helmet that's comfy enough to wear all day.

As others have noted, us big headed freaks may have some trouble...I have a large, and with a beanie on I can barely squeeze into it with it fully expanded. If my head were a millimeter bigger, I'd have some problems with this helmet.

If you're also sporting a big melon, I'd recommend scoping the size chart and consider a different helmet if it doesn't look promising...otherwise, this helmet is simply fantastic.
Sadly this one doesn't fit big heads. I'm a 7.5 and she is a no go. Nice helmet and light. Wish there were some more colors and a brighter paint job in the colors they do have.
Tracer makes its way up Monkeyfinger
TK topping out a pitch, high on Monkeyfinger in Zion National Park