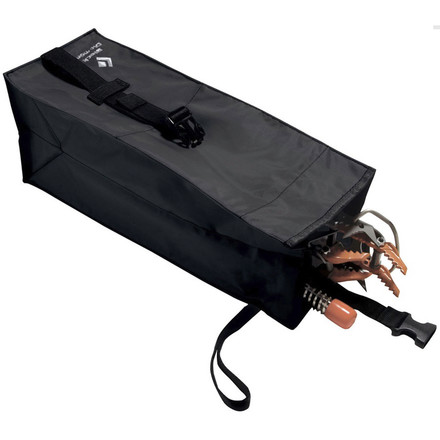 Designed to protect the contents of a pack from crampon points, the ToolBox also protects ice screw threads from abuse, prevents picks from being lost, keeps extra parts handy and can even hold all the fixings for lunch. Four drain holes let water out, while Velcro® and Fastex® closure keeps small parts securely in. Weight: 229 g
better than the mesh bags
i have had this bag for awhile now and it works great. easily fits your crampons and other gear. i have used the crampon bags with the mesh panels and they suck. i have not had a problem with points sticking through at all. good product, very functional.
How well do Grivel G12 crampons fit in...
How well do Grivel G12 crampons fit in this bag? (I read a couple reviews of the BD Crampon Bag by people who own G12s and said it wasn't the idea bag.) Also, this has velcro and Fastex closures... how secure is that compared to a zippered bag? Thanks.
I can't speak for this bag or the BD crampon bag (i have cyborgs), but i have a couple friends with G12s and they just got the 12 point rubber tip protectors and then can throw them in their pack. Hope you find something.
Bob,

The Tool Box will carry the Grivel G12s fine. I do not use this bag to store my screws because their is not a separator to keep the screw threads from banging around and becoming self-destructive, though it does fit a set of crampons and a few Spectres perfectly. The bag has a top Velcro closure and then can be folded down and buckled, very secure and durable. In comparison, the BD Crampon Bag also is great and definitely lighter, though the top mesh rips more easily as does the actual body material, while this bag is made to go the distance.
Just bought this bag and love it. I used to use the orange Black Diamond crampon bag and always found it hard to put crampons away in that small bag, especially when conditions are frigid and you don't have time to mess with such precise fit. The ToolBox is nice and spacious and I can EASILY put my spikes away and don't have to worry about them poking out through the holes (like the orange bag has) and ripping my other gear.
The Black Diamond Tool Box is not a viable option for carrying your cramps (or anything else with your cramps). I recently used this product to keep my crampons on the outside of my pack, afraid that the non-sturdy material this bag was made of would tear and rip up everything else inside. Instead, the crampons (while inside the "tool box") tore up everything else that it touched that was on the outside of my pack, including my new helmet, my friend's pack, and other miscellaneous items in my trunk.

The only thing they got right with this item is the daisy chain on back, which happens to work very well.

Also, the item sent to me was black, not the color shown.
I already use a traditional Black Diamond ice screw storage wrap. My crampon bag tore up so thought I could use this to store an additional 6 screws with my crampons. The photo and description Black Diamond uses leads you to believe there are sleeve protectors built in this product to protect the threads. There are not. Therefore the extra bulk of this product does nothing but add additional weight in my opinion. Better off keeping your crampons and screws separate and tidier in my opinion.
Holds crampons 6 ice screws and a extra pick plus it has a daisy chain for easy securing!!!! Bonus it is durable and affordable!
It'll hold a set of crampons and a couple of ice screws. Perfect for stuffing that stuff in the pack on a ski tour, or in your duffel bag for the plane trip. Mines now 9 years old and still going strong. Use the inside small pocket for a spare crampon screw and other fixits. Altogether excellent.
I couldn't find a decent crampon bag in any of the stores. Most of them had venting holes that the crampons points could catch or stick out a little. I finally found this one, for a lot less money than I would have paid for something inferior elsewhere. I've used it all this winter and it's perfect.