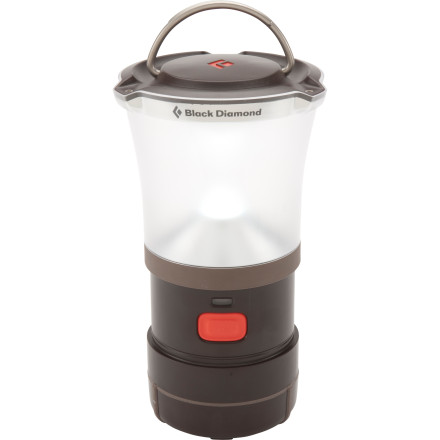 Detail Images
Description
Let there be light, and lots of it.
Light up your camp like the 4th of July with the Black Diamond Titan Lantern. This powerful base camp lantern is ideal for group activities like cooking, organizing gear, or shadow puppeting.
A frosted globe spreads the light out over a wide range and keeps the light soft (bright, but not eye-piercing)
Dimming switch to conserve batteries or control your light for smaller or larger groups
Double-hook hang loop for easy overhead attachments to tarps or trees
Power meter lets you know how much juice you have left in the four D-cell batteries
Collapse the lantern from its extended height (9.8in) to its compact size (7.9in) for easy storage with your base-camp kitchen
great fuel substitute
Familiarity:

I've used it several times
I debated between this and the standard coleman-unleaded-gas-style lantern for quite some time before settling on this one. I'm sure the gas lanterns I've used in the past were marginally brighter, but this thing is pretty impressive--the obvious benefits of ~0 heat output so you don't melt your tent down, and eliminating messy maintenance and packing fuel canisters are huge. I haven't had a chance to fully test the battery life, but it's getting close to the advertised figure now on the original set of Ds without showing much sign of dimming. Like others have said though, you definitely wouldn't want to take this thing backpacking though--it's heavy.
Beefy but Bright
Familiarity:

I've put it through the wringer
The Titan is a superb addition to my glamping set up. It provides ample lighting sans campfire whether you're playing cards, making a meal, or participating in a lively match of crutch-it. If you are looking for good lighting and find fuel lanterns to be a hassle, this is the light for you.



Caveat:



Due to size and weight of 4 D batteries, this is a glamping/car camping style lantern only. You're going to have a bad time if you try to haul this along on a backpacking expedition.
Lantern Paper Weight
Familiarity:

I've used it several times
Too heavy for backpacking but great for car camping. Kids love it even in the house. Yes, the D batteries do run out fast on the highest setting. When you dim it, it does make a high pitch noise. Love the different ways to hang this but you won't be able to hang this in a tent....its too heavy!
Beastly Bright
Familiarity:

I've put it through the wringer
This lantern is a beast, but it does a great job lighting up the camp ground. Sure it isn't as bright as a gas lantern, but try taking one of those into a tent full of family (not a good idea). I really like how this lamp stores (collapsable), and the fact that I can ward off a badger with a swing or two. Only complain I have about this lamp, is I wish it had legs like their Apollo model. This unit is definitely meant to be hung high, as sitting it on the ground, or pick-i-nik table projects most of the light in a smaller radius. Anyway, if you're camping with the family, and the car aint too far, this is an awesome lamp!
Not bad, as long as weight isn't an issu
Familiarity:

I've used it several times
Solid lantern, gives off good light and the four D-cell batteries seem to last. The biggest drawback is the weight/size- between the four D-cell batteries and it's bigger size, even when compressed, it might not be the choice for those ounce-pinchers out there. But for short back packs, car camping or just cooking outside in the back yard, it does the trick.
OK, but mostly strengthens my like for the Apollo
I've been using the Black Diamond Apollo Lantern for backpacking for a few years now. It is one of my favorite pieces of lighting gear. I mention that because I purchased the Titan expecting similar--but so much brighter--results for our camping trips. Given its size (especially when compared to the Apollo), I expected the Titan to cast a bigger and brighter light. It's just not that bright for its size. It's rated at 250 lumens; however, the way the light is cast makes it seem quite a bit less brighter, and when you hang the lantern there is a large dark spot underneath. Replacing 4 D batteries gets expensive, and those batteries don't seem to last as long as they should! Setting the lantern on its lowest setting does extend the life of the light. I bought the Titan in part to replace having to hassle with our Coleman white gas lantern, so maybe my expectations were too high. To be sure, this lantern has a beautiful design, but that might be its bright spot.
If you'er car camping why not?
I've gotten so used to packing as little as possible for backpacking trips that I always forget my lantern. This thing is great for base camp. Headlamps only give so much light. If you've got the space bring this lantern!
Well built, durable lamp!
Nice lamp. Can compress down a few inches shorter for storage or traveling. The hang loop splits apart to allow easy hanging with durable hooks. Another nice feature is the dimming switch. Allows you to preserve battery life. All in all it is a really nice, durable camp lantern. Easy to pack and easy to use. Best features are the dual, split hanging loops, the dimmer option, and the ability to compress the lantern for travel.