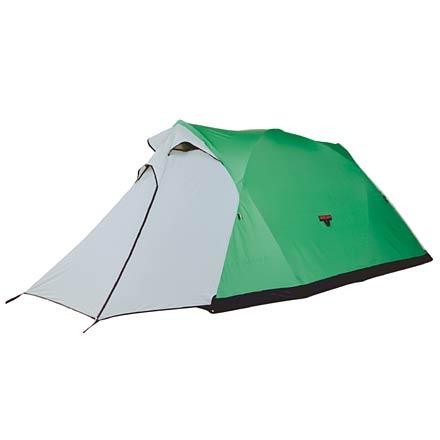 Community Images
Built to outlast howling winds and torrential downpours, the Black Diamond Tempest is an ideal single-wall shelter for any four-season wilderness traveler or mountaineer. With plenty of room for two, the Tempest's shape maximizes living space by uniting steep walls and a simple floor design. Four Easton poles bend naturally into the eaves of the tent and get locked into place via simple Twistlock Pole Ties, thus providing a strong, secure framework.
Freestanding single-wall design saves weight by eliminating the need for separated canopy and fly; ideal for four-season climbing and mountaineering applications
Waterproof breathable Todd-Tex fabric sheds wet weather and breathes exceptionally well to help reduce condensation
Taped seams prevent dripping water or morning dew from sneaking in through the fabric joints
Poles crisscross inside the single-wall canopy, eliminating the need to thread sleeves and providing superior strength against the elements
Built-in vestibules provide a covered entry and extra room for everyone's gear
Multiple stakeout loops provide secure anchoring in windy locations
Four internal mesh pockets help keep your kit organized at night
Optional footprint sold separately
Tent based off original design from Bibler
Unanswered Question
Can anyone tell me the HH of the wall and the groundsheet, also the coating used on the fabrics as i cannot seem to find any details about toddtex, thanks
ive used this tent for a few years now in the eastern sierras and Utah. Great in wind, I've pitched it in a 70 mph wind storm solo. The other group had slept with tent wrapped around them because it had been stepped on with their crampons a few times.
took this down to Chile and camped in the snow up in the Andes. pretty easy to set up and keeps a little bit of heat inside. we slept over night in 10 degree weather and had no complaints with the tent. a few days earlier we camped and woke up to rain and although the bottom/lower parts were dry, the ceiling was dripping water. we forgot to open the vents at night so it was probably due to condensation.

other than the condensation issue, the tent is perfect for 2 people. pretty light weight as far as 4 season tents go, and although we had fairly mild weather, i can tell that this thing would be a beast in windy/stormy conditions.
Does the tent come with the seam sealant...
Does the tent come with the seam sealant?
Is green the only color for this tent? I...
Is green the only color for this tent? I would prefer gold or red.
Best Answer
Green is your only option for the Tempest.
could any experienced climber see this on...
could any experienced climber see this on a bivy ledge? please tell me
In a pinch...sure. But I wouldn't really say its a "bivy" tent. The Firstlight you were looking at is much closer. This weighs twice as much and has extra stuff you really don't need in a bivy tent.
well what would you say is right in between?
Great tent and worth the price!
First, I don't know what all the fuss is about with relation to sealing the seams. This doesn't take for ever, and in doing so it is so worth it. Yes, as every tent gets filled with condensation due to the mouth-breathing, snoring majority- we all find a bit moisture on the Toddtex. My only issue is the double vestibule. If I'm in snow it's a blessing. If it's late fall w/no snow it's just an additive that I could live without. Personal opinion aside, it's a fact that this tent, as Bibler, is a house that no wolf can blow down. The quick setup is such an important aspect as well as the strength. Thank you BD for improving on the BiBLER. If I was smart and spent the extra $150 for the perfect tent, I would have gone with the Ahwahnee. Note to self: there are small compensations when being a cheap bastage. Kudos to BD. I'll only buy your tents (especially this spring when I update my 3 season).
The Tempest in its element
I was wondering how well this tent hold...
I was wondering how well this tent hold up in the summer months. It seems alot of 4 season tents get fairly uncomfortable in warmer weather.
While the Tempest may be better than some, you will just want to get a 3 season tent to avoid a swamp box. Prospero would.
I used this twice this past summer to see how it would deal in warm weather, and when the sun comes out, you will to! It will get very warm, but as it's in the shade it stays comfortable with the vests open. I slept well in 50 F nights, but didn't do much sleeping in as the sun crept through the branches. I love it for fall/winter/spring. I'll stick with my 3 season next year. - oh, didn't take me too long in sealing the seams, and this thing is a waterproof tank.
I used the tent this september while climbing the Zinalrothhorn in Switzerland. "Unfortunately", the sun was shining the whole week. But the nights were cold and with the morning fog there is slightly condensation.But I can`t wait to use it in more uncomfordable conditions. Once you are us to it it´s easy to pitch and the materials are really tough. And it`s light as well. But to pitch it in really nasty conditions I think the poles should be on the outside.
Is this tent a Black Diamond-branded tent,...
Is this tent a Black Diamond-branded tent, or does it say Bibler on the side?
It is Black Diamond for sure.
I looked it up it is bibler its just not in the name
It is a Bibler, but produced by Black Diamond. Same design, same standards but with a different name.
it says bibler on it! but it is owned by bd
Why is the weight listed as 6lb 12oz --...
Why is the weight listed as 6lb 12oz -- the mfg site lists this as 6lb 4oz?
probably just a typo. Go off the MFG site.
6.12 is with everything, 6.4 is the minimum weight
Black Diamond Tempest Tent
Don Bowie at 20,150ft outside of his Black Diamond Tempest tent on the second successful ascent of Peak 6250 in the the Hispar Himalaya, July, 2008.
This tent is my choice for alpine pushes and high altitude climbs for 2 or even 3 people. (3 is a squeeze, but for light and fast ascents it works) The material BD utilizes is strong and outperforms other single wall tents for breathability. The material also seems to dry quickly when wet.

Like all single wall tents, expect some condensation and ice buildup inside, but this can be reduced by a smart venting system. The Tempest can be set up completely from the inside, and in super strong winds I've been forced to throw my pack and myself inside and set up the whole thing with only the lee-side door open- a feature that could save your life one day- or at least a few fingers.

I wish BD would sew on a few more guy points to increase strength and tie-down places. It would be also cool to see a tie-in point for securing occupants when pitched in precarious placements or narrow ledges. The tent has a small footprint so it can be pitched on smaller platforms. I am 6'2 and the 2 vestibules help keep accumulating snow off the head and feet- a real benefit for taller people. I also own a Fitzroy, and in comparison the Tempest's 2 vestibules are a REAL benefit and worth the extra weight and money. If you're considering one of the two, choose the Tempest.

FYI, never fold and roll this tent (or any tent)- always stuff it, and store it in a large cotton bag or large pillow case, not the stuff sack it comes with. Also, the stuff sack BD supplies sucks (or it did- maybe they changed it) Buy a silicon compression sack and carry the poles separately.
Besides price what is the difefrence between...
Besides price what is the difefrence between the FitzRoy and the Tempest? Why would one pick the FitzRoy over the Tempest?
, ☃bcs_badge_alumni_label☃
The Fitzroy is bigger inside (square footage for the Tempest includes the vestibule), and has a PU laminate which is presumably more durable than the Tempest's PU coating.
what does it weigh in kilos
what does it weigh in kilos
, ☃bcs_badge_alumni_label☃
3.06 Kilograms. Just type 6lb 12 oz to kilos in google search and it'll do the math for you.
All Bibler Tents have to be seam sealed. Even the Bomb Shelter. The only extra thing you have to do with the Tempest is also seam seal the insides. Big deal. Small price to pay for the ideal tent. Watch it outperform every other tent on the market. There is absolutely nothing wrong with this tent and the vestibules, both of them, are great. I actually wish it was a tiny bit smaller for some weight savings but I don't hear anybody bitching about that. 5 Stars from a real mountaineer. If you have the cash and are debating between this and another tent you are wasting your time.
super solid, maybe not perfect
i've had the tent for about 3 years now, used it from winter in the sierras to summer in colorado, and peru and alaska in the summer. the seam sealing is tricky, and i had to hit a couple spots that leaked a bit after the first go, but overall not that bad. there is condensation, but it's really not all that bad most of the time when the humidity is down outside. when it's humid out (raining, etc), then like anything, it doesn't breath as well, and the walls can be fairly wet/frosty in the morning, but this would happen with anything that doesn't straight up dehumidify the air. on the other hand, it kept everything almost totally dry for a couple weeks of rain in alaska with some care to help keep the water out, and snow camping with some wind with the vents cracked usually means the inside is bone dry in the morning. one night in a friend's 4 season double wall with 2 feet of blowing snow convinced me single wall is the way to go, as with a fly (even without mesh on the inside) the snow just blew underneath it and melted through. also nice at breakfast after a windy night to hear the people in the tent a few feet away talk about how they spent the entire night holding the tent together, and say, hey, what wind? if the vestibules are staked out tight, i've hardly even noticed 50+ mph wind. the only durability issue i've had was the interior spreader pole pockets coming unglued last summer, but sent it in the Black Diamond and they sewed them back on and it's good to go again. personally, i don't think the complaints about condensation are really merited, since the only times it gets bad is when it's going to be bad regardless of what you have, since if you hit the dew point, you're going to have dew/frost whether you're in a tent or outside, and i figure it's a benefit when i can determine that the water inside is all condensation, instead of just leak-through like previous tents i've had. as my friend said this past weekend backcountry skiing the eastside, he got to stay in the "best tent ever"