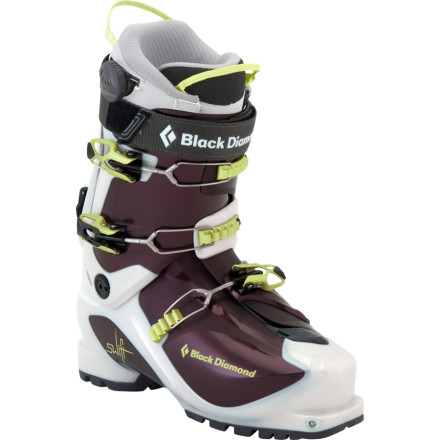 Description
The boot of choice for female schralpinists.
With every detail designed specifically for the female backcountry skier, the Black Diamond Women's Swift Alpine Touring Boot takes on everything from a pre-work dawn patrol to steep, technical descents in the big mountains. The Swift's revolutionary cuff design and lightweight overlap construction strike the perfect balance between uphill range of motion and downhill progressive flex.
Pivoting Cuff Technology transmits power in ski mode and offers unparalleled 40-degree range of motion in walk mode for a natural touring stride
Lightweight thermoformable liner features Boa closure for quick and easy adjustments
Rockered rubber outsole provides optimal traction in cold, snowy conditions
Y-strap over forefoot provides four-buckle performance for three-buckle weight
Alpine overlap construction makes for a progressive, controlled flex on the down
Share your thoughts
What do you think of the
Black Diamond
Swift Alpine Touring Boot - Women's
? Share a...
Swift and Light
Gender:

Female

Familiarity:

I've used it several times
These were my first backcountry boot, so I don't have a lot of comparable experience. BUT:
I am very happy with these. I'm a lot more concerned about hiking comfort in the backcountry than I am with downhill "high"performance. They do the job, but I'm usually skiing in powder in the backcountry here in Utah so I don't need them to be too stiff. I totally agree with the reviews below that the Shiva would be a much better boot if you want to wear these at a resort as well.They have enough features to enhance the fit to really tighten them up, but are comfortable enough to have as your "shoe" for a weekend yurt trip.
I've had to kick in to a steep icy hill in these things and even done some minor rock climbing with skis on my back. They're so comfortable that those kinds of activities are manageable and I was impressed with the traction the rubber outsole gave me for those sketchy conditions.
Love the boa tightening feature, DON'T love the buckles. It's not enough to give these less than four stars, but I've sworn at those little hooks more times than I'd like to admit when I'm trying to undo them with cold hands and I'm trying to adjust them.
I'm a size 8.5 shoe and wear a 24.5 Swift.

I am looking to get the Swift boots in a...
I am looking to get the Swift boots in a size 26 or 26.5

I found that the sole lengths for the above sizes on the BD website show a size 300mm.

I would like to use the Fritschi Diamir Freeride for my bindings
and saw that the:

short fit 245mm-300mm.

Medium fits 280mm - 335mm

Diamir's website recommends going with the smallest binding possible.

That said, can I use this boot in a size 26/26.5 and go with the short size?
Best Answer
Farren, you can go with either, but if I were you I would snag the medium Fritschi Freeride binding because you may use that binder with other boots or for a longer time than you use these boots. The Medium should give you flexibility to change boots, loan your skis out to a bit wider range of people, etc. It is always nicer to be in the middle of the size range than at the very end in terms of flexibility. My two cents.

The Marker F10 and F12 bindings are also good options and you'd be squarely in a small with those binders. Or do it right and pair that boot with some Dynafits for the ultimate touring setup.
Unanswered Question
Just curious about the Swift's performance...
Just curious about the Swift's performance in the downhill... anyone know if the flex is too much? Can it perform?
I've been through my fair share of boots, and trying to find a touring boot that isn't some low cuff boot that weights 10lbs on each foot is a struggle for girls. In the past I have never been able to keep up because I am so short and my gear weighted a ton. I have to say this is a high volume boot which means its great for girls with wide feet and has met and exceeded my expectations. I have a narrow heel so I usually have to have work done to my boots... and this boot is no different from the others. Overall the boa helps but doesn't tighten that great around the ankle where its needed the most for me but is more of an added bonus to fit compared to my alpine boots. The boot is light so I can't truly bitch about the liner because all in all, I got this boot because of the flex and lightness. If you're contemplating another dynafit AT boot then look no further.

also the buckles take a min to get used too but thats fine because there are only 3.
Looking for some ski equipment advice:...
Looking for some ski equipment advice: I've skiied one season in rentals, looking to buy this year, but am aiming to eventually ski some easy backcountry in my area. I also want to be able to ski inbounds, on groomed trails.

My idea is to buy these boots and use them for both AT and occasional trips to the resort. Any thoughts on that? The boots fit great, but just wanted to ask some opinions out there. Thanks in advance!

By the way: I am very familiar with the binding systems needed for inbounds vs. AT. Just wondering if the boots themselves are less suited for one type of skiing.
Best Answer
I can't speak specifically about these boots, though I dearly wish I could as I am eyeing them keenly as a new backcountry boot. I have the Black Diamond Shiva boot which I use as a backcountry and inbound boot, though I spend most of my time in the backcountry. If you are going to be spending most of your time inbounds you might look at the Shiva and see if it is a better match for the Alpine skis you are considering. It is a heavier boot than the Swifts but you may find them to be more like a regular ski boot in terms of stiffness. Also you can buy alpine ski sole blocks for the Shiva should you ever get a pair of downhill skis with non AT bindings. I frequently ski my AT boots and bindings in the area on powder days, and I find the Shiva to be a solid enough boot to drive the ski once the powder gets chopped up. On groomer days I switch the sole blocks, which is a bit of a pain, and take out a pair of heavier, shaped skis with 'regular' bindings. A friend with years of backcountry experience has the men's version of the Shiva and told me it skis and feels like a regular Alpine boot. Hope this helps.
Thanks, Got the Shivas and LOVE them. FYI for anyone deciding between the two (Shivas or Swifts) the fits are TOTALLY different. I tried on both and the Shivas are much more like a downhill boot, Swifts seem lighter to lean my shins against, definitely more for touring. AND...the fit on my foot was a lot different. The Shivas are tight, fitted in the ball of the foot up through the arch, whereas the Swifts were definitely a lot roomier through the mid-foot. Both seemed like great boots, just try them on. BD always mades great stuff, just figure out which product suits you best!
I agree with that description. I have the Swifts and only wear them in the backcountry, and I love them for that. I DON'T think they're stiff enough for the resort. If you are only going to go with one boot for both, I wouldn't recommend the Swifts.