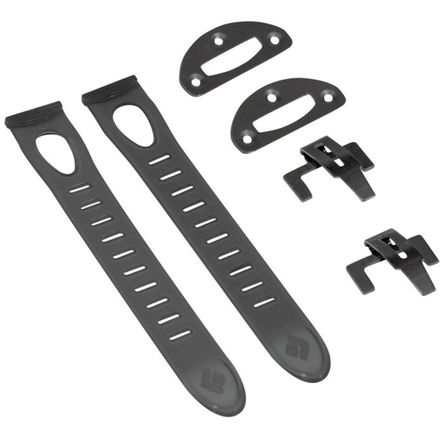 Community Images
Description
A quick tail fix for STS climbing skins.
Instead of going to a dermatologist for your skin issues, pick up the Black Diamond STS Kit. This tail attachment repair kit gives you the parts to repair any STS skins.
works well
Familiarity:

I've used it several times
not much to say. easy to use, worked well for me. I changed over the wierd climingskinsdirect hardware to the black diamond hardware.
pretty simple make-your-own tailclips
Gender:

Female

Familiarity:

I've used it several times
with a few tools (good knife or really sharp scissors, a hammer, and a better working space than my apartment), in combination with tailclips, this kit provided an easy way to make splitboard tailclips for my voile skins. even if you don't execute their instructions perfectly (first try was definitely a bit crooked), they work fine and have survived many days of heavy backcountry use.
Colud you please tell me what?s the size...
Colud you please tell me what´s the size of the kit S,M or L (need to know the lenght of the rubber strap)? Thanks for answer.
There is just 1 size of the kit. The strap is just a replacement strap for STS skins. It measures right around 10cm.
will these work on any skin? Or just BD?...
will these work on any skin? Or just BD? How about BCA Magic Carpets?
You could rig these to work on other skins. Be careful that the pins are long enough to secure both sides of the brackets.
I think my old skins are STD. What is the...
I think my old skins are STD. What is the difference between STD and STS skins and will these clips work on STD too?
Best Answer
They are essentially the same skins, but the STD skins do not come with a tail attachment. If you already have a tail attachment, then you have the STS skins. If you don't, then these will work with the STD skins.
Noted the reviews recommending very sharp knife. No, just take an old dull knife and heat it with your propane torch, or on a kitchen range. Same old trick for making the rivet holes: hold a nail in a Vice Grip or any locking pliers, and heat it.

Reason I have started to replace Clipfix with STS is that STS allows for skin stretch, where as Clipfix requires perfect skin length adjustment (and re-adjustments). Clipfix does clip on more easily; skied with these today.
Strange, these kits used to come with the tip attachments. I guess not anymore. I bought mine a few years ago, just didn't get around to installing it until this season.

In any case, I bought this kit to replace the ClipFix system on my Ascension skins. The ClipFix system worked ok, it came off when I was skinning in really wet snow and my skins stretched out, but for the most part it was set and forget and I wasn't unhappy with it. When I first moved to SoCal four years ago the skin stretching was an issue for the first time and I bought this kit intending to fix it, but it wasn't enough of a problem to make me think about it when I wasn't skinning so I didn't get around to it.

The reason I finally installed it is that I bought a tele setup and my new skis are 4cm longer than my AT skis. The width is pretty similar throughout so I didn't want to buy new skins, so I installed this so I could swap skins between skis, and it works just great for that.

Installation isn't trivial, but it's not a huge pain. Cutting the notch in the back of the skins for these wasn't too difficult, make sure you have a sharp blade (I still find my ClimbingSkinsDirect cutter works great). Also, making the holes for the rivets was tricky. I found making a hole with a nail, then screwing a drywall screw through the hole and pulling it straight out with plyers worked quite well.
, ☃bcs_badge_alumni_label☃
Tip loops NOT INCLUDED
Sorry for any confusion, but the tip loops are not actually included. Here's a shot of everything that comes with.

Replacement tip loops are available at: http://www.backcountry.com/black-diamond-adjustable-tip-loops
how long are the straps in the Black Diamond...
how long are the straps in the Black Diamond STS kit?
, ☃bcs_badge_alumni_label☃
Best Answer
Total length is 18cm, offering 9cm's of adjustable (distance between the first and last clip notch).