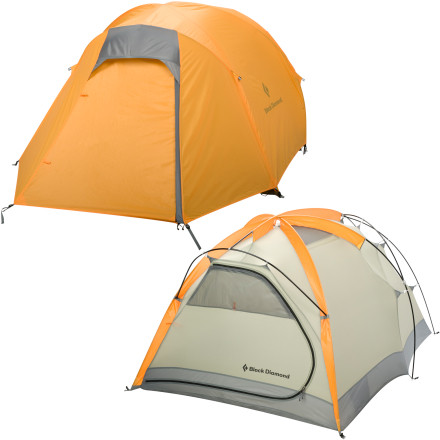 Community Images
In between light-and-fast summit pushes, hunker down at base camp inside the Black Diamond Stormtrack 2-Person 4-Season Tent. The Stormtrack features hubbed pole sets and a combination of pole sleeves and clips that cut setup time when bad weather hits. Dual doors and vestibules give you easy entry and plenty of space for your climbing gear, and 15 stakeout points let you anchor the Stormtrack down in severe winds.
Freestanding, double-wall design and four-season construction ideal for trekking, climbing, and mountaineering applications
PU coatings on the floor and fly and seam-taping along fabric joints prevent wet weather from soaking through
Adjustable front, rear, and top vents help you cut down on condensation and keep fresh air flowing
Large doors and vestibules make entry, exit, and gear storage a breeze
Fast-pitch hub, variable-diameter DAC Featherlite poles make setup easy
Fast-pitch option lets you carry just the poles, fly, and footprint for a lighter-weight rig (footprint sold separately)
Mt. Logan Failure
Familiarity:

I've used it several times
We purchased the Squall and Stormtrack specifically for an attempt on Mt. Logan's East Ridge (Yukon, Canada - arctic, high winds and snow, high altitude). We wanted a lightweight double wall mountain tent and these seemed to fit the bill.

We only ended up using them for basecamp and advanced basecamp for a total of less than 2 weeks. We were very nervous to use them on the ridge proper (luckily the weather decided we wouldn't have to).

We were very disappointed with the durability. We had to patch multiple holes in each fly, some at friction areas over the tent poles, some from (careful) sweeping/shovelling around the tent, some spontaneous. In addition one of the tent poles tore through the end of the pole sleeve during normal setup. This was all basically snow camping at low elevation and low wind.

We also noted a few serious design problems. The front zipper in the top corner is very tight and high risk of tearing either the zipper or the tent (as mentioned in other reviews). Also, the fly tie downs do not pull the fly tight enough and at the bottom it ends up resting on the inner tent between the poles (especially if snowing), which then does not allow the inner tent to ventilate properly.

We also had a BD Tempest (single wall Toddtex) and it was bomber. Another team had a Mountain Hardward Trango, which was a bit heavier but stood up well and they had zero issues. On similar expeditions I have used TNF VE-25 and single wall Biblers with no problems. I have had lots of BD equipment and always been impressed. Sadly, I would never recommend these tents for any winter camping, high winds, or anywhere where durability is a must. Not a 4 season mountain tent as advertised.

We returned both tents - the good news is Backcountry.com took them back without any problem and gave us a full refund. I will definitely buy from these guys again!
I bought this tent for hiking in demanding Scandinavian mountain conditions. I have used it for weekend trips with up to two adults. Although the tent has some flaws, I have come to love it. The tent is relatively light weight for a four season tent. The inner-tent is very roomy, with good head room. Plenty of space for two grown men. There are two entrances (good if the wind direction changes), with two relatively small vestibules. There is room for a couple of backpacks, put the vestibules are too small for cooking. It's quite easy to pitch the tent when you get the hang of it. (Check out the youtube instruction video.) If you wear mittens, the Velcro on the fly is a real challenge, though. The Stormtrack comes with good DAC-poles, with many crossings, so the tent feels quite safe in both snow and wind. The tent has two high vents in the fly. One of them can be locked, but not the other one. The second went is covered with mesh, and the mesh might freeze from condensation and clog in the winter. There is normally not much condensation in the inner tent, but the fly gets really wet on the inside. You have to pitch the inner tent before you put on the fly, so the inner tent gets soaked if you pitch it in heavy rain. The fly does not have storm flaps, and it does not go all the way down to the ground, so in the winter you will have to "seal" it with a snow wall to avoid the snow from building up inside the fly. The tent comes with six guy loops, which is probably enough as long as you don't go to the North Pole. I would by some new, lighter and adjustable guy lines before using the tent though. You should also check all the stitches and knots before you go hiking. Essential parts, like the fly clips, are for some reason attached with "granny knots", and they will come off sooner or later.

Conclusion: This tent is definitely not for polar expeditions or for prolonged use in heavy rain, but it is nice, roomy and lightweight and feels safe in the conditions you are most likely to meet in the Scandinavian mountains from March to October.
How come the Fitzroy is rated for a 3...
How come the Fitzroy is rated for a 3 person tent and the Stormtrack is rated for 2 person and both are 35 square foot floor space
I have a Fitzroy and I have to tell you that it is barely large enough to be a two-person tent. If the Stormtrack is a two person tent at 35 square feet, that is tight, especially if you are winter climbing and you have fifty percent more equipment with you than you would carry in the summer. My black Lab is not fond of either tent, especially if there are two people in it.
What is the floor dimensions on the...
What is the floor dimensions on the stormtrack with out the vestubule
89 x 61 in without the vestibule. Check out http://www.blackdiamondequipment.com/en-us/shop/mountain/shelters/stormtrack-tent and the fourth picture has a schematic with the full dimensions and layout.
What is the floor dimensions on the...
What is the floor dimensions on the stormtrack with out the vestubule
Is the warrenty only one year? Other BD...
Is the warrenty only one year? Other BD tents are lifetime, such as Black Diamond I-Tent Standard 2-Person 4-Season. Does it include the footprint?
Best Answer
All Black Diamond tents and bivys carry a one year limited warranty. Any tents or bivys with specifications to the contrary are in error. Check the literature on BD's website. The footprint is sold separately.
This has been my home for a few weeks. It has been single didget temps and with two of us in the tent it has been ok. The perfect size for warmth and still has room for gear.
get the whole story at www.jeremyjones.net
Assuming that this is seam sealed...
Assuming that this is seam sealed...