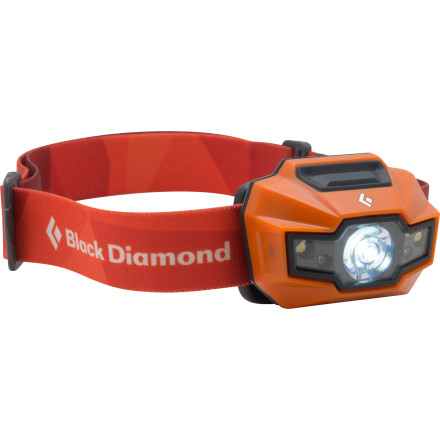 Colors

Detail Images

Community Images
Description
See through the dark and gnarly.
Moonless nights and torrential thunderstorms make for spectacular photos, but they also mean you're out in the elements when it's pitch-black and Biblically wet. See your camera settings and then some with the Black Diamond Storm Headlamp. Complete redesigned, this feather-light headlamp puts the lighting level controls at your fingertip. PowerTap technology lets you dim the lights when the mood is right, or fully illuminate the situation, all with only your fingertip. Two red LED lights give you owl-like night vision. A lock mode lets you pack this lamp without burning through your batteries before you've left the house, and the strobe option turns your campsite into a rocking disco. Weighing in at 3.88 ounces, this rugged headlamp provides high-power lighting in a tougher-than-steel package.

1 QuadPower LED, 70m/50 hours, strobe and dimming modes
2 red night-vision SinglePower LEDs, 7m/36hr
PowerTap adjustment
Headband, removable
IPX-7, waterproof up to 1 meter for 30 minutes
Very nice headlamp
Familiarity:

I've used it several times
Straight out of the box, the Black Diamond Storm lamp is easy to set up and the the different modes are not too hard to figure out. Maybe I do not use it often enough, but I do occasionally miss the mode I'm going for- such as going for red mode but changing the intensity of the main beam instead.

Comfort is okay- I find no issue with a hat or helmet but against the skin there is more movement than I expected while the strap is at a comfortable tension. I've also tried sleeping in a hammock with the light on since it leaves you a bit more vulnerable than you are in a tent, but it just isn't comfortable enough to pull off on warm nights. That shouldn't be an issue when it's colder and a beanie is needed.

Overall, I needed a good waterproof light for hiking, biking, and kayaking and I am happy with the purchase. I don't leave the trail head without it.
Light it up
Familiarity:

I've put it through the wringer
Anyone who spends a lot of time adventuring in the dark knows a good headlamp is crucial. This headlamp won't let you down.

The 160 lumen model is extremely bright, and works well on nights when the moon isn't shining, or in dark slot canyons where the sun never shines. This light is also fairly light weight, and is highly water resistant. Getting caught in a rain storm while finishing a late evening ride won't leave you without a light.

The controls on this light are easy to navigate, and you can easily access the different modes by clicking the button atop the light. If you are in the market for a well built, affordable, bright light then this is a great option.
Great lamp!
Familiarity:

I've put it through the wringer
I've used the crap out of this lamp. I've had it for a good while and have put it through the wringer. I even almost lost it on the river but was able to fish it out after a few minutes of searching.. and its still as functional as ever!
Amazing. Once you figure it out.
This headlamp is stellar for the price. Very bright, and almost infinitely adjustable. That adjustability does come at a small price, however. There's really only two buttons on this thing; the main power button on top and the touch sensor on the side. These two serve as the only interface between you and about 10 different lighting modes. Once I got a handle on all of the different combinations of taps and holds for the separate functions I was extremely pleased. I especially like that you can set a custom brightness level (say... 40% power) and then switch back and forth between that and 100% with just one little tap.
Bright light, waterproof
Familiarity:

I've put it through the wringer
Great light, the bright setting is good and stong which is nice if on the go at night. It is heavier than some other headlamps but the adjustable lighting levels is worth it if you need to use it for looking around camp and spotting in the distance without blinding your friends. Plus it is very waterproof. If you plan on taking an extended trip though, be sure to bring extra batteries.
Seems to be well made, like the features, It takes a little time to get use to the light setting, but not hard to figure out... Haven't put it to the test in the field yet.. But Liking the water proof feature and the head strap buckle as a screw tool for the battery compartment.... Over all, not bad....
Great headlamp
Familiarity:

I've used it several times
I purchased this for my girlfriend to use during our backpacking trip through Big Bend.
It was:
-Bright
-Adjustable (in brightness and the strap)
-Multi-faceted with the red, ambient, and beam light settings
-Lock-mode is extremely handy if you're prone to accidentally turn on your lamp on the drive out...
- FAR longer battery life then my headlamp which is another Black Diamond (Not sure the model, but it uses 3 AAA's) and uses 4 AAA's for power. For reference, my headlamp lasted for about a night and half, hers has lasted for two camping trips (>5 nights) and is still going strong.
- NERD ALERT: comes in an attractive Stormtrooper white color so if you drop it, its easier to spot!
Excellent headlamp with many features
Familiarity:

I've used it several times
Used it for several days in Big Bend! Overall, it was an excellent headlamp.

Pros:
- longer battery life (I have a previous version which uses 3 AAA instead of 4)
- Lots of functionality (Red light, dimmer, peripheral vs Spot)
- Good looking! I have the white one which reminds me of a Stormtrooper...
- LOCK FUNCTION! Super handy to prevent accidental use

Cons:
- Red light is frightfully dim. I had issues actually doing anything with the red light. Maybe I'm blinder than most people?
Works perfect
Familiarity:

I've put it through the wringer
I've used this lamp a good deal of times, and I've been very satisfied. I've often been in a situation where I didn't plan to need a headlamp on the trail, but every situation I've used it I've been glad it's there. I've used it coming off of peaks in Northern Utah's Uintahs, in deep forest in the PNW, and once coming off of Zion NP's East Mesa with a suspected broken knee, and it's never failed me yet.
I do use it all the time in camp though, where the variable brightness really comes in handy. Definitely satisfied with my Storm.
My go to head lamp
Familiarity:

I've put it through the wringer
I have quite a few head lamps, but this one is the best. At first it seemed to be a bit confusing to use and get the settings but after working with it for a few minutes I got it down to a science.

The beams are clean, the light can be bright, and I've used this alot, from night and morning climbs and hikes, to around the camp and for military use. It's very light weight, can't even tell. Strap is nice, batteries don't drain as much as others. Everything you can want.

No need to say anything else, hands down the best!
Great Headlamp!
Familiarity:

I've put it through the wringer
I love this head lamp!

The last time a bought a head lamp was over 6 years ago. I thought this year might be the year to upgrade.

I mainly use this for early morning tours although it has proved useful under the car as well.

The strap is very comfortable. The different modes are great. The beam is focused and I love that it can run at either 75% or 100%. I hardly use the 100% beam. I wish the button was slightly larger though as it can be hard to find with ski gloves on.
Finicky Controls but Still Awesome!
Familiarity:

I've used it several times
It's a little heavier than my previous headlamps, and the controls aren't super intuitive. But I don't mind geeking out with it for awhile and actually reading instructions, so that didn't bother me too much. And I do really like what those controls do. So give it a chance to get used to it. Its a great light!
Love it
Familiarity:

I've put it through the wringer
Its a great headlamp that I have used on several hikes and backpacking trips. I have used it in rain and no leaks. It is a little heavy and carrying the extra batteries adds up but I have not regrets. The red light option is great since it attracts less bugs.
Absolutely Love It
Familiarity:

I've used it several times
At first I was somewhat hesitant about spending $50 on a headlamp, but after using the Storm for a little while I'm stoked on the purchase and feel it was worth the price.

Pros
1. Bright Light! With a max output of 160 lumens the Storm is powerful. While I wouldn't say you can see clearly out to the listed max distance of 70 meters you can see eyes light up at least 70 meters out, maybe up to 100 meters.
2. Dimming/Powertap. Hold the button to dim the light. Whatever dim level you leave the light at will be set for the Powertap function. A tap of your fingertip on the side of the headlamp will switch between full power and your selected dim level, super convenient.
3. A double click of the button will switch to SinglePower (also dimmable), great for reading or not blinding your friends around the campsite.
4. Waterproof/Durable. Big selling point for me. If you get stuck in the elements at night or start your skin up the mountain early morning on a snowy day you can rely on the Storm to still light your way.
5. Lock Mode. Just hold the top button for a few seconds and the battery indicator light (which is a useful feature in itself) on the side will flash blue to indicate that the headlamp is locked. No more worries about the lamp turning on in your pack and draining the batteries.
6. The adjustment clip on the headstrap doubles as a key to open the battery compartment, a nice bit of attention to detail.

Cons
1. It's not the lightest headlamp out there but at 3.9 oz I'm fine with it.
2. There are a quite a few functions operated by just one button. Hold the button with light off and before it locks it will switch to red, hold with light off to switch back to normal light, double click for SinglePower light, triple click for strobe... it takes a moment to get used to but I think it's intuitive.
3. Again, at $50 it's not cheap.

Overall I highly recommend this product, it has every function you could want in a headlamp in a simple and rugged package.
Well thought out design
Familiarity:

I've put it through the wringer
I used this for night hiking, trips, finding junk in my car, and most recently mountain biking at Betasso in Boulder. It worked well enough as a night light for a 1.5 hour ride, and I can't remember when I last changed the batteries. Luckily, there is a nifty little LED that tell you battery life.

I think it takes people a while to figure out how to get through all the modes with one button, but I don't find it a problem to pick it up after 3 months of not using it and still get through all the functions. Albeit, I use spot for riding, flood for camping/cooking, and red if I night gaze. Flash I just don't use. The dimming capability is okay - I use high or low most.

It is a bit heavy. And takes a fleet (4) of AAAs. If you wanted to run with this, it feels heavy - like it might fall - but I haven't really had it fall down or angle down from bouncing.

Also, I leave the batteries in a lot (sin!) but find it hasn't caused corrosion or dead batteries so far. Certainly convenient!

Ooo, and the little thumb-screw that holds the back on is nice. No fussing around with a bad seal or damaged plastic from coin opening.
I now own two Black Diamond headlamps, the Cosmo and the Storm. I had two minor complaints about the Cosmo - the proximity lighting beam was too focused, and the light would occasionally turn on while I was carrying it in my pack. Neither of those complaints is an issue with the Storm. The proximity beam is very diffuse, which makes it useful for close up tasks such as reading. The lockout mode basically eliminates any chance of the light coming on while in my pack.

I'm amazed that Black Diamond could pack so much functionality into a compact, single-button headlamp. The fact that it is all controlled with a single button makes it a little confusing at the start, but after a minute or two of using it the controls became intuitive for me.
Best headlamp
Familiarity:

I've used it several times
I've had several headlamps and this one compares to some of the more expensive ones I've used. The several settings and ability to dim, the super bright full powered setting and red light, all combine to make it fully functional and versatile. I also love that it locks so when I throw it in my bag I don't have to worry about it turning on and burning through the battery.
Best in its class
Familiarity:

I've put it through the wringer
I love all the features you get with this headlamp: spot, flood, dimming, flashing, red light, lockout. It's great! Cycling through the different modes is a breeze and I find myself utilizing pretty much all of the features. (Except for the flashing because I luckily haven't been in an emergency situation *fingers crossed*)

I've used this for camping, hiking, climbing, reading in bed at night, changing a car tire, searching through my trunk, and just about everything in between. I've probably also used this around my house when I was too lazy to turn lights on. (I should probably re-evaluate my life). It's always performed perfectly and flawlessly.

For its class of headlamp (integrated batteries and non-reactive) I think this is the BEST headlamp you can buy. The only competitor are the new reactive headlamps from PETZL, but they are about twice the price.

Just remember to use the lockout feature (when off, hold down power for 7 seconds) to make sure it doesn't turn on in your bag!

Ben
brabinowitz@backcountry.com
801-746-7564
Choprock Canyon - Escalante, UT 8-31-201
This canyon (and the recommendation of my friend) is the reason I bought the BD Storm headlamp. My Petzl Zipka is not waterproof so I ended up having to use the surrounding light from my friends headlamps and eventually using my iPhone light in a Lifeproof case for around 2 hours in a slot canyon. The dark area starts at 5:16 if you don't want to watch the whole video (even though it is an awesome canyoneering video!)
Not very intuitive...
Familiarity:

I've used it once or twice and have initial impressions
I bought this headlamp for canyoneering in wet canyons. Normally I keep a Petzl Zipka in my dry bag for those times when we need to hike out of a slot canyon in the dark (which has happened a few times). Sadly while the Zipka is really lightwight and small, it is not waterproof. I recently had an experience in Choprock Canyon where we were still in the canyon for 2 hours in the dark before we got to the last rappel. It was a very wet canyon with lots of splashing and very possible full submersing while dropping into a pool of water so I didn't want to risk getting my Zipka wet. My other friend had the BD Storm headlamp and had no worries at all. I ended up purchasing the Storm when we got back from our trip so I can be prepared for the next time I need a headlamp while still in the water.

Cons:
I was disappointed on how non-intuative the button controls are. the main button on the top middle turns it on and off (half press does nothing). Holding down the middle button while on will dim the brightness from high to low to high. While holding down the middle button while off will will change to the red LED's. Holding the middle button while on will dim the brightness like mentioned above. Holding again while off will change back to white LED's. Touching the sensor button on the side will either alternate between dimming or brightening the white or red LED's. I much prefer the one button operation of cycling through brighnesses and red lights and holding down to turn off.

Overall This is the best light I've found for my intended purpose of a waterproof headlamp, but will definitely not be my regularly used go-to light for anything other than potential dark/wet slot canyon light. See my video review for the video where I did not have a waterproof headlamp and I ended up having to use my iPhone light in a Lifeproof case and the surrounding lights of my friends waterproof headlamps.

My friend had an older version of this light and said it was much more intuitive.