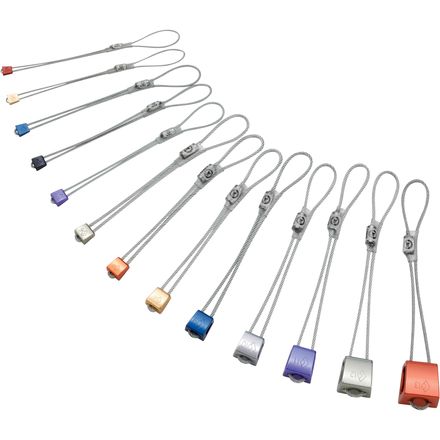 Community Images
Description
It's time for cracks, so get the Black Diamond Stopper Pro Set and sew them up.
As the backbone of any trad or aid rack, the Black Diamond Stopper Pro Set includes all 13 sizes to help you protect anything from finger locks to thin hairline seams. All the cams in the world won't take the place of simple, bomber Stoppers. Whether you're just beginning to build your trad rack or doubling up for a trip to Yosemite, the Stopper Pro Set should be the first thing on your shopping list.

Deez nuts...
Familiarity:

I've put it through the wringer
Are great! They seat securely and clean easily. Great passive gear for a beginner and pro alike.
Nothing feels better than a good nut
Familiarity:

I've used it several times
You know the feeling; lots of surface contact and friction, a nice constriction, placing it horizontally or vertically... You can't beat a bomber nut placement, and surely these are some of the best to use. If you're just starting to build a rack, this is a great place to start from for cost efficiency and versatility. You really don't want to fall on the little guys, but they'll slow you down more than nothing would. While it's tough to demarcate differences in hunks of metal, the BDs are my go to, and are surely a solid choice to build a rack from or add some pro to your existing one.
Industry standard...
Familiarity:

I've put it through the wringer
There is not a climber out there that hasn't atleast used these. They are simple, lightweight, and they work. I find I get these stuck less often, they are very easy to place, and they have a great range of sizes. One set is generally enough to start with, then supplement with individuals to accommodate your climbing area.
These are great! a must have on your classic gear!
Great Nuts
Familiarity:

I've put it through the wringer
These nuts were the first passive protection on my rack and are the backbone of any great trad rack. Took a 30 foot whipper on the #9 and it was totally bomber. It took 40 mins to remove. I had to literally pound my nut tool with a 10lb rock to release it. Also get sizes 1 and 2 even if they are not intended for lead climbing . If you fall on one its better than having nothing there and if it does break at least it has slowed you down quite a bit.By far the most used piece of pro in the southeast.
How would you rack these? And what would...
How would you rack these? And what would you use to connect the rope to it? Thank you!
I rack mine on an oval wiregate, pretty much any carabiner will do though. Most people place these, then clip a quickdraw on. Any quickdraw will do, I prefer alpine draws though.
Best Answer
I often use full length runners, because they allow you to "isolate" the rope movement from the nut placement. The risk of using quickdraws with certain nut placements is that the rope will pull the quickdraw taut, often outward or possibly even upward if there is enough friction between the rope and quickdraw. This can work the nut out of a secure placement as you climb above the placement, leaving you unprotected. Make sure you learn from knowledgable, experienced climbers, preferably instructors, and use books like "Mountaineering: Freedom of the Hills" and "Rock Climbing Anchors: A Comprehensive Guide" by Craig Luebben. A well placed stopper can hold one heck of a whipper; a poorly placed one won't even hold your bodyweight. One of the beauties of trad climbing is the complexity of it, which leads to continuous learning and adaptation to new scenarios.
BD makes quality products and these stoppers are no exception! They place well and the color coding is super helpful. I prefer the Metolius Ultralight Curved Nuts more, but I also carry these on my rack.
Good gear, toss the pho beener
Good set, beware that the beener included is not load bearing and should not be used on your rack just in case it were to accidently get mixed in.
What's there to say these are black diamond nuts. Then quality is described by the company that makes them.

Stoppers 1-3 are pretty useless unless you are planning on big wall / aid climbing.

Great color variation between the nuts, which makes them easy to tell apart.

Don't forget a nut tool
If you want to start climbing outdoors buying this first is the wisest thing one could do. This set will get you plugging everything from little aid stuff to fatty bomber placements.

Go from sketch to solid with a full stopper set.
I use these a lot, but I find them a little harder to place than the metolious extra light ones. I think I just need to get used to them. They are bomber as can be when I get them in right. I wouldn't climb without them.
according to the specs sizes 1 and 2 only...
according to the specs sizes 1 and 2 only hold 2 kn. Is that strong enough to hold a lead fall? or are they used for top roping or repelling?
, ☃bcs_badge_alumni_label☃
Best Answer
Your right, not strong enough to hold most falls. Stoppers smaller than 2 are meant for direct aid only and should only bear static loads.
size #1-2 only hold 2 kn according to the...
size #1-2 only hold 2 kn according to the specs. is that strong enough to hold a lead fall? or would it be used for something like a belay that doesn't exert a lot of force on the stopper?
Best Answer
I think that the product literature specifies "aid only" for most small gear with low strength ratings (2kN is only 450lbs of force) This applies to all pro, active and passive with low strength ratings. That said, people still climb on small pro when its the only thing they can place, and while I have never fallen on anything with a strength rating below 6kN, I have seen others fall on small pieces and not pull/break the piece.
Pretty much they are designed for body weight only placements. Made mostly for aid climbing. I would never trust it to hold a lead fall, nor would I trust it for a belay. In the belay, if your leader falls, it will pull you up, meaning a much higher force than just sitting on it.