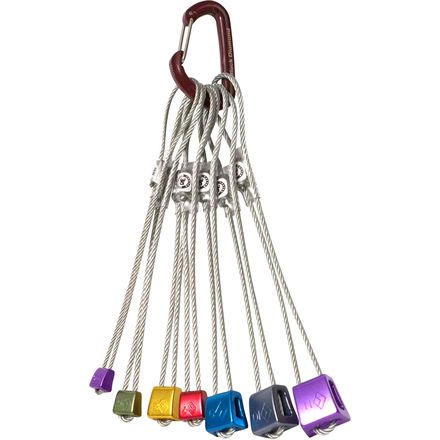 Community Images
Description
Don't leave the ground without it.
Whether you're doubling up sizes or looking to streamline your rack, the Black Diamond Stopper Set Classic gives you the most indispensable sizes of this essential piece of gear. As the ancestor of the original chock that began the clean climbing revolution, the BD Stopper's durable aluminum heads features a transverse taper for a secure fit in a variety of cracks, flares, and constrictions.
Solid Nuts
Familiarity:

I gave it as a gift but have feedback to share
BD Nuts are always solid. Just needed to replace some missing pieces on my rack for the coming climbing season.


Ahw man, I scratched my nuts...
Ok.

That's low brow and possibly-inappropriate low-hanging metaphoric fruit and I'm not 15. But cmon. We've all used that joke or a similar one. Let's not kid ourselves here, we're dirtbag climbers...



ANYway.

What can one say about chunks of metal you cram in cracks and trust your life (or insurance coverage) to?

If they don't work, it's probably your fault, not the chunk of metal's.

I have two sets of stoppers and a set of chocks in my passive-pro kit. My other set of stoppers are those sweet Trango ones. The orange and grey ones. I forget the name and I'm too lazy to check my order history. They are super cool, but I haven't even used them yet...and I'm going to blame JOHN for that one...



BD makes great gear and these are, perhaps unsurprisingly, great stoppers. I've heard some people lambast the rainbow explosion of colors in favor of a more muted one, or a lack of one altogether, or the Trango approach of alternating colors for each size step.

I get all the arguments and some of them are well-posed and well thought-out, but imho, choosing the correctly-sized hunk of metal for the terrain feature at hand is analogous to driving a standard transmission. I mean...do you really know or even care what gear you're in at any given point? As long as my turbo goes "vroom", I don't.

And it sorta becomes second nature.

But at any rate, it's kinda cool to say or to hear something along the lines of, "HA! Have fun with that BLUE one...can't believe that thing even went IN there!"



I know there are lots of theories (arguments? marketing bullet points?) about shape and cut and taper etc but in practice, at least in my experience, the differences are so slight that it really boils down to brand loyalty.

I guess weight is really the biggest factor.

My set of 5-13 BD stoppers with a BD Oz weighs in at 395g.

Trango set of 9 with a BD Oz; 337g.

If I sweated 58 grams, I wouldn't carry a 5DMKIII...



5 stars.
Slot em, they ain't going nowhere.
Familiarity:

I've put it through the wringer
Color coded for easy size identification, these "show stoppers" fit in those perfect constrictions and keep what your momma gave you off the dirt. I refer to them as removable bolts. Bring a rack of these and some quickdraws and you've got a finger crack sport rack.



And they look like candy. Which is always gooood.
Well, I've done it now...
I went and bought these stoppers on sale, looks like I'll have to become a trad climber now. I can't really comment on the quality, weight, etc. because I've barely used any trad gear. But they are very colorful stoppers. Right now, I bring these along on warm-up sport routes and try to place them wherever they seem like they'll fit. Yeah, the carabiner that comes with it is not a real climbing carabiner so don't try to use it as such. But, you can use it for your keys, maybe on a dog leash, I dunno. Also, don't cut the plastic around the wire just below the loops like I almost did! That's supposed to be there. :-)
I got these as a birthday gift for one of my buddies. This is the perfect gift for any serious climber, it is not to expensive, it is super practical, and who ever gets it will still be pumped.
Having worked at Black Diamond and used their products for many years, I can fully recommend them to anyone. I've seen them being made, go through QA, and have used them in my personal climbing adventures. They are light, durable, incredibly strong and the design behind them is second to none. These are the perfect addition to your full climbing kit.
Solid, this is the BD set to get.
I got these to expand my rack and provide some slightly different sizes/shapes/tapers than my Wild Country rocks. I like them; however, I definitely still prefer the rocks overall, which is why I only gave them 4 stars. I can't say that one is better or worse than the other, but I feel like the rocks maybe place a little bit more securely and efficiently.

Other than that, these are the sizes to get in the BD line for general climbing. Some people also complained about the racking biner they come with (which I don't use)- I don't see what the big deal is, most nuts don't come with anything to rack them on anyway, so I didn't feel cheated by the lack of a "real" biner.
I think everyone aught to get these, just nice to have round. stack nice, place well. like anything i get them stuck and need to be creative to get them out. I have used them extensively and they are not too heavy to haul around if your doing a sport route that will have a lot of run out, and you feel you need to place a piece or two.
I probably use these the most on my rack. They just seem to fit a lot of things out here near Boulder, CO. As one reviewer mentions below, these don't come with a 'climbing' carabiner. Although this is a bit disappointing, it has never been an issue as I always take the stopper off then use a quickdraw on the stopper. It's definitely not worth giving these a bad review, and with all the quality control BD has, I've trusted these a ton to my life, and they've come through as expected.
If I wanted to start trad climbing for a...
If I wanted to start trad climbing for a cheap price, what would I need? (I already have many carabieners and runners, plus an experienced parnter but he doesn't have a rack)
This will get you started but you will need quick draws and rope and lots of other stuff
I already sport climb dude, I was asking what sort of rack I would want..... but I already bought a full leader's rack so, nevermind.
I love trad climbing. On my rack i have some cams, some tri-cams, and some nuts. There is always more gear to get but it takes a wihile to obtain it all. another thing to have it slings and carabiners because not a lot of rad climbs are very zig-zaggy and youcan use them to reduse rope drag. Good luck and have fun!
BD makes quality products and these stoppers are no exception! They place well and the color coding is super helpful. I prefer the Metolius Ultralight Curved Nuts more, but I also carry these on my rack.
Love the BD nuts; trustworthy, good colors, I use them all the time and am very happy with their performance.
what can you say bad about BD products? these are easy to place and remove and are bomb proof. excellent!