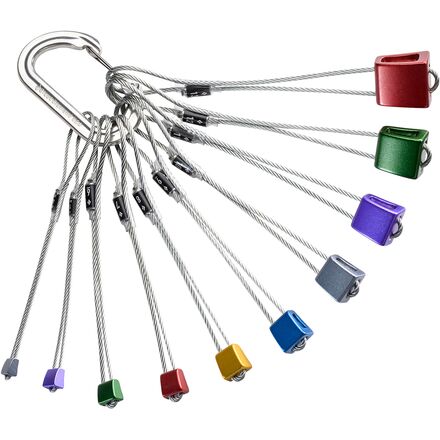 Community Images
Description
Includes stoppers 4-13 (as you might have guessed) AND a free biner, nice!
Since 1971, Black Diamond has been refining the exceptional geometry of its Stoppers to provide micro-protection that stays put. Their bomber performance ushered in the age of clean climbing and has made them a staple of every climber's rack for nearly three decades. Rounded corners assist "cleanability," reducing the possibility of the nuts getting caught on irregularities inside cracks. SET INCLUDES BLACK DIAMOND OVALWIRE CARABINER.
They're a solid bunch of Stoppers and definitely vital for any rack. They were one of my first piece of trad gear I had ever bought and will buy them again when I need to.
How many stoppers are in the package?
How many stoppers are in the package?


Best Answer
Hey dogp88641,



Thanks for your question.



This package comes with 10 stoppers. Numbers 4-13 as well as an oval wiregate carabiner.
Vital for building a rack!
Familiarity:

I've put it through the wringer
I have recently began to build a decently sized rack, but it all started with this stopper set. As I am still getting better at placing cams, I have found I love passive protection. I feel the best protected when I use a variety of protection ranging from passive, active, and natural in a route. Although this is not always possible, this set of stoppers fits my passive protection needs for the time being. Currently I am only leading easy trad routes. When I start climbing more advanced routes I will invest in other passive protection such as Hexes and TriCams. Regardless, these are a great place to start with passive protection.
Magic Stoppers
Familiarity:

I've used it several times
The shapes are a good design. They are easy to free, often only requiring a tool if they've been fallen on. Colors are helpful, but there are so many of them I just read the number and judge the size. They are very light and strong.
My First Trad Gear
Familiarity:

I've put it through the wringer
These were the first pieces of trad gear I ever bought. I'm proud to say that they are still on my rack and being used frequently. Easy to place, Durable, Strong, and really cool looking! Plus, you get a nice oval wire to rack them on!
Awesome stoppers
Familiarity:

I've used it several times
These are great for starting a trad rack. Good range of sizes, easy to place.
Starter Trad Rack
Familiarity:

I've used it several times
These stoppers are great for someone looking to build up a trad rack. Covers the sizes that are absolutely needed. Looking forward to getting out and using mine.
Definitely a great start for anyone's rack. This set includes the perfect sizes and they are very reliable.
You can whip and they'll still grip!
These stoppers are easy to place, durable, and the set seems to include every size you could ever need. Like all BD stuff, you can feel the quality when you pick them up, which is very confidence inspiring. I'll be a BD customer for life.
BD makes quality products and these stoppers are no exception! They place well and the color coding is super helpful. I prefer the Metolius Ultralight Curved Nuts more, but I also carry these on my rack.
A must for everyone's rack!!!
For the money, these stoppers are dependable and work reasonably well. I especially found the smaller stoppers to be strong and durable.
Overall, there are far better options in terms of weight and ease of placement. They take much more work than to set than, say the DMM offsets or Wildcountry rocks. The BD's are a little thicker and just don't have a great taper.

Not to mention, BD stuff is made in China. This is not to say that anything they make is unsafe. Quite the opposite. I just feel that its better to support a company like Metolius (Bend) or DMM (Wales) than a company that outsources cheap labor and sponsors corporate terrorism (citing axle-hammerhead telemark binding) !!!

My money will go elsewhere! For cams: Metolius or Wired Bliss. For Stoppers: Metolius or DMM.
Does this include all sizes between 4 and...
Does this include all sizes between 4 and 13 (4,5,6...)? The image doesn't clarify and there aren't any specs listed.
Best Answer
Yes, its a set!
This is the perfect package if you already have a stopper set and want to double up on the workhorses. It's also choice for someone getting into trad and not interested in those tiny aid placements (yet!). Need more pro just in case you find that epic and need to bail? This is it.

Bomber pro plus a wiregate oval? Sick.
these are the sizes you use the most for passive prot. anything small is used for aid and anything larger you should be using hexes or cams. easy to remove so its not a hassle for your partner to clean the route.
Black Diamond Stopper Set #4-13
BD stoppers have just a bit higher level of finish than some of the less expensive options out there. I climb on whatever set I happen to grab usually, but I like the burly and visible swage on these guys the best - confidence inspiring.