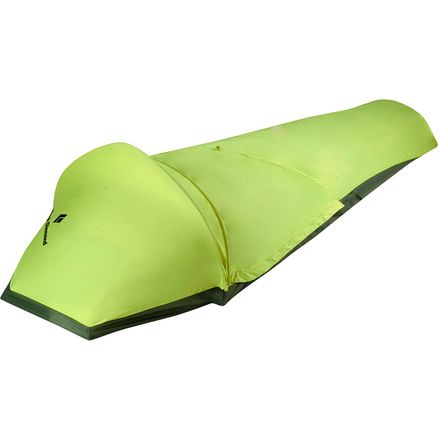 Community Images
Description
Pack light, stay comfortable.
If you count every gram but are still too claustrophobic to sleep with material hanging on your face, the Black Diamond Spotlight Bivy is the answer to your shelter needs. A single DAC featherlite aluminum pole slides in to provide you with plenty of headroom. The Spotlight's large zippered entry point makes it easy to slide in and out of. Breathing won't be a problem thanks to the ventilation of a mesh awning in combination with the performance of Black Diamond's highly breathable and waterproof NanoShield fabric.
Freestanding single-wall bivy design saves weight by eliminating the need for a tent canopy and fly; ideal for four-season climbing and trekking applications
Breathable, abrasion-resistant, and highly packable NanoShield fabric features a silicone NanoCell coating to protect against rain, snow, and wind
One aluminum pole creates space above your head to improve airflow, decrease condensation, and limit claustrophobia
Half-moon zip entry provides easy access
Large mesh panel keeps out bugs and helps cut down on condensation buildup
Multiple stakeout loops provide secure anchoring in the wind
Small size fits easily into a backpack, bike pack, or haul bag
Optional footprint sold separately
hi! i purchased this yesterday and had a...
hi! i purchased this yesterday and had a problem setting it up. The pole streches the fabric too much and also it doesn't stay in place. Any advice? Thanks
well black diamond is known to do all of that but not stay in place.

dont worry black diamond is known for their strength.
Get this bivy for...
Gender:

Male

Familiarity:

I've put it through the wringer
I bought this bivy for winter mountaineering. I have had condensation like others mention. But when it gets COLD (down below 0 F) I just end up with some frost on the outside of my bag, and no dampness.



No, it isn't particularly waterproof. If you seal the seams well it supposedly (according to the kind folks at B.D.) will hold up for about an hour in the rain. I don't plan to find out.



It is awesome for winter in the mountains. Keeps me warmer than a tent. Packs tiny. Single wall, four season construction is perfect.



My only complaint is the foot-box area. With a Neo-air all season pad and a zero-degree bag, the bivy compresses the bag's down at my feet. I haven't suffered yet, but I wonder how much of a liability this is. Compressing your down is never good...



The photo is from Canyonlands, where I had no condensation problems :)
Condensation
Familiarity:

I've used it several times
This is a pretty good little bivy bag in most respects (lightweight, adequate headroom, ability to use only the bug mesh and therefore see the stars at night, etc.). However, a MAJOR problem is condensation; I had this out for three nights in great weather (no rain, around 8-10 C) and within hours each night my sleeping bag started getting damp, eventually getting quite wet by the morning. I dried the bag and bivy out each day, only to have the same thing happen again the following night. The problem is that the top of the bivy is right against the sleeping bag, so there is little breathability (imagine sleeping right up against the wall of a regular tent). Because of this, you'll be uncomfortable and will keep waking up regularly to change position in a futile attempt to stay dry.
I have seen mixed answers so I will ask...
I have seen mixed answers so I will ask it once more to clear it up: how is this bivy in the rain? Can anybody clear it up for me please?
In a low rain it great...but in a HEAVY rain the rain will go IN. BD say this canvas is NOT totally rain proof
Does this have a pole, peg and seam sealing...
Does this have a pole, peg and seam sealing adhesive?
Too small for my needs, seems flimsy
I ordered this for a trip to South America & ultralightweight domestic weekend trips. It is definitely light and compactible (though I wish the single pole would fold down one size smaller so you could fit the whole bundle into one tidy bag - as it is there is one bag for the bivy itself and another for the pole).

I received the item and set it up in my yard. I have since decided to take a larger backpack (45L instead of 32L) with me on my trip - will allow for a few more comforts, layers, space for souvenirs, and unforseen space needs. I lay down inside the bivy and it has adequate space considering how small it is. The area around teh head is actually quite spacious. The area around the feet would be, but there is nothing included to keep it stiff and upright, it kind of just flops down on you. I'm willing to bet moisture would seep through to your feet. So you would need another stake and/or some nylon rope or something to keep that area taut and off of your body.

I tried laying inside with my pack (not going to leave it outside the bivy because of weather and theft concerns). No way I'm fitting in this this with a pack (no matter what size), at least not comfortably.

Also, the material seems a bit flimsy. I know it must be thin to be so lightweight and compressible, but I can see it snagging and ruining a trip real easy. The area that pulls over the pole to keep the seam protected is a novel idea, but I could already see the stitches in the area straining as I pulled it taut, and I think they would be the first thing to go (barring a rip in the fabric).

Perhaps I'm not using the bivy as it is intended. I think a slightly bigger (and yes, heavier and bulkier) solo tent is what I need. I do wonder where people who use the spotlight bivy keep their packs. Outside with a rain cover on it?

Finally - only a one year warranty? That's a dea-breaker for me. So many other products have lifetime.

Bottom line: for ultralightweight guys who don't mind bringing an extra stake/rope to keep this thing off of your feet (and who don't mind leaving their pack outside) go for it, you'll love it. As for me, I need something bigger. Cheers to backcountry for their awesome return policy and great customer service.
does this bivy have taped seams?
does this bivy have taped seams?
No, if you read below you'll see that it is not seam sealed.
but that doesnt mean you cant do it yourself
How far does the zipper run down the side...
How far does the zipper run down the side on this bivy? And how usable is the space at the head of the bivy? I'm 5'6'' - do you think I could fit a small pack and shoes in the space near the head?
Very small - and about 1/2 way. You will probably find it more comfy however to NOT store your gear there as the top is where it is designed to give you breathing space - you may not feel as comfy if your face is closer to the sac since there is gear taking up the top.
I took this piece of crap out one night, a light rain developed over night and I got SOAKED. This has NO rain protection and it's not worth it. Get the Black Diamond Bipod, not as small, but it actually keeps you dry.
What's the size of this bivy. One size...
What's the size of this bivy. One size fits all scares me.. 5'11"/ 200
Best Answer
92 long x 30" wide @ the shoulders x 20" tall @ the highest point. Easy fit for someone your size, but if you're claustrophobic, you'll want to think twice about any sort of bivy.
I've never had a bivy and I'm wondering...
I've never had a bivy and I'm wondering where I would keep my pack. Outside? What if it rains? Will a simple rain cover do the trick?
Best Answer
Find a natural canopy under the trees to store your pack and keep it dry....A rain cover is a good idea,but then you will have to carry extra weight....
Mike makes a good point, but a wet pack and gear weighs more than any rain cover I've ever carried.
Use a trash compactor bag as a packliner instead of using a pack cover. Ultralight and effective.
I'm useing a rain proof pack now
In the past in hevy rain I put the pack inside the bivi
Does this have guy lines? How many?
Does this have guy lines? How many?
There are two loops where you could guy this out. They don't come with guylines and not really necessary either as there is only one, very small pole and this thing is freestanding.
How does the nanoshield hold up to heavy...
How does the nanoshield hold up to heavy rain and wet snow, is it up to the task or do i need to get the bibler version for those conditions?
Best Answer
I would go with the Bibler Tripod Bivy.
The Spotlight DOES NOT protect against rain. I took it out one night thinking it would keep me dry and I got SOAKED in a light rain. Get the Bipod, small, but protects against anything.
If you seam tape the bivy it'll do fine. Black Diamond probably doesn't do it in the factory so it seems lighter than it actually is.
BD said is great for snow but in havy rain it will get in! I buy for me the TNF "asylum"
http://www.backcountry.com/the-north-face-asylum-bivy-1-person-3-season
This is a great bivy. To start this packs oh so nice and small and I can through it in any pack that I would do an overnight trip with.

Setup:
Setup becomes a breeze after about your first handful of times. The first time I set it up it took about 10 min. of trying everything to get the pole in. A tight fit to say the least. Now I know how to position it and can do the entire thing in about two minutes. Packing it away is just as easy. The longest thing to do is push the air out of it while getting it into the stuff sack.

Comfort:
This is a little bit snug with my pad (Big Agnes Air Core), bag, and myself in there but what you would expect from a bivy at these dimensions. I had plenty of room to keep a rain jacket, clothes I hiked in, and boots above my head. A pack probably won't fit. At 5'9" I can get in and out with ease. The ventilation is good at night as long as you leave it cracked in the right places. I just had it out on a trip that started with very high humidity and led to heavy rain. Never had a problem with condensation build up on the inside. It doesn't come seam sealed and I haven't done so yet. It held up very well in a down poor that lasted about an hour with no moisture on the inside. Going to seam seal it however to avoid pushing my luck.

Overall an excellent bivy and misses on five stars because I have to seam seal it myself and a little difficult to setup out of the packaging.