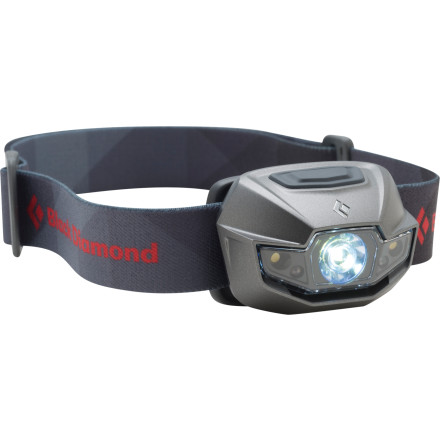 Colors

Detail Images

Community Images
Description
See Spot. See Spot shine. Shine, Spot, shine.
The completely redesigned Black Diamond Spot Headlamp keeps the great outdoors visible when you're playing after hours. Whether you're trying to figure out your new tent during an after-dark pitching or getting a pre-dawn start on your mountainous adventure, 130 lumens of bright light show you the way to go. PowerTap technology gives your fingertip the power to dim the lights when you're hunting snipe or shining a spotlight on your camping partner as he tries to sneakily eat the last bar of chocolate at 3 a.m. Red LEDs provide proximity lighting and you can get to that mode without cycling through the white mode and ruining your night vision. The lock mode makes it possible to prevent burning through batteries when the headlamp is in your pack. Don't worry if your efforts to clean the dishes in the lake are a bit over-zealous: the housing resists water from splashes and sprays so you'll be able to see the path back to camp without difficulty.

1 TriplePower LED, 130 lumens, 75m/70 hours, strobe and dimming modes
2 SinglePower LEDs, 16 lumens, 10m/17hr
Red night-vision
PowerTap adjustment
Headband, removable
IPX-4, water resistant against splashes or sprays
Broke with only 20 hours of use
Familiarity:

I've used it several times
I normally really like Black Diamond products, and overall they make excellent products, but a little flimsy piece of plastic adjusts the angle of this otherwise great light, which broke as I adjusted the angle as I was descending Devils Thumb at night in Banff National Park in Canada, rendering this equipment to a useless piece of junk to be thrown in the trash can. Broken, the light just flopped around, so I had to hold in in my had as I descended the tricky steep path down the mountain at night. A chain is only as strong as its weakest link. I will replace it with the ReVolt by Black Diamond, which is one of the best headlamps made in my opinion, but at a higher cost (but worth it). I still will buy other high quality Black Diamond products.
Spot on.
Familiarity:

I've put it through the wringer
I have had this headlamp now for four seasons. Its bright when you need it to be, and the dim settings and red lamp options are so easy to use. One button access and easy battery change out makes this a great option on the trail. I have bushwacked into the darkest of places in the Uintas and was able to see like it was daylight. I am glad I chose it. It helps me take star trails selfies like these!
Standard Headlamp
Familiarity:

I've put it through the wringer
who said standard was a bad thing?! I love this headlamp purely because it is simple and easy and does exactly whats expected of it. Multiple settings light the way in various conditions. Stays snug on your noggin (I also will throw it on my dog during night camping when I want to keep an eye on her) Its been thrown in boats, truck floors, backpacks and has proven durable. Its saved the day when a float went a bit to long after the sun went down. Overall, really impressed by what you get out of this headlamp for its price-point.
Awesome headlamp!
Familiarity:

I've used it several times
It's a great value for the price, easy to use with lots of functionality. I use it primarily for climbing and it's served me well on several moonlight summits – bright enough to get the job done. Dims nicely for around camp as well. It has a high beam for distance and then more diffuse light for close up, as well as a red light. It has a locking feature, so I can toss it in my pack and not worry about draining the battery. Also has a battery life monitor that shows you how much juice is left. Once or twice out of several uses it has unlocked itself in the pack, but even with a few wasted hours it survives the weekend – I suppose if you were relying on this for a big trip it might be more of a concern.

Here's a link on how to navigate all the features. They are all accessed through one button, so it can be a little confusing at first but once you memorize the tapping patterns and such it's super easy - https://www.youtube.com/watch?v=oWCeNSi8OTE

What more do you want?
Familiarity:

I've used it once or twice and have initial impressions
Plenty bright, lots of lighting options, comfortable, and appropriately priced.

Haven't put it through the ringer to comment on durability, water resistance, or actual battery life, but for the price, this headlamp is already plenty feature-rich and with enough praise to not have to think too hard.
Bright
Familiarity:

I've used it several times
This thing is super bright. I wish I had better luck putting batteries in it the first time. Was a little bit of a pain and I didn't see any directions.
Great
Familiarity:

I've used it several times
Used this on a hike that lasted longer than expected & ended up having to walk back in the dark but thanks to this headlamp I was able to get back with no troubles at all!
Helps you see things
Familiarity:

I gave it as a gift but have feedback to share
I was the first in my group to take the plunge on this lamp several years ago and I've bought 3 since as gifts. They keep getting better. I used to be a Petzl snob, but after having this lamp for several years now I'm really happy with it. Since getting this every person in my camping group has since bought one for themselves and some have also bought them for others as gifts. Very happy with it the light output and I put it to the test hiking up the Shenandoah to Gavel's spring hut at night with 12" of snow on the ground. I was the leader in the group and had great visibility. Since then it's never let me down on my travels, and they've only been improving it.
Spot Everything!
Gender:

Male

Familiarity:

I've put it through the wringer
Man, where to start with the BD Spot Headlamp...
The fact we have the technology today to wear a flashlight on our heads or helmet, with weight not even being a concern, and brightness that can compete with a cars headlight... SO RAD!!

The Black Diamond Spot has saved my butt time and time again. When lost and looking for the decent trail or still climbing past midnight, the Spot gives me the adjustable brightness and battery life I need to get back down safely.

The light lock comes in handy when stuffing in a pack or pocket, reducing the chance of a drained battery.
The PowerTap feature is really cool and useful, allowing you to flip from your dimmed setting to max brightness to pinpoint your target, then a simple tap gets you right back to dim. Plus there is a three color battery life indicator light on the side, making a visual check easy.
TriplePower LED is great when needing max illumination (75m), finding anchors, trails,etc.
While the SinglePower LED (2 white, 2 red) is ideal for hiking or cleaning up back at camp.

Like my nut tool and Reverso, I never leave the ground without the Spot Headlamp. It's tough and handles the elements great!

Picture- Me and Charlie cheesing up after rain storm, top of pitch 7, Levitation 29- Red Rock
Bright...if it has battery power
Familiarity:

I've put it through the wringer
I've had the 130 lumen Spot for a little over a year now.

I don't particularly abuse this headlamp, but I'll toss it in the head of my pack with my other stuff. Even in lock mode, it will unlock itself and turn on, and run the battery down. I can't comment on the real battery life because of this issue. It has a bunch of useful modes, but only one button, so you have to memorize a bunch of different tap patterns to figure out how to switch between them. The seldom-used ones still slip my mind most of the time.

Otherwise it's quite bright and sufficiently comfortable and versatile. I use it for hiking and climbing.
Bright light!
Familiarity:

I've put it through the wringer
Bright light - great visibility. Love the red-light feature and the variable beam adjustment. However, I don't love the awkward battery compartment door and the fact that the light can come on easily while in a pack (although I pack a 2d light now to back it up after having it do this on an ultramarathon). Overall though it is my go to light and I would highly recommend it. I have used it extensively for alpine climbing, skimountaineering, ultrarunning, bike commuting, and camping. The red light feature is very handy for not waking your spouse or partner in the tent lying in their bag next to you in the tent...
Great headlamp
Familiarity:

I've used it several times
I just brought this lamp to a hiking trip. Didn't had any issues walking in the middle of the mountain at night with this lamp. Battery life is pretty good
Great headlamp made even better
I purchased a Spot Headlamp for myself a couple of years ago. I love it and use it all of the time. I chose this headlamp because of the features and price. I still think it's the best bang for your buck. BD updated the headlamp and somehow made it better.



I gave the new version to my brother in law for Christmas. I was impressed with the upgrades. There are a lot of features and only one button. I highly recommend reading the instruction manual for this one. The new model is easier to use than my previous model. It also is a tad brighter.



If the headlamp I have ever dies or is lost, I'll be replacing it with the upgrades Spot.
Versatility!
Familiarity:

I've put it through the wringer
I got this headlamp at the beginning of last summer (I work for an adventure camp for summer break), I needed something I could trust to take some beatings and hard use, this was it. It was always in my pack.

I was very impressed by the brightness controls, and love the red light feature (great for night/milkyway photography). However, be advised that if you are using it for 10-15 hours a week you will probably notice the power drop by the end of the week (it eats batteries for breakfast).

If you need a headlamp, go for it. You won't regret it
Best all-arounder out there
Familiarity:

I've put it through the wringer
I thru-hike the Appalachian Trail and worked as a Backcountry Ranger with a Spot and it survived it all. I've even thrown it into a hot tub and found it an hour later full of water, but after drying out it still worked. As far as I'm concerned the lumen output, battery life, weight and durability there is not a better headlamp on the market. "Polite red mode" is great for not disturbing people at hostels or in shelters while reading/using the bathroom at night. Modes are easy to toggle through with a little practice. Consider the storm if you need something waterproof, but this will handle a hard rain just fine.
awesome all around headlamp
Familiarity:

I've put it through the wringer
Amazing all purpose light for trail running, hiking, biking etc. `My favorite feature is the battery indicator. While hiking the Appalachian trail, I would always replace the batteries when the indicator started reading orange which would usually be every three weeks (this was June so I wasn't using it much).
can you use aaa lithium batteries in this?


Any AAA battery works so sure thing!
Bright but poorly made.
Familiarity:

I've put it through the wringer
This is the second one o this model I've bought. They're super bright and easy to use. But unfortunately the tab that controls the angle of the light snapped on this one, just like my last one did. The model I bought in 2009 at least lasted an entire cross country bicycle trip. This one I got in 2011 broke after only a few uses. Oh wel it's nothing a lil butyl tape can't handle. Oh and the headband looses all its elasticity after a year or so.
Great light
Familiarity:

I've put it through the wringer
I replaced my Petzl Tikka 2 (50 or 60 lumens) with this one, and it's so much better. Plenty bright for trail running, hanging out around the campsite, even used it when servicing my car. I'm sold on BlackDiamond headlamps now, no more Petzl for me.