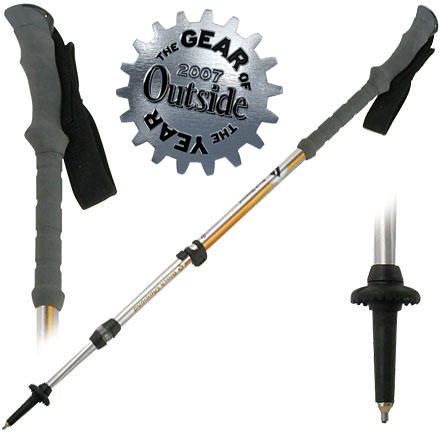 An oval-shaped Elliptic shaft gives the Black Diamond Spire Trekking Pole increased stability and durability to take on all the abuses dished out by long days on the trail. Black Diamond gave the Spire Trekking Pole an anatomically correct, dual-density handle to make your hike as comfortable as possible. A combination of FlickLock and Binary locking mechanisms make length adjustment quick, easy, and solid to keep you going mile after mile.
Share your thoughts
What do you think of the
Black Diamond
Spire Elliptic Trekking Pole
? Share a...
Admittedly, I have not ever had experience with any other set of trekking poles, so take that for what it is. However, notwithstanding this automatic and narrow bias that I inherently possess towards these poles over any other, I would have to say that they prove to be absolute wonders when out on the trails. I hiked Swift Camp Creek in Red River Gorge a while back, and the trail had seen a lot of action and tumult due to some storms that had occurred in the area recently. The trail was torn to s*** and I was carrying a pack that weighed ~40 lbs. All I can say is that my ankles and lower legs are much happier doing longer hikes when I use these.
I'm gearing up for a trip with some serious hiking on it, and having suffered from JRA in my knees and ankles since 13, wanted something to reduce the wear and tear on my knees. I've taken these out for a few test runs, and they are an absolute lifesaver. Anyone with weak knees or ankles, or anyone wanting some extra stability on the trails should have some trekking poles. These poles performed beyond my expectations.
I have had two pairs of these poles. I bought them because I was told they are the strongest poles on the market. I broke the first pole 2 days into the West Coast Trail, the second pole broke two days after that. The first pole folded on itself at the bottom (sideways) and the second pole broke at the binary lock at the bottom. The binary lock quickly became dirty and I suffered similar problems of the mechanism jamming.

I returned the poles upon my arrival in town and replaced them with another set. I broke the first one of those poles on my first ski tour with them. It survived 2.5 days of skiing before it broke.

I have since returned them for a pair of 2 piece Komperdell poles that are going strong after many ski tours and hiking trips.

I'm not a big guy at 170lbs, but I found these poles to be EXTREMELY easy to break. Given the high pricepoint ($130 retail) I'm extremely disappointed with these poles.
Is there a right and left to these poles...
Is there a right and left to these poles or are they interchangeable? Also, does the set come with powder snow baskets? Also, deciding between these and the BD Contour Eliptics, what difference I should consider?
You can use either pole with either hand. The set does not come with snow baskets but rather the hiking baskets pictured.
Do the Compact poles save any space in,...
Do the Compact poles save any space in, or on, your pack, when they are retracted and stored, over the standard poles?
Misused commas aside, yes. They collapse to a shorter length.
A collapsed pole (27") is about the length of an overnighter/weekend backpack, where as your extended non-collapsible pole is going stick out the top of your pack by 15" or more. The collapsible polls are the way to go.
First thing I noticed, with trekking poles in general, is how much stress was taken off my knees going up and down steep hills.

As for these Spires, I really appreciated the sturdiness, lightweight design. They also double for my tent poles with the nemo meta 2p. Adjusting is quick, easy, and flawless - a new companion to my backpacking experience.
I bought these near the end of the season, but I have been impressed with them so far. I use them snowshoeing and am excited to try them while backpacking. Super light-weight and easy to use.
These poles were as advertised but when I used them on the icy trails of the Grand Canyon one pole broke almost immediately. The poles are light, lighter than any other pole I've used. The mixture of foam and rubber in the handles make for a very comfortable grip. The locking mechanism is really convenient, no more twisting and twisting and twisting... But as I said the pole broke. I do not plan on purchasing another pair since the price is steep for a pole that may leave me pole-less for the remainder of my trip. I plan on purchasing a set with similar features at a cheaper price.
Do these come with powder baskets as well,...
Do these come with powder baskets as well, or just the narrow trekking basket?
Just the little one. You can buy the powder baskets separately.
Compact, Lightweight and Strong
I am very happy with the Black Diamond Spire Elliptic Trekking Pole.

The elliptical shape of these poles gives them strength when hacking up a steep trail on snowshoes.

Few other poles on the market are as light and sturdy.

Cheaper poles may a few seasons (or a few hikes) and then fail you. Black Diamonds are a durable good meant to last for years.

If you snowshoe, these are worth the investment.
Best Answer
While the above description makes it sound like a single, there are two poles.
Excellant workmanship,light wgt, compact. Great locking system and ease of use.Lengthed hand grips allow for various hand positions.Highly recommend these poles for summer or winter use..
I got these poles because they looked like they would be easy to adjust and they are. They are also light weight, comfortable and strong.
I used to use Leki's exclusively but no anymore. I received these as a gift and haven't looked back. I love the lock on the bottom portion of the poles (such a great idea) and the locking mechanism in the second section is much more reliable than the twist mechanism Leki uses. These things are perfect and have never collapsed on me.
Not any lighter than my ski poles but more versatile! The flick lock and the autolock 'binary system' on the lower section are both reliable. I've traversed scree slopes with one pole fully exended and the other fully collapsed. It was a pleasure having them for that. The flexible tips have also been put to the test and it is a nice feature.Only two possible improvements I've found in a solid year of four season use: It would be nice if they CAME with powder baskets....but they are available separately; and the very comfortable and supportive wrap around straps aren't quite long enough to use with Black Diamond's Mercury Mitts when the temps drop. You can get the mitt through them but there just isn't enough length to run the strap through your hand, under your palm, and over the back of your wrist with mitts on. Had to adjust to use them running up over the back of the hand. Still functional but not as comfortable.My wife wanted adjustable poles instead of ski poles so I got her a pair for Christmas that are conveniently identical to mine (in case one of mine goes bad).Lastly, BD service is top notch. I left my pole unattended right next to my tent for about 30 minutees one trip and a Marmot drug it away from the tent and demolished the foam hand grip and strap. They like the salt from human sweat. Photo attached - BAD Marmot! I patched it up with duct tape but had another big four day trip coming in just a week. BD Customer Service sent me a replacement via two day shipping and my poles were back in shape in time for my Granite Peak trip - summited!BD is my first choice for most products!
We just got back from Glacier National Park and I had never used poles before. I am so glad I had them...they were worth every penny
Just got back from the Chugach Mtns in AK,very steep and rough! I've never used poles before but now would never be with out them. After 2wks in AK my poles look a little rough. After all the abuse all the working parts still work like new. My guides poles had the twist type lock and he had to readjust alot, mine never moved once.Great poles,would highly recommend.
Black Diamond Spire Contour Trekking Pole
These are my first trekking poles I have ever purchased and I am glad I bought some. I bought these because of the reviews, really. They are light, compact well, and sturdy enough for my 6'3" 250 lb. body. I hike and snowshoe a lot and have found these to help out a lot (powder baskets are a must in snow).

I actually forgot them for one hike I did recently and was sore the next day! I guess that's a good thing and a bad thing. Good because they help make the hike more comfortable but, bad because my body seems to rely on them now. Oh well...

I do have to say, I didn't collapse the bottom part of the poles for a good 3 or so months and when I needed to collapse that bottom part to stick them on my pack, it actually took some time and hurt my hands to get them to go in. But now they work fine. So, I collapse them all the way at least once a week to keep the parts working well.

Also, when they get really, really wet from rain or sweat, it can be harder to grip them, which doesn't happen too often. And, the adjustable strap comes loose while on long hikes if I apply too much pressure. But they tighten with a quick pull so, again, not a huge deal.

Bottom line: Solid poles that make for a more enjoyable hike.
I didn't find a clean answer in the other...
I didn't find a clean answer in the other reviews. Which are the ones for sale here, standard or compact? Do the grips work well for large hands? Is this price per pole or for the pair?
Best Answer
Update 12/26/09: You can now buy either the standard or compact so that problem is solved.

But the grips do work well for big hands. Gloves fit well with these, too. And the price is for the pair.