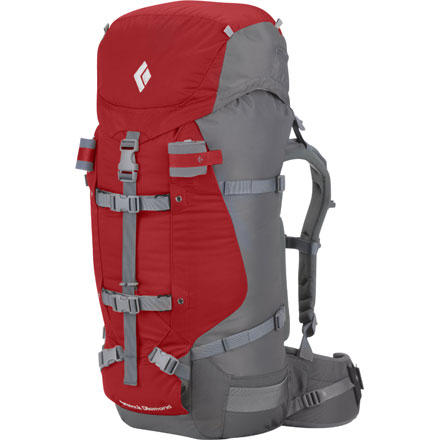 Community Images
Share your thoughts
What do you think of the
Black Diamond
Sphynx Backpack - 1953-2563cu in
? Share a...
is it possible to carry skis on this pack??...
is it possible to carry skis on this pack?? A-frame or diagonal?

J Brent,
This pack doesn't have a system specific to skis, but you can still carry "A" frame style using the packs compression straps to support your skis.
Hi, do you know how you attach an ice...
Hi, do you know how you attach an ice axe/trecking pole to this pack? I do not see the axe loops. Also, do the sides of the pack hold water bottles? Thanks!
Best Answer
This one is a little different from the standard pack with ice axe loops, it features BD's proprietary "Pick Pocket" system. The bottom of the pack actually has a sleeve that the picks of the tools slide into, protecting them and your surroundings. There is a clip strap that then secures the shaft as well as the velcro tabs that secure the handle.

The sides of the pack do not have pockets large enough to hold water bottles, although it does have a hydration tube port, and you could clip looped bottles to the side compression straps.
I just happen to have my pack loaded up, so I thought I would post a picture to illustrate Simon's answer. I attach my poles using the cinch straps on the side of the pack. A great feature on this pack that I didn't realize until I received it is that the lid is actually two compartments. The typical pocket for keys, trail mix, headlamp, etc. is on the inside of the lid. The outer pocket on the lid is designed to fit your helmet. Excellent design, especially for long approaches where your helmet is otherwise clipped to an outer strap and clanking against your crampons or axe.
There are three straps comming with the...
There are three straps comming with the bag. Two of them goes in front to hold the crampons. The third one (long with a velcro) is for what ?
That one is to replace the padded waist strap when you want to shave some weight. ;)
The third one is for save some weight & for if you are useing climbing harness with the bag it will be more comfort then the padded waist strap
Great all-around travel pack
I've mountain biked, backpacked through Australia/New Zealand, hiked, and done backcountry skiing with this pack. In every case it has been awesome!! The fit is perfect, and the pack sits perfectly on me, transferring the bulk of the weight to my hips. I fit in 3 weeks of clothing and gear and was able to carry-on almost every airline I used (except one with a 7kg carry-on limit!).

I ordered this pack along with 4 others to do a comparison fitting and measurement- and it was the best of the five. If you're looking for a winter skiing pack that can double as an all-around carry-on bag, this is the one. The other packs I compared this with were: Black Diamond Predator 50, Mountain Hardwear Diretissima, Mountain Hardwear Dihedral, and Arc'Teryx Silo 40.

The only gripe I might have with the pack is that I chose yellow- and it gets dirty very easily!
Got this pack primarily for ice climbing and it has worked well. Good, sturdy construction and the pickpockets for holding ice tools work great. The strap under the top flap does a good job of securely holding a rope in place. Wish it had a shovel pocket and a gear loop to hold an ice axe. Other than that, comfortable, well-fitted pack.
Continuing tradition of uncomfortable packs from BD
It gets one star because it looks good and seems to be well sewn out of good material, but that's it.

For a 42 litre pack there's hardly any framing, just minimal foam padding and an aluminum bar that bends and retains the bend regardless of whether the bend fits your back. I removed the bar and at least I don't have a lump or two from that poking me. No matter what you do all the weight is hanging on your shoulders and back; none transferred to your hips.

I also have a BD Covert 32. Both these packs need continual adjustment to attempt the slightest amount of comfort. They're not capable of any melding with you as other packs I have are. They're just a big sack of excrement hanging there on your shoulders, similar to those frameless superlight bags with shoulder straps and no hip straps.

This pack won't last one season with me. My back is saying one of us is going to go, me or this pack.
Hi there, I just received a Sphynx 32L...
Hi there, I just received a Sphynx 32L bag. Inside the bag, there is a piece of gray fabric covering the back panel. On that fabric, there is a diamond shaped cut near the hydration exit port. I really don't see the point of such a cut since it leads toward the inside of the bag. And the cut is quite irregular or poorly done.

Is this part of the bag design? Or is it poor quality control?
Best Answer
I have the 42L, but am thinking they are the same. I believe this cut is for the hydration tube. Because the hydration sleeve is on the inside of the bag, this cut had to be made to get the tube to the outside (otherwise it would have to go through that Velcro access to the back panel or around it, considerably shortening the tube). Hope this makes sense, I've included a picture. Yes, the cut does look rather shoddy, but if you look closely, some finisher/sealant type product has been applied around the cut.
Yes...this is for to get the tube to the outside...the shaped of it is like the Black Diamond symbol shaped. it is a design.
for the quality Ican say. that I have this bag for tree years or more and it's a great bag that can take it all!!!!
I've taken this pack from Mexico to Canada; hiking, flying, and floating and have yet to even frown at my purchase.
It fits comfortably, the padding is excellent even when weighted. Plenty of space, yet fits in overhead compartments and under seats. No "hot spots" develop after miles on the trail. Great material and stitching. I would recommend to anyone.
Best piece of equipment I own
I am a total "gear-head" and BD has outdone themselves again. Have used this backpack for multiple day excursions, mountaineering, climbing, backcountry skiing, SE Asian/European traveling. you name it, this bag can do it.

Big plus: the 42L can be carried on almost every airline with the exception of air korea.
Just got my pack....but how do you attache...
Just got my pack....but how do you attache the crampon straps to the four little black rings on the front of the pack? I've looked at the photo, but it doesn't show enough detail.
You need to take off the buckles, then run the end with the buckle removed through the D-ring, then feed that end though the metal thing on the strap.

Hope that's clear; I can upload a photo if it's not.
A lifesaver, almost literally
First of all, this pack has been great at everything I've used it for (mostly 30 min to 3 hour approaches to climbs, probably 35-50 pounds). I use the 42L and I am 5'9", 145 pounds, and it fits great. Surprisingly spacious given its streamlined appearance, as I have fit a rope, 16 draws, some additional gear, harness, 3 pairs of shoes, jacket, raincoat, lunch and a water bottle in it with little trouble. A notable plus is that no matter how much you fill the body, the brain remains easy to access. Some downsides are that the brain doesn't detach and that there are no outside pockets on the pack, but they are outweighed by its general functionality. The title of this review refers to the fact that a while back, a few friends and I were hiking near the Flatirons when one of them took a nasty spill, sustaining an open fracture to his shin. Turns out the spine of this pack comes out, as does the foam backing, and with some extra padding we were able to splint him up and get him out, using just a few jackets and this pack. Not a feature that will be used often, but nice to know it will work. He's fine, by the way.
I am looking for the dimensions for Black...
I am looking for the dimensions for Black Diamond Sphynx Backpack sizes 32L and 42L?
Here's more Sphynx info for you:http://www.bdel.com/gear/detail/sphynx_detail.php#compare
BLK Diamond Sphynx Backpack
I have not used this backpack to climb any mountains or do any day hiking. What I have used it for is to lug all my various stuff as I flew from Germany to Texas and then to Iraq. It is great. I use the top compartments for my electronic gear(plugs/cords/adaptors/etc...) and the main body serves as a nice catch all for my books, portable ipod speakers,and other gear. It really is also very easy on my back and it fits to me snugly and I barely feel the weight of the material in the backpack.