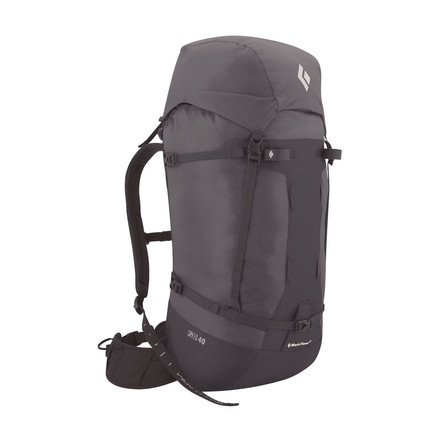 Detail Images

Community Images
Description
The Park Place of alpine packs.
If you're the sort of person who beats little cousin Ricky at board games by robbing the bank when Ricky's in the kitchen getting another ginger ale, you're probably also into expedition-style climbing, where you pay someone else to do all the work while you get a sweet summit photo. If you prefer to whip Ricky the old-fashioned way by using your cunning, savvy, and ruthless exploitation of community chest cards, you're probably more of an alpine-style climber, and you need a fast and light backpack like the Black Diamond Speed 40 to get you up in a hurry.

Weight becomes the central focus if you're lugging all your own gear, so Black Diamond put the Speed on a serious diet, including only the features you're sure to need, like Micro PickPockets for your ice tools, removable crampon straps, and a three-point haul system. You can trim it way down by removing the floating top pocket and padded hip-belt, but you'll still be able to carry your rope in the tuck-away rope strap, and stay hydrated thanks to the bladder-compatible design. Best of all, the Speed has a reActiv hip belt that pivots and flexes with you as you move, and floating SwingArm shoulder straps that connect via an internal cord, allowing them to shift position without unbalancing your load and tipping you over.

ReActiv suspension and SwingArm shoulder straps
Thermo-formed back panel
Micro PickPocket ice tool pockets
Removable 20mm crampon straps
Tuck-away rope strap
Hydration-compatible
Three-point haul system
Removable top pocket and padded hip belt
great overnight pack
Familiarity:

I've put it through the wringer
used it all season doing alpine climbs. Great as day pack and can push it to overnight pack. No rips holding up sturdy to abuse.
A Great All Arounder
Familiarity:

I've put it through the wringer


I have used my Speed 40 for over a year. This thing has been through Hell and Back. I use it has my dedicated Climbing Pack and for short camping trips. I am a fan of the Simplicity of the Speed 40. It doesn't give you all the Bells and Whistles, just bare bones get out and send it!

reACTIV system is awesome!
excellent pack for alpine climbing
Familiarity:

I've put it through the wringer
i've used this pack (last year's version-exact same pack, different color) on multi-day ski mountaineering trips, overnight alpine climbing missions, ski touring, ice cragging, and more. all i can say, is that i love this pack. while it has many uses, i think it works best as a 2-4 day alpine climbing pack. plus i love how you can convert it into a light weight summit pack by removing the lid, waist padding, and internal frame. the ice tool attachment system works great with my petzl quarks as well as my raven pro ax. i personally like the crampon straps since they are so minimalistic. i tend to remove the internal frame and replace it with a foam pad that can be used as a bivy pad, or seat. i haven't had any issues with the swingArm straps. if you bend far over to the side, the pack will shift a little but it hasn't been a problem. the shifting straps allow you to reach high up while climbing with the straps limiting your movement. i've carried loads up to 45+ lbs no problems. the material is very lightweight and the reinforced in high-wear areas. that said, i put a small hole in the fabric while scrambling up some crags in Joshua Tree (lesson: don't wear while chimneying on the quartz monzonite rock of Jtree). overall, this is a very specialized, well-designed pack for alpine climbing. it's light and for the price you can't beat it!
Good Stuff
Familiarity:

I've used it several times
I bought this pack earlier this season for ski touring. My initial reason for purchasing this pack, was the fact it was in my price range but I was pleasantly surprised!
Earlier this season I used it while doing some Adirondack slides and initially liked it but wasn't crazy about it. The technical ice tool attachment system definitely kept the pack svelte which I appreciated. The crampon system however I wasn't crazy about and ended up just putting them inside. I then took the pack out to Utah for some touring and after removing the brain I found that the pack turned from good to great! The fact that the pack has the dry bag type top is convenient and I feel makes the pack more than a 40 litter pack when you need the extra space. The "swing arm" system I haven't had problems with and feel that it is a good idea! It doesn't make a huge difference however is for sure noticeable.

Overall things I dig are: Ice tool system, dry bag type top, gear loops on the hip belt and "swing arm" system.
Things I don't dig: crampon attachment system and how the brain is on the pack.
Use. Design. Engineer. Build. Repeat.
High expectations, disappointed
I was really excited to see the second generation of this pack come through as I really liked the first generation, but I couldn't buy it because I couldn't stand the ice tool attachment system.



This pack was what I was hoping for:



-light weight

-clean outside

-removable lid, straps, frame, waste belt

-easy ice tool attachment system

-easy to rig A frame and diagonal ski carry systems

-crampon patch



But here's why I've returned it and why I won't buy it because I won't use it.



-Swing arm shoulder straps. Bad news.



I didn't know what these were by the description, but basically the two shoulder straps are not fixed to the pack on the lower end. Instead, they are connected to one another with a cord that runs through the lower section of the pack. What this does is it allows for super fluid movement of the shoulders?. too fluid. A pack is supposed to support the load. And when this pack is loaded to 25 lbs, it is unstable and floppy because of this "swing arm" feature.



It get's even worse for the Speed 55. With a bigger pack and a bigger load, the swing arm feature causes the pack to be unwieldy.



I'm not sure why all the pack makers these days want something that will "move with you." I want one that will stay with me and support itself and not toss me around like an uneven weighted barrel. I clean pack with a slim design will move with you without tricks.



So? in the end I'm super disappointed and giving this 1 star simply because I can't use it.



This is a message to BD. Please create a clean alpine pack that also has a clean SUSPENSION. No swing arms. No ergo active nonsense. Just a simple design with the attachment features on this pack and you've won me over.