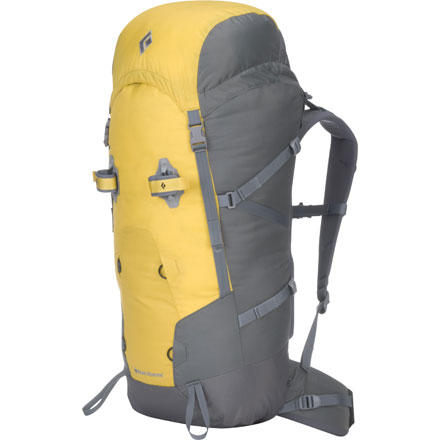 Some people like to stop and smell the flowers. Black Diamond made the Speed 40 Backpack for the rest of us who'd rather climb 20-pitches of rock than twirl in the daisies. This minimalist Black Diamond backpack holds just the right amount of gear for an all-day winter climb or even an overnight summer trip. Carry-overs in the North Cascades or long waterfalls in the Canadian Rockies—the Speed 40 Backpack handles both with ease. When you really need to shave weight, remove the aluminum stay and back panel to cut this pack's weight to a mere 24oz.
Will this pack carry skis? I see it's not...
Will this pack carry skis? I see it's not specifically made for carrying but also see its got side straps where it might work. Anyone put skis on this pack?
I don't own this pack, but I've seen a few pictures floating around online of the BD Speed 30, with each ski strapped under the left and right side compression straps. Then the owner attached the skis at the top of both using a separate compression strap, forming a V shape. So yep, it'll carry skis.
I'm no expert, but I really like this pack. I used a smaller Kelty for a stint through Europe, but I wanted something that could carry more gear. I have used this pack for only one overnight trip, and my girlfriend used the Kelty. We easily had enough for two nights. I like the simple top load design.
the journey into the high himalaya...Cory is sporting this amazing pack...check it out at timecode 1.33
this guy is great for when I'm camping longer than 2-3 nights!I typically use the RPM for trips that last a week and it works great for me! LOVE IT!
Very simple and minimalist, also a lot of space. That's what climbers expect from climbing packs.
Does the Speed40 have a crampon patch or...
Does the Speed40 have a crampon patch or other attachment point(s) for crampons?
I see from the specs that a crampon patch is mentioned. In enlarged pics of the pack, it appears that it might be possible to hang/strap one's crampons onto the pack on the back between one's ice tools. Is this the intended spot? Thnx.The four black metal loops on the front take the BD crampon straps that come with most packs, making a really nice and convenient crampon carrying system.
This pack I use every day for 2 hours of cycle commuting. It is wonderful - it can fit all my clothes, lunch, books, bike repair kit, etc.. The lid has nice compartments to keep your precious stuff safe from falling out (ie. keys, memory sticks, etc.). It is very comfortable. It is incredibly light but also very strong. Only complaint is the lid is not permanently attached - it has little hooks that hook it to the main sack.
Could somebody please supply the external...
Could somebody please supply the external dimensions of this pack ? I'm interested to know if it's small enough (Height, Width, Depth) to be legal to be Carry-On luggage on International flights out of Australia (ie H+W+D <= 45inches). Also are there any nasty bits of metal in the frame that the airlines aren't going to like.Cheers Mark
Here are the dimensions:28" x 11" x 10"
This pack is great! I found that the pack is large enough to hold pretty much all of my gear for at least an overnight hiking trip, or maybe two if you pack very small and light. A really simple and minimal design that can be stripped even more for super-lightness. Great pockets, features and straps. Only complaint (minor) is that the hydration sleeve inside is a little tight, barely holding most of my 70oz camelbak bladder...