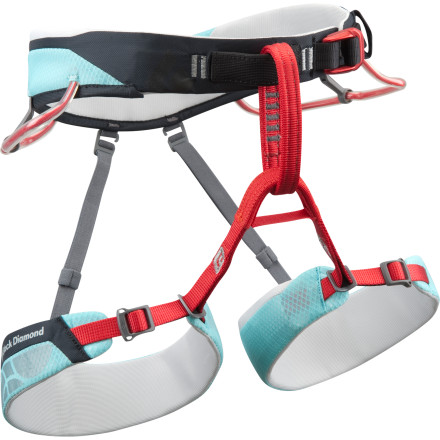 Description
Send it!
The Black Diamond Women's Siren Harness features a design that's specific to aggressive sport climbs and projects necessitating light weight. Furthermore, a women-specific design features Black Diamond's Dual Core XP Construction for a blend of comfort, cushioning, and durability. Rack up the lightest draws you can find and prepare for a big crux push, followed by the impressed gasps of onlookers.
No Complaints
Familiarity:

I've used it once or twice and have initial impressions
I am a beginner but from what I've seen, it works great.

super duper comfy
Familiarity:

I've put it through the wringer
i've been using this harness for over a year and i really really like it. i really wanted a light comfortable harness that was easy to put on. I looked at more expensive ones from BD and Arcteryx but I tried this one on at a local backcountry gear store and it felt very comfortable so I decided to get it. First, it is super easy to put on. The leg loops dont have buckles, so it's one (or two ;) ) less thing you need to worry about. You can still adjust them if you are wearing layers with a spandex strap, - very cool design! The waist buckle is auto double-back, easy to check and make sure it's safe. I find this harness to be super comfortable. I have done long double rope repels, multipitch, alpine, sport, trad, and any other type routes in it and it has never bothered me, I dont even notice it. As advertised, it is designed for sport climbing- the racking space is limited. However, since I am not a fan of gear slings, I still rack my gear on my harness and you can make it work... I've never had issues. One thing that took me awhile to get used to is no chalk bag loop. I use a waist strap for my chalk bag and I'm used to it. Sometimes if not careful, i clip my gear on my chalk bag strap and it's annoying but not deadly. It's also one of the models that comes in an XS size, not all models/brands have XS harnesses, which it super important for me since the weight of gear slides S harnesses off my hips... and it's not safe. To make it even better, it packs very well in a backpack so I have plenty of room for other things.
For the price, style, comfort, and functionality, it deserves all 5 stars. I hope BD will continue to make them so I can replace mine with the same model once it's time. Obviously, not every body is the same, so try it before you buy it. But I'm very happy with my purchase.
Great for Sport
Familiarity:

I've put it through the wringer
This is my second climbing harness purchased after my first one was stolen. Few first impressions:
- Super lightweight, barely notice you're wearing it - which is great for hiking short distances to routes when you're just too lazy to take it off.
- Attached gear loops - bonus for me, since I hate fumbling around on a loop just to find I was on the wrong one the whole time.
Things I noticed after a bit of use:
- Not good to sit in for long periods of time, the lighter weight leads to smaller straps which tend to cut into your legs and waist.
- No haul loop (which has been mentioned a bit)
-Different colored hard points make it easier to miss tying in through the bottom one

Bottom line:
Definitely suggest for anyone who knows what they want in a sport harness. Beginners should probably buy a cheaper harness (don't just get it for the pretty colors) until they know what they like and don't like about climbing harnesses.
Good lightweight sport harness
Familiarity:

I've used it several times
I bought this harness to have something light dedicated to just sport routes. So far so good. Comfortable and light and fits well. Adjustable leg loops are a plus for me as I have a high quad to waist size ratio.
Got it for my girl
Familiarity:

I've put it through the wringer
No haul loop. But its all my girlfriend needs for sport routes
Could be better
Familiarity:

I've put it through the wringer
This is my second harness I've owned- my first was the primrose. This harness lacks a few crucial details in my opinion. First of all, it doesn't have a haul loop in the back for hauling up a rope or anything heavy. This was annoying when I was trying to put holding on the indoor climbing wall and had to hang a heavy bucket of holds from a gear loop. And as for the gear loops- I don't think I like how they aren't separated. There IS a separator inbetween but i feel like it doesn't do much to help organize gear and keep it behind me while I'm climbing. I do however like the adjustable leg loops. Another thing to be aware of is that the bottom and the top tie in points are different colors and a couple times, when I first got it, I accidentally only tied into one, and not both. Luckily I have an attentive belayer you caught it before I left the ground. That's just something to be aware of because it's easy to miss! I would also say that it doesn't have the best cushioning in the legs and back. It's def a good harness for sport climbs because it's fairly light. But in retrospect I think I'd buy a harness with a little more cushion for those multi-pitch climbs.
Love it!
Familiarity:

I've put it through the wringer
Picked this up as my first harness. Well-priced, super lightweight, and the lack of a haul loop hasn't been a problem. Not very comfortable if you sit in it for an extended period of time, though. Great starter harness!
Great product!
Familiarity:

I've used it several times
I am a beginner, and this harness is amazing! I have had my other climber friends look it over and they are amazed at how light it is! It is immensely comfortable! The only thing I would take into consideration is the size of harness you purchase. I was on the lower end of a medium on the sizing chart, so that is what I purchased. It fits well if I tighten it all the way, but a small would have fit me a little better. Other than that, I LOVE THIS HARNESS!
Great Light Sport Harness
This harness is comfortable, very light, has just the right amount of cushion and it easy to secure and loosen. The gear loops bend outward and are fairly stiff so hooking your biner around it is quick and simple. Simple, to the point and a good harness all in all.