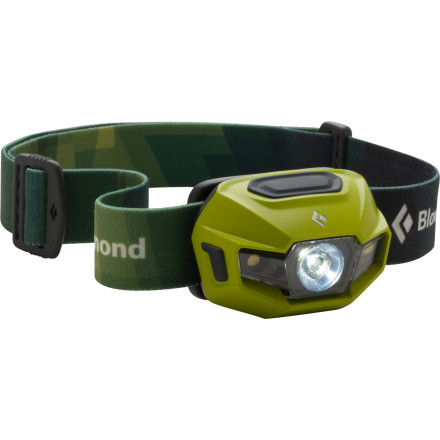 Colors

Detail Images

Community Images
Description
Charge your headlamp at the office or at the trailhead.
Recharge your Black Diamond ReVolt Headlamp from a USB charger from your car or laptop. If you're in a pinch and can't recharge (a.k.a. camping), throw some some AAA batteries in. Dial in the right amount of light with proximity and distance settings, or throw yourself a quick little camp rave with the strobe setting. An adjustable headband lets you throw it on over your helmet when you're out biking, and a tilt function gets you the right angle for seeing what's coming at you. The three-level power meter takes the guesswork out of how much juice you have left.
LED
Proximity, distance, dim, strobe, and red night vision modes
Black diamond AAA rechargeable batteries, or standard alkaline or lithium
300 hour run time (alkaline) 190 (NiMH)
1 lockable button
Adjustable headband
Tilt adjustment
Share your thoughts
What do you think of the
Black Diamond
ReVolt Headlamp
? Share a...
As an active outdoors-woman who constantly borrows her pals headlamps, I finally decided to buy my own. I am thoroughly impressed! The dimming feature is wonderful, and saves on battery too. And the ability to recharge is excellent. The charging port is compatible with most android phones, so is easy to find a cord if I forgot mine. Charges well with my solar charger, and maintains a long lasting battery life (I use mine for 3-6 hours at a time. I couldn't be more happy with this purchase!
Hard Usage
Familiarity:

I've put it through the wringer
I am very surprised and glad with this headlamp, i use it several times, and just change the batteries two months ago, i keep the rechargables batteries as backup. About the photo: we leave the shelter (15748ft) on Cotopaxi volcano (Ecuador) at midnight, so the headlamp was turned on, before six hours of non stop heavy snow, and even frozen on surface the headlamp stills working, i cant tell the same about my legs at that point (19347ft).
Best headlamp ever!
Familiarity:

I've put it through the wringer
I love the multiple light settings. The ability to fade from the brightest to the dimmest setting and select the exact light intensity that you need is really cool. It is also incredibly comfortable on my head. At one point, I forgot I even had the dang thing on.
Good, but hoping for future improvements
Gender:

Male

Familiarity:

I've put it through the wringer
Finally, a rechargeable headlamp that can also run off standard AAA batteries. BD finally hit this niche of the market with a reasonably priced and compact unit that mostly delivers as promised. I really like the standard micro USB charging port so you can juice up with a phone charger. Plus, it won't cost an arm and a leg to replace the cable if lost.

Pros: The duality of using standard AAA's or the included rechargeable NiMH cells. The rechargeable batteries provide plenty of shine on one charge. They don't seem to lose charge over time or even in extreme cold during winter vandwelling. I have used it lightly for 6 months and only charged it a few times. The beam strength is remarkable with fresh batteries. [Update: My unit is about 9 months old and the rechargeables will no longer charge (I just get a blinking red light. Its hard to fork over $13 for a new set if this is the standard life, plus it just means more waste, which is what I am trying to avoid with rechargeables.]

Cons: The unit lacks any sort of waterproof/weatherproof housing which is a big turn off (I wouldn't be surprised if we see this in the next generation). I wish that the dimming function could go lower to make reading with the unit less of a strain on the eyes. The lens seems to scratch very easily too which will lead to diminished brightness (Gorilla glass in the future?). Also, the red light brightness is inadequate.

Bottom Line: A pretty good unit at a reasonable price.

Follow the adventures where I put this gear to the test @Frazier_Far_Out
Kind of Expensive, but I'd say worth it
Familiarity:

I've used it several times
This is a really good headlamp. I love that it's rechargeable and it seems to hold a charge for a really long time. The multiple settings are great too. It's a bit expensive, and the red "night light" setting is very dim, but these are my only complaints.
Super great.
Familiarity:

I've put it through the wringer
This headlamp is great. I love getting out in the dawn/dusk light and this lamp has made it very easy. Non-recharging headlamps make it trickier because a) I never wanted to use up my batteries and b) you want to stretch the battery life as much as possible. Given the light/voltage curve on pretty much all headlamps (where the light output is substantially more with fresh batteries) the result is either scurrying back before dark or running out the batteries with a "50 meter" headlamp throwing a beam barely to your feet. Re-Volt solves this problem for me as its easy to just plug it in next to my phone at home, so its always fresh and I never feel bad about using the batteries. Result: dramatically more time spent in the hills at the times of day I love.

Yes, you could do the same thing by popping the cover, pulling your own rechargeable batteries out and charging them, but for whatever reason I never could follow through with that.

It's also worth noting that you can use normal AAA's, so if you are doing a long trip and want backups its easy.

The light itself is pretty standard with all the features I expected - a good lock, nice red, good light etc.
Quality, Durability & Flexibility
Gender:

Female

Familiarity:

I've put it through the wringer
I now have TWO of these head lamps: One for hiking / camping, and another for sailing. The red light is ideal to see what you're doing without blinding your crew-mates. The non-rechargeable batteries last longer and provide brighter light than the rechargeable ones do, but it's never been a problem for me.
Not just to light the way
Alternative use for this torch - light painting.

I love the light settings as well as the dimming function. The band is bright green so that i do not misplace it in the night. I end up using the red light as well so the it is non destructive to the night sky. You can use this with rechargeable batteries or alkaline - you do get increased lumens with alkaline batteries - by about 10 lumens i believe.

This is a permanent fixture in my photography backpack and I bringing it along on every camping trip as well.
I've got an idea, nope, just a headlamp.
Familiarity:

I've put it through the wringer
I got this for Christmas, and I love it so far. The battery lasts long enough that I still don't know how long it lasts. I've used it a dozen times since I got it and only charged it two or three times. If you're better than I am about remembering to charge it, then you should never have to worry about the battery. It's so bright that I've never blinded myself and my girlfriend on multiple occasions by turning it on at the wrong time. Also, my favorite feature is that the charger for it is the same as my Galaxy S4, so I can charge my phone and my headlamp on the same charger. As far as durability goes, I've dropped it quite a few times and it's held up really well. I'm am 100% satisfied with this headlamp.
A chandelier on your head
Familiarity:

I've put it through the wringer
Love this headlamp! The different lighting options at has are great! You can go super bright or dim it down so you are blinding anyone. My favorite feature is the red light so you aren't going to wake your tent mate if you need to find something in the night and can't see. I also love the rechargeable batteries. Great if you have a solar panel and don't want to take extra batteries with you.
Unanswered Question
Will this headlamp work with Goal Zero batteries? I know it won't charge them, but say if I charged the batts on their own, would they work? Or is it just BD or standard single-use compatibility?
Great Headlamp
Familiarity:

I've put it through the wringer
This headlamp provides great visibility in varying conditions. My favorite feature is that it will recharge the batteries when plugged into a USB port. I regularly recharge in the backcountry with my solar setup and it works great. A key point to remember is that it will only charge the Black Diamond ReVolt specific batteries inside the headlamp.

I have had to readjust the batteries inside the headlamp a few times when it's been knocked around pretty well, but I don't find that an uncommon experience for other headlamp brands.
Never had a better headlamp!
Familiarity:

I've put it through the wringer
I have had this headlamp for over a year now and the rechargeable batteries are still going great as well as the durability of the headlamp. 100 Lumens is plenty enough to have while in camp or on the trail in the early morning or night. I bought another so my fiance could have one. Having a solar powered battery pack also makes life much easier in the field for this headlamp.
works great for me!
Familiarity:

I've used it several times
Had a cheaper headlamp, bet not bright enough. This one is so much brighter and love the red light, so I'm not blinding everyone around when I'm talking to them. Also like the idea of the rechargeable batteries.
Good, but not the best
Familiarity:

I've used it several times
Uses: Rock Climbing, hiking, to scary someone and night photography.

Pros: The rechargeable battery saves me a lot of time. But, as the manual says, you can only use the Black Diamond cable to charge with the original batteries. Lets see how long it will take to replace the batteries.

Red Light: YES! The red light. Why? Because when you are trying to see the stars or you are taking night photos the red light doesn't hurt your vision too much, like the white light. Its true, you can search that.

Many kinds of use: I put on my bicycle handlebar. Just remove the headband and use a elastic to tie on my bike. Perfect.
130 Lumens: My wife has the old one, 110 lumens I think. And believe, both of them, full charged with rechargeable batteries, and you can clearly see the diference.

CONS: Well... While in the rocks at night, my brother uses a Petzl. Actually it is 100 lumens, but you can notice the diference on the quality of light. "What you mean with quality of light"? Well... With the Petzl you can see clearly around you, also, if you want to see far, you can. The Black Diamond is a very good headlamp, but I still think Petzl deliveries more quality. Anyway, depends on how much you want to spend too.
solid
Familiarity:

I've used it once or twice and have initial impressions
needed a new headlamp, this one was appealing because of the option to re-charge the batteries instead of always having to buy new ones. bright, has a few different settings, and seems to last a while. I would recommend.
It rocks.
Gender:

Male

Familiarity:

I've put it through the wringer
-The headlamp comes with rechargeable batteries as well as 3 AAA Energizer alkaline batteries. Furthermore, the rechargeable batteries are branded as Black Diamond and say 1000 mAh on the side. In the manual, it says that you have to use these specific BD batteries to use the built in recharging function. Ostensibly, you cannot use any other brand of rechargeable batteries and use the built in charger. Curiously, it was completely out of battery when I got it. It turned on for about a second and after that all I got was the blinking red light.

-The charging port is a standard micro usb port and any micro usb cable will work with this. A micro usb cable is provided, but no wall adapter. Charging this thing fully over a computers USB port would take a really long time. It took 4-5 hours on a wall adapter to charge it the first time, but this will vary on which wall adapter and which micro usb cable you use.

-It looks really similar to the new Spot headlamps, and all the features and functions are the same as the 2014 Spot's, as far as I can tell. It's slightly less bright, 110 lumens vs 130 lumens.

-Not sure if Backcountry sells replacement batteries but you can buy the Black Diamond specific AAA batteries.

I used this headlamp for the first 500 miles of the PCT (my body broke before the headlamp). I just charged it in town and I was good to go. No buying batteries! I'd really love to see someone do scientific independent testing of this to see how the battery life really is on high and low.

It's easily bright enough for night hiking without putting it on the brightest mode. It's bright enough for easy trail running but not running fast or over technical terrain. (I use the Petzl NAO if I am going to be out running for a long time at night.)

Now I pretty much use it every weekend and it's just so brainless. I never have to worry about replacing my headlamp batteries before the next trip. I just charge it before the trip on the micro-USB chargers I already own.
Great headlamp
Familiarity:

I've used it several times
This is a great headlamp. The light is bright and dimable with red and flashing modes. The batteries last for many hours and the USB charger is perfect for charging from the car.
solid rechargeable headlamp
I have a few headlamps from different companies. all of them are good for their intended purpose. I like this one because it is rechargeable and bright. The batteries are kind of a pain in butt to access so the rechargeable option is nice. If you like helping out mother earth a little, rechargeable is the way to go.

If you would like to talk about this headlamp or any other product we sell, you can contact me at the info below.

kbrady@backcountry.com
1-800-409-4502