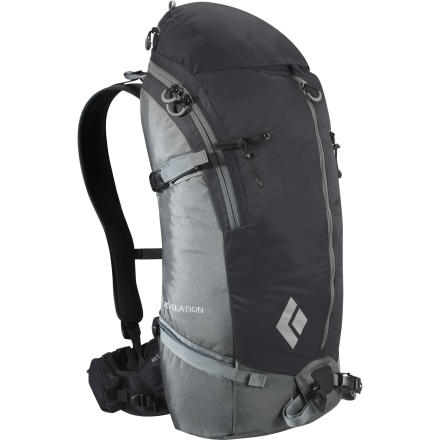 Community Images
A true and just manifestation of a backcountry ski pack is exemplified in the Black Diamond Revelation Winter Pack. This top-loading ski satchel is loaded with winter-specific features and holds the ideal amount of gear for long day tours, ski mountaineering, or light overnights.
A-frame ski carry, sled attachments, and ice tool PickPockets are geared for long, involved tours and overnight missions
Dedicated avy tool pocket keeps your shovel and probe ready for action
Insulated hydration sleeve ensure you don't end up with a frozen brick instead of water
Large top-panel access lets you get at your gear quickly
Great features, flawed build
I got this pack for day ski touring and summer hiking/climbing. Some of the features are great: the avalanche tool pocket is perfect (holds my massive shovel blade w/o difficulty); quick access to the interior of the bag, insulated hydration, etc. It's a dedicated ski pack that still works well for summer.



For me it had a build quality issue that meant I've needed to send it back. The hydration sleeve on the right shoulder strap adds a very stiff seam to the edge of the strap. No matter how I wear the pack this rubs on my collarbone. If you get the pack check the seam to make sure it doesn't cause an issue.
Great for climbing
Gender:

Male

Familiarity:

I've used it once or twice and have initial impressions
Using just for climb, cause there's no ice or snow here in Brazil, but works realy good, enough space for all gear, food, water, and the helmet pouch is great either, easy to use.
i have the older version of this pack and 4 years later it still looks new. this is after being tosses across the ground and into the car and going through trees skiing with this on my back. the suspension system really pulls the back against your tailbone which helps it have a great balance. i would def rcommned this pack and the only downside is with the quality of this pack and how it is lasting i am not sure i am ever going to need another winter pack again.

as always the light no frills construction you may get with arcteryx but the pack feel great on your back and is light and all materials are over engineer so you know it will last. you will never be disappointed with BD quality you just may not be as impressed as some of the gadgets arcteryx and mammut have
Will this pack accept a camelback 3L...
Will this pack accept a camelback 3L hydration bladder?
This particular bag does feature a hydration sleeve, that can accommodate a 3L Camelbak. In addition to this the hydration sleeve is insulated to help prevent freezing during cold weather use.
I debated a bunch of packs before grabbing this one. I was sold on the weight and the helmet "pouch." It doesn't feature a lot of room, so to have an extern helmet pouch that keeps the helmet in place (no flopping around) outside of the main compartment was awesome. Not in love with the a-frame carry though. I had a hard time keeping my skis tight and the edges rubbed one of the shoulder straps a bit. Mostly user error, but not entirely. It isn't quite as large as I'd like. Would have loved another 500 cu in.
have a previuos version to this pack and the urethane has delaminated from the fabric. i hope they have resolved this issue. they have always been good with warranty.
last year's model was not my cup of tea though it got fairly decent reviews. if it's not full, your gear flops around when moving quickly. not the comfiest shoulder straps or hip belt either. it'll do the job, just be prepared to load it up 100%. there's not enough compression straps for my liking and also the top load feature on the older pack wasn't my favorite design. great pack that's much light and has been tried and tested is the speed by black diamond.
Does anyone own this pack? I was looking...
Does anyone own this pack? I was looking at it for bc skiing, mountaineering, and light pack for summer climbing. Or is would something else be more practical?
This is a great pack for day trips, or SUPER light overnighters. The size is good, the A-Frame carry for skis is great, fits my fatties, and the pull tabs on it are very easy with gloves on. That is a big plus to get your avi gear out in as little time as possible. I have not used it for climbing, and personally I like a top loader with a flap over pocket for climbing, just so rope carry is easy, but this will definitely hold your gear for the day.
I was thinking of the same uses for the pack. Based on weight, size features and price, I think it is the thing available right now. hands down.
The chest buckle loads with snow and doesn't push through when you try to buckle it again after setting it down in the snow. I had to clean it out a couple of times. I used it for the first time last weekend 3/20/2010. Other than that it was OK.