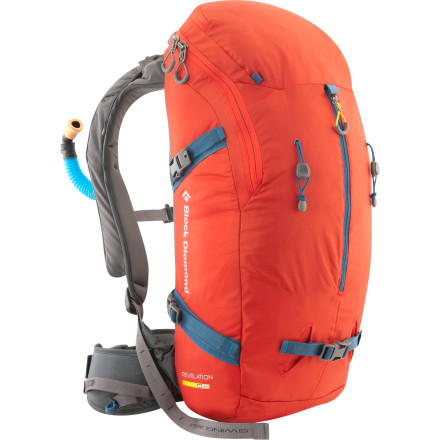 Community Images
Organization and safety are everything in the world of elite-level backcountry skiing and mountaineering, and as such, the Black Diamond Revelation Avalung Backpack was designed to fit these principles. An integrated Avalung system extends your potential post-avalanche-burial breathing time, external holders and pockets keep your technical ascending gear and rope within reach, and the articulated suspension system makes even heavy loads feel lighter. Ski easier, climb faster, and do it all with better peace of mind.
Built-in Avalung system significantly extends your fresh air supply in case you're caught in an avalanche and buried beneath the snow
Fresh air is pulled from the valve box by your shoulder and through the Avalung mouthpiece, and when you exhale, CO2 is expelled from the exhaust port by your waist
Avalung mouthpiece and tubing stow away in the shoulder strap when not in use, but are easy to reach so you can extend the mouthpiece just before you drop in
A-frame only ski carry style keeps the tails of your skis away from your feet when you're kick-stepping your way up a chute
Padded, adjustable SwingArm straps are linked on the bottom with a cable so they move in concert with any body movement
Padded, adjustable ergoActiv waist-belt uses a ball-joint to attach directly to the frame so it can pivot as you move and angle the weight to your legs
Hydration sleeve allows you to use a hydration bladder to stay hydrated, and the insulated design keeps your water from freezing solid
Enclosed shovel and probe organizer pocket makes it easy to find your entire avy tool kit quickly, and the enclosed design protects your essentials
Ice tool PickPockets and crampon patch give you quick access to your specialized mountaineering tools
Other features include a tuck-away helmet holder and strap for holding your climbing or rap rope
Awesome Backpack. Worth The Money
This pack is everything I could need for a day in the backcountry. The Avalung gives me a little more confidence while in avalanche country, and the pack itself is great. The size is perfect for a day trip, and comepletely full it weighs right at 15lbs. It moves great with your body while snowboarding, and keeps very well balanced. The pack does a great job of keeping the weight in your shoulders because of the way it narrows at the bottom. Personally I like that, but that's a personal preference. Overall I am very pleased with the pack and backcountry.com
I've had the opportunity to bust this baby out a few times this last season. I wish it could have been a few more but hopefully the snowgods are saving some of that love for us to unleash during this next season. Anyway, this has been a great bag that seems to have great durability. It has already taken a few tough spills and even has been dropped over a rock ledge on accident and still remains unscathed. In the backcountry, any extra safety blanket helps. And to know that you have that extra safety precausion on your back in case a slab breaks off while your in the middle of bombing your dream run, it helps you breathe a little easier... It also helps you breathe easier if you're not so lucky and you get buried at the bottom of it all. That extra few minutes of breath can be the ones to save your life. It may be worth the extra couple bucks to invest in an avalung pack if you're fortunate enough to enjoy skiing in avalanche prone areas. Overall, I'm very happy with the performance of the bag thus far.
Owes me nothing
Familiarity:

I've put it through the wringer
I've had this bag for 3 years now and it has been put through hell and back, and keeps on truckin'. This is a very good bag, and is built like a brick poo house. It is very good, but could be better (see the MH Direttissima). I liked the idea of the insulated hose, but it never really worked for my bladder (3L Platypus). Another thing that bugged me a bit was the bottom of the bag is very narrow, this made it difficult to put the heavy things below. Other than those nit picky items, its a solid winter hiking/ski/crag bag. It is built Ford tough and has good features.
Solid
Familiarity:

I've used it once or twice and have initial impressions
I haven't been able to use it much yet. First impressions are good. This seems like a well made pack with attention to detail all around.
What is the internal organization for avy...
What is the internal organization for avy gear like? The outlaw and covert have separate zippered compartments accessible from the outside but the revelation does not so how easy in emergency can I get my gear without shifting around my lunch and layers?
It does have a separate avy tool compartment, accessed by that big vertical zipper on the back. There is also a strip of velcro along the top of the opening, so that you can open it a bit wider too. I really like this design, because you still have quick access even with an ice axe or helmet attached to the pack.
Love this pack
Gender:

Male

Familiarity:

I've put it through the wringer
I love this pack for big, cold-day ski tours. This thing fits it all and leaves a little room to spare -- saw, shovel and handle, probe, extra clothes, food, bladder, miscellaneous gear, rain shell, and, best of all, a helmet. I'm not a fan of the helmet carrier (on this bag or any other), so having enough room for a helmet in the pack is essential. The avi. tool organizer/front pocket is awesome for easy access. I skied and climbed Mt. Shasta in one day with this pack last summer; even with every piece of gear (including two axes), loaded to the max, the pack felt great on my back.



Little things that are a bummer: This pack only has an A-frame carrier ... I don't like A-framing. I got an "outdoor tailor" to sew a cross-ski carrier on the pack and it works fantastic. The S/M pack will not accommodate the BCA saw in the avi. tool organizer (it will in the M/L pack).



Note: I'm 5'11 and I fit perfect in the S/M pack. The M/L was somehow huge on me.



Overall: This pack, though a little on the heavier side, is the bomber bag to go with on big days in the backcountry when there's snow involved.