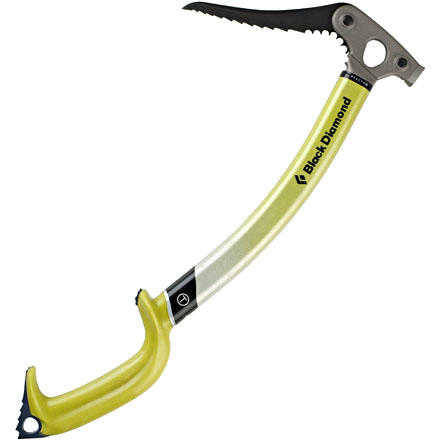 Community Images
Black Diamond brings incredible leashless performance to pure ice routes with the Reactor Ice Tool. Its curved upper shaft clears ice bulges and cauliflowers with ease, while the Black Diamond Laser pick provides excellent penetration in bullet-hard blue. The Reactor Ice Tool's TPU-coated, staggered bottom grip allows easy matching on both ice and mixed routes with minimal pick shift, and the mini-hammer is just big enough for pounding the occasional pin in a gear-protected line.
Curved upper shaft clears bulges
Staggered grip eliminates pitch shift when matching
Ideal for both ice and mixed climbing
Clip-in point allows you to use tethers on multi-pitch climbs
Good, Versatile, and well... BD
If you want a very well rounded tool that climbs ice and rock very well look no further. It's got the staggered bottom grip to match tools, also this makes steep rock/ice climbing much easier on the pump. It's cambered enough to climb steep ice easier also makes a better mixed tool too. I would say this tool climbs ice better than rock. If you're looking for a mixed tool don't get this, try out the Nomic or Ergo from Petzl, or Viper or Cobra from BD. I personally would stick to BD because their tools (I think) swing better and are lighter. Although the Nomic is arguably the best tool ever made.
I bought these my first year getting into ice climbing, and for the price, they really are an amazing axe. I've done everything from long moderate pitches to vertical ice with these and have no complaints. If you are looking for an ice tool that is inexpensive and will always get the job done, go with the Black Diamond Reactor.
Pretty good entry level axe with a technical shape for mixed climbing. But it's still a large investment for a transition tool. If you like it and don't want to ever replace it, then it's a great deal. But I found it good enough for a day's scaling but wouldn't add it to my kit. It doesn't support matching too well as the mid section requires a firm grip to maintain. Other tools with a hooky mid (Quark, Cobra, Viper, etc.) give you a much easier rest and more comfortable hold.
Excellent tool for a great price
The tool get a great bite with every swing. The goemetery is great, doesn't smash your knuckles agaist the ice. The handles provide excellent gripping and don't wear out your forearms. Great tool!
These tools have good and bad as with any tools. For me they are more bad than good.

I like the metal spike above the handle, its solid and sticks to the ice well. The geometry is ok and the clearance is good on the tools, matching is good on them too.

I don't like the handles, they are poorly shaped and my hands ache to hold onto them for very long. the geometry is ok but I find they are sometime hard to hit the way I would expect them too. I much prefer my Vipers leashless over these tools.
BD is pulling through for us again!!
LOVE EM! I'd climb with these or the Petzl Quarks. Hands down the two best tools God has allowed man to create! With these tools, don't sharpen them though....if they are too sharp its hard to get them out of the ice....the only tool I've used were it is TOO secure! So use them for a bit, dullen them down and you'll love them too!

Reasons to love them...the ergonomics are spot on. The petzle nomics (SP) didn't feel secure for me and a little too light. These are what petzl was trying to make.
The Reactor lives up to its billing- it looks like a fancy mixed tool but swings like a real ice tool when bashing ice. The grip is roomy for any size hand, the bump grip is well built but unobtrusive (just needs some grip tape like rubber electrical tape to finish it off) and it has all the clearance you need. It is a tad heavy but I don't seem to notice it when swinging and my 5' wife likes them too.

A few critical comments: The hammers are tiny and Im not completely convinced they are an improvement over the standard hammer and the pick shifts as you match on the bump grip if you are not careful while dry tooling.

Overall, for the price, they are hard to beat. A great leashless tool. They come with Laser picks and you want to make sure to sharpen the spine on top all the way back (BD sharpens it w/in 1 inch of the back) or you will be pumping out while trying to clean it unless you live somewhere where the ice is cold like New England and 1/4 inch sticks are actually bomber!
This tool, as was said above, has great clearance so you never pound your knuckles. This is hands down the best tool you can get for the money. The only other tool I liked better was the leashless Cobra. Anytime I'm climbing in Hyalite and someone uses these, they always love 'em. Can't go wrong here. Haven't done any dry tooling, but I can't wait to try.