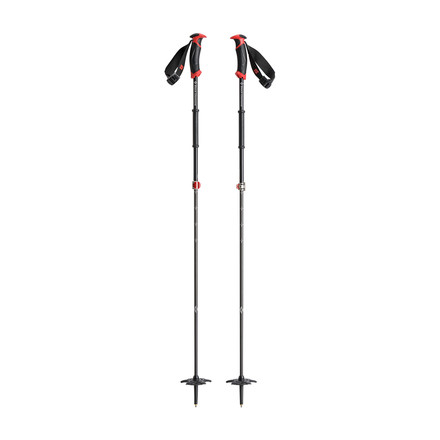 Colors

Detail Images
Description
Aluminum upper. Carbon fiber lower.
Black Diamond outfitted its Razor Carbon Ski Pole FlickLock Pro technology so you can adjust the length of this super-durable pole on the fly and with a flick of your thumb. This is a light, stiff pole destined for use during long ski tours into the backcountry and steep traverses across exposed slopes. Smooth swing weight helps you execute fluid, flawless turns, and a thick-walled aluminum upper combined with a carbon fiber lower gives you the best of both backcountry pole worlds.
14mm aluminum upper—11mm carbon fiber lower
Touring Series grip with fluted interior
Touring Series strap with lightweight webbing and ladder-lock buckle
Lightweight grip extension
100mm powder baskets
FlickLock Pro adjustability
Beat the stuffing out of these for years
Familiarity:

I've put it through the wringer
Ski poles and I just don't seem to get along. I've probably had two dozen pairs over twenty years, and most of those are currently in a landfill as a result of the beatings they've received. Tip rolls, protecting skis on icy, edged out traverses, wacking boot soles, savaging underbrush, being landed on when a flip goes awry, and fiddling with tech bindings all conspire to deal a death blow to most of what I've tried. Then, I take them out hiking in the summer and beat them on rocks.



A few years back, I received a pair of the 140cm version as a Christmas present. The same pair is still in use, minus a new shaft replacing one that broke off below the basket from improper tech binder turning technique (my own dumb fault). The lower grips have moved around some, but that's a minor quibble that's easily solved with a little tape on the shaft.



It's hard to describe how ridiculously impressed I am that these things are still kicking. There's not much more I could do to test them, other than fighting three samurai at once or throwing them in front of a moving train--they'd probably be fine after both of those scenarios. These things seem to have arrived through a time warp from an earlier era where gear was built to last an honest lifetime. You might have to put them in your will. And much as it sounds as such, this is not hyperbole, folks. You could build a bloody house out of these things.



If you're looking for a compact pole, go for an expedition or three section. If you want something super light, look at the feathery carbon Komperdells. If you're considering the Traverse instead, STOP. Those things bend like a trampoline at a obesity convention. But if you intend to keep the world at bay under the iron (well, aluminum and carbon) rod of your ski pole, then stop here and don't look back.



The baskets are of proper size for real powder touring--none of this flailing, weight-weenie, aerodynamic nonsense. You can adjust the Dynafit flip towers with them. They screw on with a moderate but not excessive amount of force, and don't come off.



The grips are genius. Buckles and sticky climbing risers are simple to adjust with the hook on the pommel. You can also lazily sit around camp and grab things without getting up. Further, the top of the grip is both plastic and rubber, meaning you can be comfy while still using them as bash sticks when going out of tour mode in a tech toe or soundly thumping your idiot tent mate for spilling the oatmeal (he had it coming).



If nothing else, look at how much I've written about a freaking ski pole if you need evidence that these are worth your money. Seriously.
use it for multiple things
Gender:

Male

Familiarity:

I've put it through the wringer
first, sizing. I'm 5' 10" and have the 115cm-140cm length. This length is great for what I use it for, snowshoing, splitboard touring, and backpacking. The Flickpro adjuster is very easy to use, even with gloves on. The shorter option would have worked, but sometimes I do extend the pole pretty far if the snow is really deep and soft. I give it four stars due to the fact that it is a little long on my pack when I'm not using it, but I knew that when I got the longer pole. Even the shorter 92 cm length would be longer than I would ideally want on my pack. This is a small sacrifice for a killer pole.