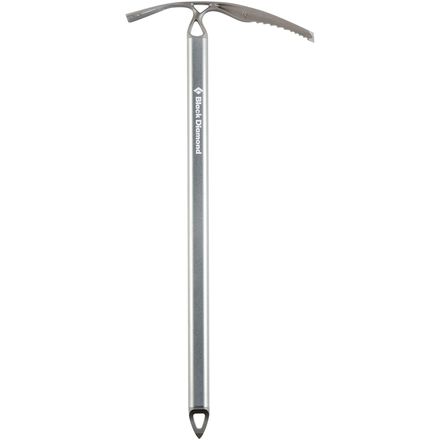 Colors

Community Images
Description
Rainier or Denali, the Raven gets you there and back.
The Black Diamond Raven Ice Axe is designed to give you the greatest comfort and ease of use possible. The ergonomic, stainless steel head has a flat top and hourglass shape at its connection to the shaft. This creates a shape that's comfortable to hang onto and allows fast transition to self-arrest. The Raven's pick shape is very secure in self-arrest, and the large adze makes the dismal job of chopping a belay ledge a little more bearable. You're going to be walking for days with your ice axe. The Raven's comfortable head will make all the difference.
Classic design idea for any mountaineering situation
Flat head makes a more comfortable hand rest
Great for Backcountry Snowboarding
Familiarity:

I've put it through the wringer
Wasup, I am 5'11 165lbs and I bought the 65cm Ice Axe. It is too legit to quit.. But really it fits very well on my pack while splitboarding or spring glacier travel. Long enough to put my poles away on steep ascents. I use it for self arresting and that's it, but I have had to use it twice and it didn't fail me, thankfully.
summit of Rainier with the pops!
He's got the Raven Pro and I have the Raven. Personally, I think the Raven is more comfortable to use than its lighter counterpart.
does the job
Familiarity:

I've put it through the wringer
Not the lightest piolet on the market, nor the most specialized, but the Raven sure does get the job done. It's perfect for steep climbs, self-arrest practice (hopefully you won't need to use it for the real thing), and all-around snow travel. The Raven is solid and sturdy, while still remaining light enough to carry around all day without complaints. You simply can't get a better axe for the price.
Superior en route to Heart of Darkness
Got Me Through The Heart of Darkness
Raven on the pack after climbing up to and descending down the Heart of Darkness chute.
Best axe for the price.
Familiarity:

I've used it several times
For the price of this axe you can't get a better one. This thing is light and super sturdy.
Best Answer
So for a versatile size, measure the distance between the tip of your middle finger while at your side and the malleolus of your ankle. This will provide the most versatile size for you.



If you intend to be on steeper terrain mostly, then you can use a shorter axe, if you are going to be on more moderate flatter terrain then a longer axe will suit you better.



You can call or email me directly. 801-736-6398, or bporreca@backcountry.com
Worth the weight
Familiarity:

I've used it several times
I have brought this wish me on a few peak climbs and it has come in useful on each occasion. Not only for self arresting but also to help with glissading and used in place of a trekking pole to get up and down steep icy parts. Also makes me feel safer when solo hiking further out. Has nearly paid for itself already.
Saved my life.
Familiarity:

I've used it several times
Got these for me and my husband. We have used it snowshoeing a couple of times. Im 5'4" and he's 5"9 and we both have 70cm. Its a PERFECT length for deep deep powder when you get back into the backcounty. It is a little uncomfortable to hold between the fingers (however that might just be my gloves because its not for my husband) Both of us had to self arrest on a steep down climb and it definitely gets the job done.
Hard to beat
Familiarity:

I've used it several times
There are lighter piolet style ice axes out there, and there are ones with a more ergonomic curved design. But for the weight and price of the Raven its pretty hard to beat. The Raven is going to be plenty durable, and is very comfortable in hand.



When it comes to its brothers the Pro and Ultra, they achieve the weight savings by downsizing the head of the ax, which is obviously going to reduce some of the functionality (especially for the adz) in exchange for a lighter weight.
The most comfortable
Familiarity:

I've put it through the wringer
This axe really is more comfortable than competing axes. I've tried similar axes from Petzl and Grivel, and used the BD Venom on occasion, and this axe really is more comfortable than any of those. If you need your axe for more than about an hour, the ergonomic head really starts to make a difference. It would be my only recommendation for moderate snow/glacier climbing.
I'm 5'9'' and will use the axe for winter hiking/mountaineering. Can anyone explain/recommend how I should size the axe?


The Mountaineers recommend a 70 cm axe for nearly everyone with regard to general mountaineering. This information can be found in the latest edition of their book, "Mountaineering: The Freedom of the Hills," on page 322.
The rule of thumb I've heard is that the spike should be about at your ankle bone when holding the axe with your arm down. A longer axe will be more comfortable for gentle terrain and a shorter axe will be easier to use on steep terrain.



I'm 5'11" and I have a 70cm - so that will probably be a good size for you as well.
Gets the Job Done
Familiarity:

I've put it through the wringer
I used this ax while backpacking in some slushy conditions in Olympic National Park. It saved me a couple

times when I slipped and started sliding. The ax is a bit heavy compared to other ice axes, but it gets the job done and can out up with some serious abuse.
I'm 6'6" and will use the ax for bc skiing mostly. What size would you recommend?
The general rule for mountaineering is when you the head at your side, the point should be by your ankle.

But for backcountry ski travel you can go a lot shorter assuming on flats and glacier you will still have skis and poles on. But for steeps where you're plunging the spike and boot backing a ax over 60cm gets unwieldy.

What type of backcountry travel will you be doing? Will the axe be on your back 98% of the time? and do you plan to use it to make an anchor?

At 6'2" I used a 65cm of the Raven. Now I use a 50cm Camp Corsa Nanotech. Half the weight means I don't mind carrying it around all day and not using it.
I agree with the above. For skiing, your axe only comes out for the steeps, so it makes sense to prioritize ease of climbing and weight (aka - a short axe) over walking comfort (long axe). I usually ski with a 50 cm axe, which would work - you are pretty tall so may want to consider sizing up to 55 or 60. You could also look at some lighter options than this because weight will be more important than comfort.



It is really up to you what size, just make sure you understand the tradeoffs!
Pleased.
Gender:

Female

Familiarity:

I've used it once or twice and have initial impressions
This is my first ice axe. I chose it because it's affordable and available in my size (60 cm). It sits at a comfortable height for hiking , it's super light weight and fits on my pack perfectly. The axe is agressive and the BD leash was secure. It gave me confidence and saved me a few times when my feet slipped out from under me. I'm more of a trail runner who's a little too antsy for the snow to melt than a mountaineer, quite honestly so I'm using it on soft snow wearing shorts and trail running crampons. It's not a burden to take a long since it's light and small but it sure is nice to have when things get steep and slippery!
This is a solid ice axe. It is comfortable in your hands. It comes in 4 sizes so you can find the perfect size for you. It is light enough that if you think you will need it but find out there is not as much snow as you thought you won't even notice you packed it all the way up. Great buy I am very happy with it. Don't forget the covers to protect it and your gear.
classic
Familiarity:

I've used it once or twice and have initial impressions
great axe for light mountaineering and ski mountaineering use. Purchased this as a back up to my old Camp USA neve axe. Awesome price point to use as back up axe or to lend out to a buddy when you get to your objective a few hundred miles from home and they realize they left their axe sitting in the kitchen.