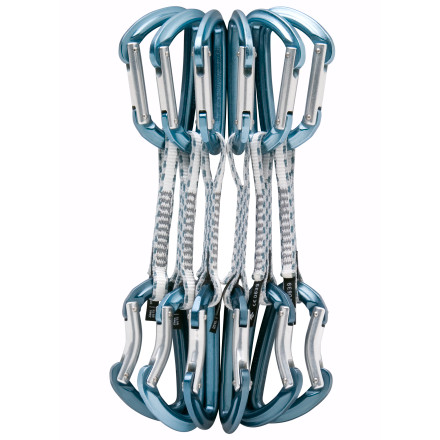 This Black Diamond Quicksilver Quickpack sets you up with six Quicksilver Quickdraws to build your new rack or add to an existing one. Each quickdraw includes a straight gate and bent gate carabiner for versatility and easy clipping on everything from splitter trad routes to burly sport pitches. The rubber straightjacket insert inside the Black Diamond Quicksilver Quickdraws' Dynex dogbone ensures correct gate orientation when you reach for a sketchy clip.
Super light and sturdy. Gives you the "warm fuzzy" you want from your gear. Black Diamond usually gets it right.
If you're starting to build a rack, it's hard to go wrong with a deal like this.

Pros: Good value. The straight-and-bent-gate combo is classic and makes for easier clipping. These draws are also not super heavy.

Cons: Dyneema runners are much more prone to spinning and twisting, increasing the likelihood of back-clipping. However, as long as you're careful and smart about your clips, this should not be a problem.

I own two sets with varying lengths of dogbones (for reducing rope drag on overhangs or slabs) and they've performed really well. Not the top of the market, not the bottom, a good middle-of-the-road draw that will catch your falls and help you build a great beginner/intermediate rack.
I love these things! The price is right and they perform just as good as ANYTHING out there...basically the other more expensive ones out there are just a tad lighter and may have slightly different bends on the biners. I liked 'em so much I just bought a second set. Black Daimond is my only choice for draws and biners.
i've never used quickdraws before, (i climbed a little back in the day, before they had these) but these are easy to use. i wish i had got the quickwire to save the weight though.
These things are all you really need if your just starting out or are looking for some cheap draws. They are not the lightest or the fanciest but they will still catch a fall. Bottom line if your buying biners for alpine or trad spend a bit more but if your just getting into the sport or need some cheap draws then pick these up.
just getting started or need to replace a bunch of old ones? this probably the best pack for price and quality. bent great is super easy and they are a pretty light set. you can't go wrong for sport or trad.
Got these as my first set of normal draws in addition to 4 or so single slings. They are simple, strong, and good feeling draws as far as I'm concerned. They are a bit small for clipping for my hands (i got big mits) but for the price I really cant complain. The action is solid and feel really great during a clip.

A+ pick for a first set of draws
Great price. Great quality.
The headline says it all. I use these for sport routes and clipping into passive pro on lead. I've also found them to be pretty lightweight, considering similarly priced alternatives. You can't go wrong with these. Try to pick the Quickpack up on sale and save a few bucks.
Black Diamond Quicksilver Quickpack Quickdraws
Black Diamond Quicksilver Quickpack Quickdraws These quickdraws are great! Reliable, light, and easy. I love them and can rely on them for lead climbing. Need to get more of these soon.
These draws are flawless. A tad bit heavier than wired-gates, but that to be expected. However, I feel they are a bit sturdier than their lighter counterpart. A 'no-brainer' buy. This is my first rack, plus some other friends, and its a great starter.
Are these quickdraws the same as wire gate?...
Are these quickdraws the same as wire gate? Or is better to have mixed gate?
I use both these quicksilvers with the strait/bent gates, as well as wiregate draws. To me, the differences are subtle. Your ability to clip a bolt or the rope when lead climbing has a lot to do with your familiarity with the draw and your personally dexterit. I really like the bent gate when clipping the rope, that is a big positive. If you are looking to get your first set of draws, this is a great pack to get your rack started.
These are lightweight and super strong. Probably one of the most used and heard of draws on the market.
Black Diamond Quicksilver Quickpack Quickdraws
these quickdraws are great! much lighter compared to my other ones. bent gate makes easy clip in
These are great quickdraws on their own... put six in a pack and you've got a great rack starter. I use them on sport routes and to clip to gear. They're fairly light and practical for the price range. Bent gate on bottom makes for very easy clipping.
Only drawbacks:
1)Kind of heavy compared to some quickdraws
2)carabiners can get hung up on harness or gear (remedy by replacing top carabiner with a keylock carabiner)
Quickdraws are light, easy to use and serve their purpose well! Good work BD. Rubber insert does help to keep them straight for long reaches.
What is the most important gear I could...
What is the most important gear I could buy to start building up my climbing gear? Like carabiners, rope etc. I know about harnesses and heltments, but all the different types of rope and locking things confuse me. Or if there is a website that can educate me much thanks!
Best Answer
For bouldering in the gym, you need shoes and a chalkbag. For bouldering outside, add a crashpad. For sport climbing outside, you need shoes, chalkbag, quickdraws (probably at least 15), a harness, a rope, a helmet, and some kind of belay device. Vastly more importantly, you need to know how to USE all of these things. If you have a local gym, talk to them about learning how to lead, belay, and other basics like that.
You should also get a PAS -Personal Anchor System if you are climbing outside. You might not need 15 quick draws if your routes aren't that long. The routes i was doing were about 60-80 and only needed 6-8 quick draws and maybe an extra one or two
Honestly, if the "locking things" confuse you, I'd say take a couple classes or have a guide take you up the mountain first. Knowing where you will be climbing and what type of environment you'll be in will help you choose items to build your rack and what kind of rope you'll be using. I'd recommend starting out with an anchors class and top-roping outdoors first. This involves minimal equipment and will get you used being outside. Don't rush leading and throwing together a rack you might not get a ton of use out of.
The bent gate on these are the best that I have clipped into so far. Love the weight on these and the price. Good for starting up your gear for climbing. Only thing I don't like is how they can easily turn from there original position on ya if your not careful, because of there thin runners. I've seen it happen to a few newbies going for the lead.
is the price for all 6 quickdraws or just...
is the price for all 6 quickdraws or just 1
Great standard gear for any regular sport route. They are light and easy to use. The rubber insert keeps them steady for those long reaches.
Quality all around
Familiarity:

I've put it through the wringer
These quickdraws are a great beginner standby. Their solid on bolts and not too heavy for your standard sport route. The gate pull is about average so clipping is not too hard. I've taken a few lead falls on mine and there has been no deformation, just some finish wear. To climb harder sport, multi-pitch, or big walls I'd want a lighter set of keynose or wiregate carabiners.