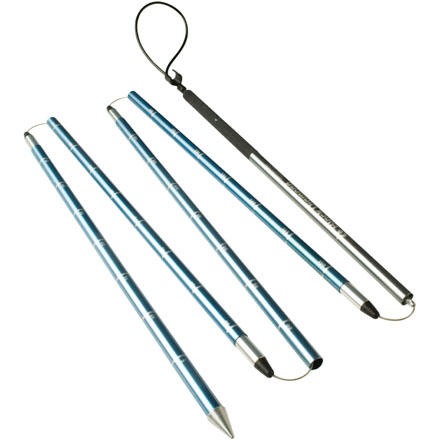 As the shortest and lightest Black Diamond probe available, the QuickDraw Tour Probe 190 makes a great pick for shallow-snowpack spring ski trips or times when weight is a major issue. Black Diamond gave this compact probe tapered furrels and a one-pull setup, so you don't waste a second when seconds count. Markings every five centimeters help you accurately evaluate snow pits. The QuickDraw Tour Probe 190 is also a favorite of alpine climbers who want to be prepared but can't afford any extra weight.
A note on length
Familiarity:

I've used it once or twice and have initial impressions
Some here have commented that it is too short to be much use. That is true... most places. If your in the Adirondacks where small scale slab avalanches pose the most significant avalanche threat, then this probe is fine. if your heli-skiing in the chugach, you need to rethink your gear loadout.
In hindsight, I think I might have been better off to spend a few more $ to get one of the carbon fiber probes. In side by side comparision in the field, I found that the aluminum probe has two issues: first, it bends more, and second, at temps around freezing ice accumulates on the probe shaft, and that changes the "feel." The third issue is not related to materials; it is that the locking mechanism tends to come unlocked. It takes a good tug on the wire to lock the pole pieces together, but seemingly only takes a little bit of tension to unlock them. It's not the greatest. That said, this probe does the job at a relatively economical price.
Everything about this probe is great, except, uhhh...the length. Which is kinda the point of a probe. I'm going to discuss this with some guides from Mountain Madness tonight at their avy seminar and post here again.

I'm tempted to already say this probe is too short for just about anything.
Goes together quick and holds great to some serious impacts and to hardest snow conditions. I use it both for skiing and smowmobiling. Another quality Black Diamond piece of equipment.
If you are doing backcountry skiing and need a beacon, definitely get something longer than a 190. I own this and after using it for one season you realize if you ever had to use this probe other than in drills, the extra little money for a longer probe definitely makes you and the people you are skiing with feel a lot more comfortable
How do I decide if I need the 190 or the...
How do I decide if I need the 190 or the 265?d
Best Answer
Buy the 265 or even the Black Diamond 300. Read my above review, its always worth the extra money to have a longer probe.
If you carry a probe, make it a good one
Probes are not the place to cut corners and try to save weight - they need to be simple, quick to set up and reliable. I like this probe as it can survive a good, hard pounding without breaking. Other probes I've tested in hard snow (like automated beacon test sites) have bowed, bent and/or had the tensioning mechanism come loose. Not this one.
Easy to use, fast assembly and better quality than most.
This probe flips out and is ready to go in about 1.2 seconds.. the click-top lock is super easy and super quick.. Thankfully, the only thing I had to use it for on my last trip was checking for rocks in the snowbank under our cabin so we could jump off the deck after a few cocktails, but it worked. A somewhat unique feature is the sandpaper-ish grip, which is really effective in keeping the probe in your hands, but tears your gloves up a bit - if you're using your probe, your gloves are the last thing you care about, so I am backing it... dropping your probe during a search is just not good. Great probe.