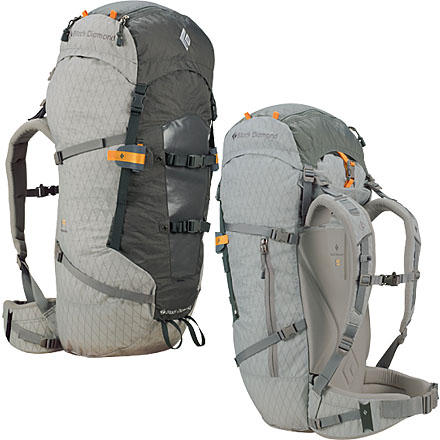 This is a well made backpack, as one would expect from Black Diamond. I bought it for ice climbing in the Andes, and this size was perfect as a carry on. When we reached Argentina, the airline made me check the bag, but again it was small enough to fit into my large duffel checked bag. I hiked 25 Km and carried the gear we needed for a day's ice climbing. For a multiday backpack, I may get the larger size of the Quantum backpack. Or, I may strip this one down as a summit pack and stuff it in my large Gregory Palisade backpack, which I would then leave in a base camp.
What a sweet pack! Very light, lots of room and great features. I have a 21" torso and this pack felt too short. I couldn't really get the weight down on my hips. Your experience may vary, of course. I wish this pack fit me though because other wise it seemed great!
Solid. They are right. You can strip it light and the pack still packs well without your bongos hip jarring. Standard rain pour won't soak what's within. If you dig 'Alpine Style' the 45ltr belly will take everything you need - just throw in some courage, chuck-up your breakfast, and mix-it-up. 5'9" 175 pounds - small-medium size goes good.
Great pack! (Quantum 55L)
Bought this pack for a week-long ski-mountaineering trip - seemed much more spacious than the 55L quoted volume. SUPER light - even when not stripped down. And seems bomb-proof - didn't flinch at being dragged through alders and spruce forest, then used as a door to keep snow out of a snow cave! All the features you need, except perhaps little wand pockets to stash poles or the odd energy bar in. Otherwise, highly recommended.
Very light and strong pack. I use it for winter camping and even extended back country tours. I picked mine up on SAC for a great deal. I'd pay up to about $160 for this pack if I would have to replace it. This pack has well placed straps and pockets. This pack is designed to be light, not 100% bomb proof. After a full season with this pack I have no complaints.
Is this being stocked only in the 65L? ...
Is this being stocked only in the 65L? I'm looking for the 55L with M/L frame...
backcountry.com is selling the Black Diamond Quantum, M/L 55L in the Dolomite color. Here's more info:http://www.backcountry.com/store/BLD0995/Black-Diamond-Quantum-Backpack-2746-3967cu-in.html#qanda
Sac-a-dos Black Diamond comment in french
Un petit commentaire en francais concernant ce sac-a-dos. Le sac est hyper extensible ce qui permet de rajouter pas mal de materiel en plus. Le sac est tres sobre et bien coneu. Je suis satisfait.
Concernant les frais de transport pour l'Europe, il faut vraiment comparer les prix car ce n'est pas forcement meilleur marché de commander aux Etats-Unis car les frais de port ne sont pas donnes et a cela se rajoute les frais de douane. Etudiez bien la chose pour savoir ce qui vous reviendra le moins cher.