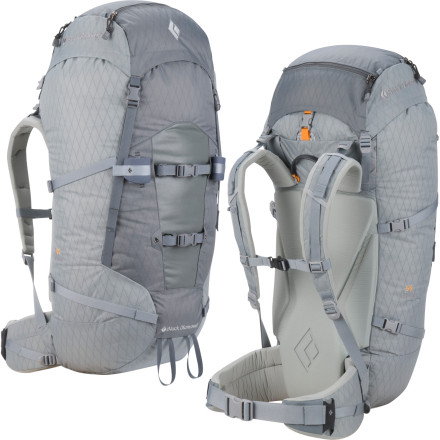 Community Images
First of all there are a couple of positive aspects to this pack:
It is lightweight and designed to strip down even lighter for your summit push. Also, the side access zipper was nice on the two trips I was able to get out of this pack. Furthermore for a lightweight pack it handles loads better than I could have hoped for. So why do I say this is a horrible pack... because it is fragile it might as well be made out of tissue paper. I read other reviews of this pack before ordering it and everyone complained about the durability, but most of them also claimed to have gotten holes from crampons or ice axes. I made the mistake of assuming people were just being reckless and I figured I would be safer when I took the pack mountaineering. However this past weekend I went trad climbing at a local crag and took the new pack. In the process of scrambling around I brushed up against the rock with the pack on and came away with several big holes. Now to be clear this wasn't jagged conglomerate, but rather pretty smooth granite.

If you're considering buying this pack for any climbing activity (even any outdoor activity) DON'T!!! If you like cool looking gear with nice features and NEVER plan to take it outside this is the pack for you.
Very light weight. Great for summer and winter. The fabric is incredibly thin so watch out for pointy stuff like crampons! Comfortable straps and doesn't make me too hot.