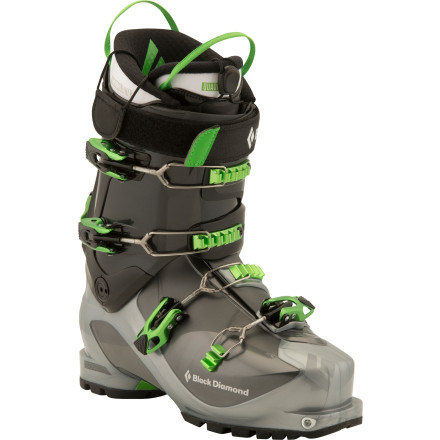 Description
A touring boot with hardcore downhill performance.
Having a featherweight touring boot is awesome, but what's the point if you get to the top and find yourself paralyzed with fear because you're afraid your 32-flex tin-foil boots will collapse if you have the audacity to try and make a turn? If you're looking for a little more beef, check out Black Diamond's Quadrant Men's Alpine Touring Boot, which is light—under four pounds per boot—but boasts a burly 120 flex that'll have you ripping big lines even faster than you hiked up them. The liner's been totally redesigned to be warmer, with fully taped seams, and more efficient, with anatomic flex zones for the climb and a smooth-flexing plastic tongue for stiffness on the descent. It's also fully heat moldable, so you can kiss hot spots, pinching, and rubbing goodbye.
The Quadrant skis like a burly boot, but it also climbs like a mountain goat. Black Diamond's Triax Pivot frame gives you 40° of cuff rotation for a smooth, natural stride, and the 103mm V-shaped locks gives your foot plenty of room but locks your heel ankle in place for comfortable blister-free touring. Black Diamond finished the Quadrant off with a rockered rubber sole and integrated tech fittings for easy hiking and skinning, and tossed in a beefy power strap for improved downhill performance.

Triax plastic shell
120 flex
103mm V-shaped last
Thermomoldable Efficient Fit AT liner
Liner with a plastic tongue, flex zones, and taped seams
Triax Pivot frame with 40° of cuff rotation
Rockered rubber outsole
Quickwire buckles and power strap
Skis Great, but doesn't last.
I really liked these boots for the combination of beef and tourability. But mine (the last gen, green/black version) are getting pretty destroyed after only two seasons, while my friends have boots that are scraped but still going strong 3 to 4 seasons in.

The liners are about completely done already (seems like these have been changed some so might be better for this gen). The buckles are a bigger problem - even though my boots were well cared for, the buckles rust and freeze very easily. One already broke, with the end stuck in so it can't be replaced, and many others seem close to breaking.

If you're going to buy these, I'd touch base with BD and ask if they've addressed these issues from previous generations.
WIll this boot fit in a traditional alpine binding?
Hi Gregg, these won't fit in an alpine binding, because they have a rockered rubber sole. Salomon makes the most AT-ish boot that is still certified for alpine bindings, so you could check out their new boots if you need a boot that does it all.
Great boot
Familiarity:

I've used it several times
I bought the 2011 version of this boot because I needed a reliable boot that has a walking mode and is lighter than an alpine boot. Skinning up in this boot has made a world of a difference on my legs compared to the first year I was out in the Aleutians trying to skin up in alpine boots. This is the second year I have used the Quadrants and they have formed to my feet really well and are comfortable.
This boot has the right mist of soft for climbing but still sturdy for skiing steep pitches. The Quadrant provide great support for my feet when skinning or skiing. With the boa system liner it is nice especially when you skinning because you can adjust the liner and have the buckles loose on the shell. I really like this boot and I will look into something similar down the road if I need it.


Light but flexy
Familiarity:

I've used it several times
I'm 6'4" and 185lbs and upgraded to these from an old pair of Garmont Adrenaline's. Was looking for a lighter pair for touring and climbing. They're not the lightest but was looking for a light 4-buckle for as much stiffness as possible. They're much lighter but also a lot more flexy. Good for long backcountry days but not for long inbound days. I'll be looking for some Scarpa Freedom SLs next season for added punch or BD factor MX.

Forefoot height was low for and created some hot spots. Had to take the insoles to make it comfortable. Need to get it blown out by boot fitter.

Still happy overall.
Booted and suited...
Familiarity:

I've put it through the wringer
The boot is good for what it is - if a bit heavy. The buckles and strap are solid, the walk mode is good for bootpacking and around the parking lot. I have used them in considerably variable terrain, on-piste, hut to hut touring, gentle backcountry, steep backcountry, and rolling tours and they have performed well from Austria, to Germany, to France. The AT fit is great and skis solid in my Dynafit TLT Radical bindings. The internal lace system is good. My only complaint is that the sizing runs a bit high volumed by length. Doing mail order from Europe I had to get a 29.5 Mondo to fit length wise on a 43.5 euro/9.5 US street shoe foot! I used the provided spaces to dial it in a bit and tighten it up and with thicker socks it does the trick but it is a tad distracting. I plan to change boots next season. They fit snugly on Grivel G10 crampons as well...
Unanswered Question
What is the exact boot sole length in mm of a Mondo 28.0 in the new Quadrant? I'm trying to figure out if I need to remount my bindings.
Are these compatible with salmon guardian bindings or does it have to be tech touring binding?
Best Answer
I know its late but It will work I use the prime in mine and had the room to get the gap needed and the release to work like it should it mite take a tad bit more force to release but not that much that it would keep you in
Light is right
Familiarity:

I've put it through the wringer
BD has been making a variety of different AT boots over the years and they have done a great job with the Quadrant. It offers a lugged sole for excellent grip when hiking, and the tech-binding compatibility is rock solid. The lightweight buckles seem to be plenty durable even after several seasons of 50+ backcountry days. I replaced the velcro strap with a Booster Strap and it greatly increased the comfort and predictable flex of the boot. The walk mode is durable and easy to use. It is a great blend of uphill and downhill performance. I have a narrow lower leg and ankle, so these were a bit loose to be honest. I think they are a great boot, but for Low Volume anatomy, you may want to look elsewhere.
True to Flex Badass Boot
Familiarity:

I've put it through the wringer
While there really is no standard for flex across the ski industry in my experience (25+ skiing, 10 racing, 7 race coach) these are as close to a stiff alpine feeling boot while still having the lightweight feel and maneuverability of a touring boot. You will want to play with the amount of forward lean that you set the boot to -- initially it is set up very upright which is great for walking/skinning etc but not forward enough for aggressive skiing. Just loosen the cuff and make 1 easy run making relaxed turns and then tighten the boots to that approximate forward lean (don't choose a powder day to do this). The overall fit of the last was in my opinion a bit wide; however, as with many boots this can be overcome with a custom liner. I would highly recommend that if you do get the Quadrant you consider purchasing Intuition custom liners through your local shop -- warmer and better fit which is key when you may spend 10+ hrs in the the boots (or sleep in them which I have done). Overall an excellent boot.