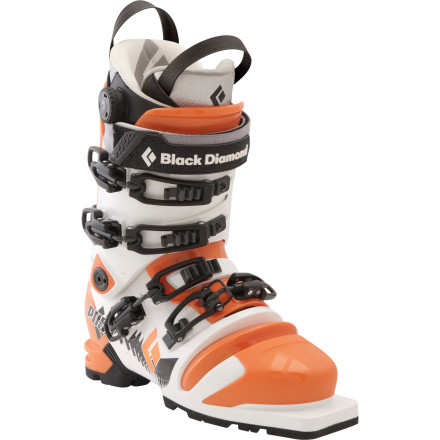 Videos

Community Images
Description
Freedom of the thrills.
Whether you prefer to get your laps in bounds or out, the Black Diamond Push Telemark Boot is the ideal free-heelin' tool for gettin' your powder fix. Designed with a silky smooth flex for both inbounds ripping and backcountry touring, Black Diamond built the Push to be lightweight, strong, and versatile for driving anything from mid-fat to powder planks.
Triax Tele Performance frame features a forgiving forward flex for smooth power transfer and excellent tourability
A flex-rating of 110 strikes the right balance between energy transfer, precise control, and overall comfort
A 102-millimeter last is designed to maximize comfort and performance in the toe box while providing plenty of snugness near the heel
Medium-stiff Power Fit Light liner with Strobel base reduces weight for touring efficiency, is thermformable, and includes a Boa closure system for a precise fit and on-the-go adjustability
Mechanically integrated ski/walk mode delivers unsurpassed freedom while touring
Rubber outsole provides grip in cold conditions for touring versatility
Just tried on the 26.5 and noticed that the shell is a little too small. Thinking 27 would be the next size up and right fit, assuming this is a larger shell size..(?). I know several ski boot brands have the same shell size for every two sizes. Any thoughts or confirmation? Thanks!
Keith B.,



The shell size breaks on the whole size. So the shell of a 26/26.5 is smaller than that of the 27/27.5. I hope that clears that up for you.
How do these compare to other high end Tele Boots (Terminator X Pro, T1, Crispi, etc?) as far as volume? I need the lowest volume boots possible, especially around the instep...basically the closest thing to a plug boot for tele. What are the best options? Thanks!
Best Answer
I tried out both the Stiletto and the Push, but with my high insteps, I found both to be too low volume. Scarpa T1 and T2 fit me much more comfortably, but the T2 is way too soft. The issue I had with my insteps would actually probably be a benefit for you!

The Push has a flex rating of 110 and the BD Custom is rated at 130, so the Custom is actually going to be BD's most powerful tele boot.

I REALLY like the boa system on BD's boots - allows you to literally dial in that snug fit. Awesome feature of these boots!

For higher performance, I would check out the T-Race from Scarpa.

Scarpa's site says that the Terminator X is the NTN equivalent of the T Race - so between those two, it just depends on what kind of binding you're interested in. NTN bindings are pretty neat because they are symmetrical (no right or left ski) and they are releasable, kind of like alpine DIN bindings. I'm still on the fence about these.

Personally, I like a stiff 75mm duckbill boot like the T Race with a stiff binding like the 22designs hammerhead, axl, vice, bombshell. You can adjust the tension on those bindings to make them as stiff as you want.



I'm seeing a lot of Crispi boot reviews that say they are generally higher volume, "big", "spongey"...

Here's an interesting comparison of the T1 vs Push:

http://www.globalalpine.com/2012/04/black-diamond-push-vs-scarpa-t1.html



I'd also check out the Scott Voodoo - they make that in NTN and 75mm and it is the beefiest boot in their tele collection. FYI Scott bought out Garmont, so this is really a Garmont boot with a Scott logo on it.

I'd really say your top contenders are going to be the Scarpa T Race and the BD Push or Custom!

Hope that helps!
Another thing to point out with Scarpa is that their shell sizes break on the half size, where most companies break on the whole size. For example - the shell size for a Scarpa 25.5 and a 26.0 is the same. Other companies would have the same shell size for a 25.0 and 25.5. If you do order Scarpa, don't make the mistake of ordering too big!
Unanswered Question
What it be alright to ski on 81mm under...
What it be alright to ski on 81mm under waist?
Unanswered Question
I typically wear a Men's US Size 8 shoe....
I typically wear a Men's US Size 8 shoe. What shell size should I need in the Push?
Still trying to get these boots to fit.
Familiarity:

I've used it several times
I have taken these to the boot fitters 3 times now and my feet still are going numb.

If I had to do it over again I would go with the t2 eco.

Even though I cannot get them to fit right they have allot my drive than the t2x
Flawed Design? (cracked two pair)
Familiarity:

I've used it several times
Not sure whether there's a manufacturing error, bad batch, or what, but I have cracked two pairs of boots in the exact same fashion. The first pair's shell cracked after three days of skiing, figuring it was an anomaly I returned the boots to Backcountry.com and got a new pair. The second pair of boots cracked in the same spot after a single day of skiing on them. I've attached a picture for reference. This time I've contacted Black Diamond and they've sent me a pair of Customs. I went to a couple of the local tele shops that sell the boot, and they said they've never seen it crack like that, so my best guess is that there was a bad shipment.



It really is a disappointment because the boots feel really good, ski well, and I love the boa closure system. I really was looking forward to taking these backcountry in the adirondacks this season.



Please note that the days I got to ski on these, I was going pretty fast on hardened Vermont snow, so if your skiing style is slower or on powder all the time, these may work great for you. However if you want to be able to carve on a headwall without your boot breaking, these might not do.



Unrelated to this product, both Backcountry.com and Black Diamond's returns/warranty groups were extraordinarily helpful with my problem making it as hassle free as possible. This is the main reason why I will continue to buy their products for life.
Excellent Boot
Familiarity:

I've used it several times
Definitely worth the money. It performs in all conditions and terrain.
You can't not own...
Gender:

Male

Familiarity:

I've put it through the wringer
I can't even begin to tell you how comfortable and amazing these boots are. I run these with an 01 BD binding and BD Amperage setup and these perform beautifully. They have a lot of flex, much more than say the Scarpa T1, but they perform like they are just as stiff and allow me to carve hard as hell. These boots keep my feet incredibly warm, and I have some circulation issues to my toes after getting frost nip years ago. Aside from that, you can not beat a moldable liner, they are just the best. I usually wear a 10.5-11 in most footwear and have these in a 29 mondo.
Black Diamond Push Telemark Ski Boot
Great Boot! I got these last season as a step up from an old pair of Scarpa T1's w/intuition liner, and I noticed a huge improvement in power and energy transfer. I would recommend them to anyone. They are still supercomfortable even when super clamped down. I recommend getting some better footbeds than what they come with, but I've done this for almost every ski boot I've owned. I don't know what the reviewer who cracked them several times was doing - in all humility, I ski pretty hard, and I have not noticed any unusual wear and tear. Get the Push.


Great Boot, but wide
Gender:

Male

Familiarity:

I've used it once or twice and have initial impressions
I demo'ed these this past weekend and thought the boot itself was great. I wear a 10 shoe, 26.5 dobermann and used the 28.0 Push and feel I was in a size too big. Also, the boot is very wide so I would want something narrower.
if you want more than one season from em
Gender:

Male

Familiarity:

I've put it through the wringer
This boot is super fun to ski on, and they look really cool. they work well for cruising groomers, or steeps. For XtrEmE skiing you might want the custom or the T race. The boot is very warm and the boa system is quite effective! The boot skis fine, but the durability of the plastic is extremely questionable. I have cracked a pair of these in the back to the right and left of the ankle on both boots, and so has my friend. My same friend also cracked the new pair that black diamond supplied him with in an insane fashion. He cracked the front of the duck bill off, and the whole lower inch of the boot started to peel and crack off, and you could stick your fingers inside and touch the liner. That same day he cracked the other boot in the back about 6 inches. His and my boots absolutely blew up!!!! Black diamond did indeed replace the boots for free in about 2 weeks, but it is not all worth the hassle....You might as well buy scarpas and save yourself an extra 2 weeks of skiing instead of waiting for a new pair of boots. T1s or T race.
Unanswered Question
Any chance of these being sold in size...
Any chance of these being sold in size 30.
Should have bought them sooner
Great fit! The right stiffness. It took me a lil bit to get used to them from my previous boots (Crispi XP). The BOA system for the inner boot is amazing! My foot felt good and secure before I even tightened the outer boot. I'm going to enjoy these boots for many seasons to come!
Unanswered Question
Somebody give me the what's what on these...
Somebody give me the what's what on these boots. Are they pure, melt your face awesome? How is the touring comfort?
Has anyone tried strapping crampons to...
Has anyone tried strapping crampons to these? I've got the Black Diamond Cyborgs.
The BD Cyborg Pro Crampon will work with these boots.

http://www.backcountry.com/black-diamond-cyborg-pro-crampons.html
i just got these boots and personally...
i just got these boots and personally prefer there to be a natural bend up at the ball of the foot (flex crease) so that when standing out of the bindings on level ground the tip toe peace is ruffly a cm of the ground. i understand this does gradually come with time, but i have seen and heard ways of tying the boot down in a flexed position overnight with 3-pin bindings (which the 'push' can't do), so my question is what is the best way of doing this without using my bindings and blowing out the cartridges?
WHY! would you want to do that? The boots are designed without rocker to engage the binding sooner.read:"more control".Binding companys sell wedges to reduce rocker.
I am a mondo 29.2 should I go with a 28.5-29...
I am a mondo 29.2 should I go with a 28.5-29 or 29.5-30 shell size?
I would go with the bigger one. I made the mistake of sizing down and I regret it. You can always use padding to custom fit them if you goo up a size.
So I have been fitted for a 29.5 in a...
So I have been fitted for a 29.5 in a scarpa T-1 and T-2 Eco which on scarpa's size chart and BD's size chart equates to a 12.5 men's size but I wear a 11.5 us men's size shoe. I'm trying to find out what size boot I should order, a 29.5 what i have been fitted in or a 28.5 what the size chart says. Also what is the difference in sizing between bd and scarpa boots? Oh ya btw I live in San Diego and no one deals in scarpa or black diamond tele boots here.
If by "fitted in" you mean you have tried on the 29.5 and it fits, I'd go with what your body says and ignore the chart. Szing between Scarpa and BD is similar in length, BD tend to run a bit wider and higher volume.