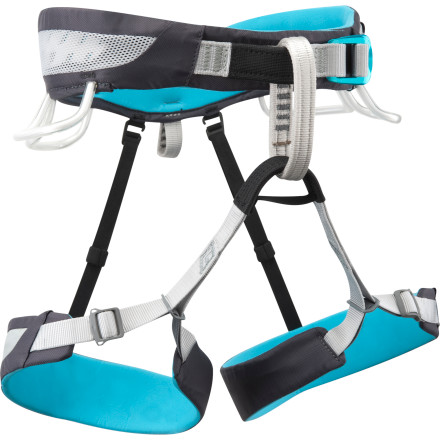 Detail Images

Videos

Community Images
Add 'convenience' to your climbing vocabulary thanks to the Black Diamond Women's Primrose Speed Adjust Harness. Black Diamond's Speed Adjust Buckles help get you fitted snugly and securely whether you're wearing your climbing capris or snowpants for an ice route. On top of it all, four molded gear loops accommodate a trad or sport rack, while a haul loop enables you to tackle multi-pitch climbs.
Great first harness!
Familiarity:

I've put it through the wringer
This harness is the first harness i've owned, but compared to others that I have used I couldn't have picked a better beginners harness. Its comfortable, light weight, and easy to climb in. And has lasted every adventure I've needed it for.
Good Beginner Harness
Familiarity:

I gave it as a gift but have feedback to share
I bought this for my girlfriend and she doesn't have any major complaints. She says it's comfortable, fits well, and doesn't get in the way. The only issue she's had is some of the seams have popped even though it doesn't get an excessive amount of use. The seams aren't in critical areas though, so overall it's still in good shape. I would recommend this harness to anyone looking to get into the sport that doesn't want to spend too much money.
So far so good
Familiarity:

I've used it once or twice and have initial impressions
I'm unsure how durable it is but it very comfortable for belaying.



I had to return the large and get a smaller size, I have a 33 inch waist and 25 inch legs so I was between sizes, my recommendation would be to order down.
Harness Love!
Familiarity:

I've put it through the wringer
I've had this harness for over a year now and I still love it! It's light, easily adjusted, and comfortable! I would recommend this harness for beginner to intermediate climbers , I have used it everywhere from the gym to a 800 ft multi-pitch in Patagonia!
Great for starting out
Familiarity:

I've used it several times
I'm relatively new-ish to climbing, and wanted to upgrade from the rental harnesses at my gym. Buying this one was a great decision - the padding is comfortable without being overkill, the quick-adjust leg loops are awesome, and I can move and hang in it without getting that pinchy leg pain the rentals caused. It felt a bit stiff at first (especially the leg loops), but after some regular wear they softened up and conform to my shape. Breaking it in makes a world of difference.



My one complaint it that it doesn't feel very breathable, but that's not an issue when I'm climbing inside or in cooler weather. I'm considering getting another harness with a different material to take outside when the weather warms back up and I start taking on some more intense projects, but that doesn't detract from how great this one is.



About half the women in my gym have this, and I can see why - it's a great fit, comfortable, and doesn't break the bank.
Kelly from Goal Zero tackling a splitter crack in Indian Creek.
Good harness for starting out
Familiarity:

I've put it through the wringer
I've put many routes' time in on this harness. I like it just fine, and found that it fits pretty true to size. I've noticed that my legs start to go numb if I'm resting on the wall for too long. Maybe that's the fault of the leg loop design, or maybe that's gravity's way of telling me to get off take and get up the wall.



Only real complaint is that I don't find this harness as breathable as other harnesses I've climbed with. Nothing worse than climbing in Utah summer sun with a harness that traps sweat and body moisture -_-
Lightweight, comfortable
Familiarity:

I've used it once or twice and have initial impressions
I'm just getting back into climbing after a 10 year hiatus and wanted to get a new harness for safety reasons. The BD Primrose Speed Adjust harness has been great! The leg loops really do adjust up and down quickly, which is great for outdoor climbing when you need to account for layers. It's lightweight and super comfortable -- a great value!
Little Small BUT In Love...
Familiarity:

I've used it once or twice and have initial impressions
I bought this in xs and it was a tad snug...in fact I couldn't even pull the strap to where each blue thick waist strap was touching each other. I wear a size 0 in pants so I figured the xs would fit but no such luck.

I went to REI to try on the small size and it fit perfectly. So i'll be returning this and getting the size up.



I love the straps all around. They fit snug and give me enough support when I'm climbing that I don't feel like my body is getting strangled :)



Great harness if you're looking for your first one or for a new one! I love it.
Style & Comfort
Familiarity:

I've used it several times
The harnesses is cinfortable to climb in. It comes big in size so I had to go a size smaller after bying a medium. It sits high, mostly above my hips not on. I love it and i recommend it especially for beginners!:) lovely color also and it looks great on<3
BD All-Around Series Harness
Use. Design. Engineer. Build. Repeat.
Allows you to lead, or get after some gnarly top ropes
AWESOME all around choice
This is an absolutely fabulous choice for all around climbing. The fit is very easily customized- and the Speed Adjust leg loops are really that- speedy! Easy to wear over bulky clothes or something slim because you can get that customized fit so quick. The gear loops are sturdy so far, I haven't had any issues hauling gear. I also really like that this model has a haul loop. Overall, the harness is quite comfortable as well- for climbing, belaying, rapping, or just walking around. As far as sizing goes, I am a slim lady- 5'2, 115lbs, I generally wear a 25 in my pants, and the size Small is my jam. Hands down would recommend this harness!
Great all-around harness
Familiarity:

I've put it through the wringer
I use this harness for climbing indoors and out, including all-day trad. It's sturdy and comfortable, for belaying, climbing and rapelling.



The gear loops really hold up against all the stuff I carry for trad. I've really put it through the ringer but it's not showing much wear at all (plenty of dirt though).



The only time this harness is uncomfortable is if I have a heavy pack on with it, and it gets pushed down by backpack waist straps into my hips bones. It's a tradeoff for the lighter padding that keeps my waist from getting too hot during summer weather. And the leg loops fit true to size as well, and I've never had a problem with them riding up or otherwise not staying in place.



A word about sizing: this is pretty true to size. I was at the small end of the Small size, which is what I bought, and I have to cinch the waist all the way to get it to fit properly. It would be easier if I had a size down, but this way I can layer up underneath the harness if I'm climbing in chillier weather with a few extra layers.



For ice climbing I have a more specialized (and slightly larger sized) harness; I wouldn't take this out for ice or mixed, but for rock it's a great choice!




hmm...
Familiarity:

I've used it once or twice and have initial impressions
After reading reviews I was debating if this would have plastic pieces on the front... Upon delivery low and behold, it did have plastic adjustment straps...

at first I was kinda pissed off, but then upon further inspection, it seems totally safe (why the hell would BD sell something that wasn't??) as they only adjust elastic WITHIN the webbing of the legloops, so if they ever do break this thing should still do its job.

But thats just my first impression... just something to be aware of... its also super comfortable and I really look forward to using it more!
First Harness & Happy
Familiarity:

I've used it once or twice and have initial impressions
I purchased this harness based off of the reviews below and high community rating - I am glad I did. I am 5'4" with a 26" waist, and got a S. I tighten the waist all the way, but do not think I would want the leg loops any smaller. Overall, the harness is super comfortable and I look forward to wearing it in!
Great for the Beginner
Gender:

Female

Familiarity:

I've put it through the wringer
A cool friend/significant other get you addicted to rock climbing? Tired of those nasty, uncomfortable rental harnesses? Want to take your climbing to the next level? Buy this harness! I have been climbing for about 6 months now, and I absolutely love this harness. I was a total beginner when I started but wanted a harness that was comfortable and safe enough to help me step up my rock climbing skills. This is it! Love it. Inexpensive, functional, comfortable, stylish, has enough gear loops, etc. I am fairly tall, 6'0" to be exact, and I was in between sizes. I am a 29"/30" waist, so I didn't know if I should get the M or L. I got the M and it fits great! The L would have been too big and the S too small for my volleyball-player thighs haha. I synch it all the way in the waist, but I definitely needed the M for the leg loop sizing. Very adjustable to your body! Buy this. You'll be happy you did.