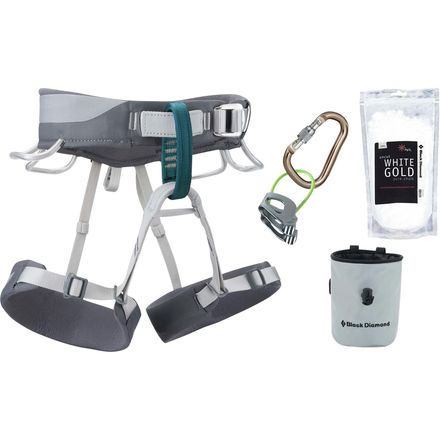 Colors

Community Images
Description
Rocking awesome gift potential.
The Black Diamond Primrose SA Package offers the necessities to the aspiring lady rock jock in your life. Featuring a bullhorn profile for an ergonomic, women-specific fit, the Primrose harness comes fully loaded with the goods for top-rope or sport lead climbing. A Black Diamond screw-gate locking carabiner, ATC belay device, and chalk bag (with chalk) mean that she can bolt for the crag right after bestowing you with the biggest thank-you hug ever.
Ideal for sport climbing, trad climbing, or both
Screw-gate locking carabiner makes sure the biner is always locked (one less thing to think about during your safety check)
Adjustable leg loops let the harness fit over extra layers
Colors vary for chalk bag, ATC and carabiner
How does the chalk bag attach to the harness? I don't see a way to get it on there and I don't see a nylon belt to wear it with.
Carly,



This chalk bag has two loops that includes a lace to tie around your waist. For my use, I've discarded the lace and just use a carabiner to attach the chalk bag to my harness.



Shoot me an email anytime you have questions!



Jared D.

Expert Gearhead

801.736.4336

jdowns@backcountry.com
A No-Brainer for New Climbers
Familiarity:

I've put it through the wringer
I have a habit of picking up new sports and then dropping them, so I wasn't interested in blowing a ton of money on climbing when I first started. Although climbing is now much more than a fad for me, this harness pack has stuck with me for a year and a half, and I'm not planning on kicking it to the curb any time soon. Truth be told: I have added a few things I wanted to my harness, such as a Grigri, but I still use all of its original components.



The only thing I don't love about this pack is the chalk bag because I think there are much nicer ones you can snag for $20 or less, but this chalkbag is fully funcational, and the pack is a great, affordable buy overall.
Great starter package
Familiarity:

I've put it through the wringer
I got this as a birthday gift and I have been gym climbing regularly for a year now. The harness is extremely comfortable, but it does get a little hot and sweaty due to all the padding. If you are climbing for extended periods of time, it's perfect. The package is great for any one who is new to the sport and looking to invest in some gear.
I see in the description that the package comes with a locking carabiner; however, one of the reviews suggests otherwise. Can someone confirm if this is a screw lock carabiner? Thank you!
It does come with a locking carabiner. Everything pictured will be sent to you.
Great deal on the package!
Familiarity:

I've used it several times
This is a way comfortable women's harness for the price point-- not top-of-the-line (including no ventilation on the hip/ leg straps), but incredibly comfortable and easy/ quick to adjust in the moment.

The package comes with the harness, a belay device, a chalk bag, and a locking carabiner. My one suggestion (and the reason for the 4/5 stars) would be to include a locking carabiner that allows for proper belay orientation (to minimize the risk of cross-loading... which is super scary and INCREDIBLY dangerous), especially for folks that are picking everything up in a package and getting ready to hit the crag. Other than that, I dig the harness and package, and it's served me well in the few months since I purchased it.

I am 5'5" and 140 pounds, and I fit a size Small just fine.
How does the chalk bag included attach. Clip or belt? Do either come with? Thanks.
Hi Rachel-- the chalk bag has a small belt on it. However it seems thin and somewhat cheap, so I took that off the bag and replaced it with a carabiner of my own to attach it to my harness.

Hope that's helpful!
which ATC belay device comes with?
It comes with the Black Diamond ATC.



You can call or email me directly. 801-736-6398, or bporreca@backcountry.com
Steal of a deal.
Familiarity:

I've put it through the wringer
I bought this package for my wife when she wanted to try some rock climbing and it has been great! The package really made things easy because now she can have her own chalk bag, ATC device and locking carabiner, so basically most of the things she needed to get into the sport. Black Diamond always makes quality products. This harness fits great and has easy to adjust features so it can be adjusted quickly and securely. The Peacock color is perfect and she couldn't be happier with the harness. Also the bag that it comes with to store everything is really handy for keeping it all together.
BD All-Around Series Harness
Use. Design. Engineer. Build. Repeat.
Good little harness
Familiarity:

I've used it once or twice and have initial impressions
Things I like about this harness:

It is already double backed so you never have to worry about that.

It is super fast to adjust and get on/off.

Great color (because that matters).

Very cozy!



Things I do not like:

No ventilation at all! I wore it for the better part of an 80 degree day and it got a little stinky.


Great combo
Gender:

Female

Familiarity:

I've used it several times
Great package deal, everything fit well, chalk bag needs a belt, lol it came with a shoelace. Very cute, love the color. Gave the other stuff to my bf so he can carry it around (hehe) I picked this up on sale from here.P.S. my chalk bag matched the harness .
Everything I needed!
Gender:

Female

Familiarity:

I've used it several times
Love my harness! It's pretty comfortable, and I don't feel like I'm going to die when I use it. That's all I need in a climbing harness! Also, I'm glad I was able to get this all in a package--I'm still pretty new to climbing, and all I'd done prior to top-roping was bouldering, so I didn't have anything except shoes and chalk. Glad I got this through backcountry!
Once I got my harness I couldn't wait to go try it out! It was WONDERFUL, best climb of my life! The package gives everything just what a beginner needs to start climbing! And the color is just what a girl needs to kick it at the rock gym! Great harness! I am a little taller, and it does ride up a little, but it doesn't bother me! I recommend this! :)
Love this package, new at climbing and im glad i now have some of the essentials to start.
My first harness! Package comes with everything you need to begin getting into rock climbing. Comfortable harness. Love the adjustable leg loops. They do not come completely out, but instead just get bigger and smaller, fyi.
OMG! Was so excited when I got this in the other day and had to wait for my twelve hour shift to be done to go use it. Went home changed right away and went and hit up the gym with it. Was great climbing with it. Felt secure in it. Hung upside in it, fell in it. Was sturdy and nice. The leg adjustments are awesome compared to what I had been borrowing from the gym. The ATC, chalk/chalk bag, and carribeaner are great also. Love it as my first harness!
Best Answer
Hi Nina the sizing is as follows:
X Small fits waist 24 - 27 in., leg 17 - 21 in.
Small fits waist 27 - 30 in., leg 19 - 23 in.
Medium fits waist 30 - 33 in., leg 22 - 26 in.
Large fits waist 33 - 36 in., leg 25 - 29 in.