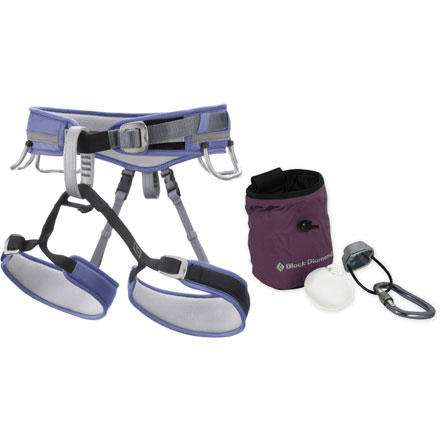 Community Images
Any climbing package can get you started, but the Black Diamond Women's Primrose AL Harness Package includes the quality gear that you'll use for years. With four gear loops and adjustable leg loops, the Primrose harness takes on sport climbing, long trad routes, and even ice pitches. Black Diamond added a large locking carabiner and ever-popular ATC belay device to give your partner a catch on her lead and help you rappel the route when you finish. Of course, you also get a medium-size chalk bag and enough White Gold to get you started off right.
Share your thoughts
What do you think of the
Black Diamond
Primrose AL Harness Package - Women's
? Share a...
I got this harness so I could start climbing in the gym. I'm a true beginner and this package works perfect for me. Size it so it fits your waist best, but make sure it's big enough/small enough for your legs too.
Measure your waist AND leg circumference
I like this harness and I see a lot of women wearing it. My problem is with the sizing. I have a really small waist (size small is almost too big in the waist) but my legs are big. When I let out the legs enough to fit comfortably, there is only about an inch and a half of strapping left after being doubled back. Not a safety issue or anything. But that means that there is not enough padding to go all around the sides of my thighs, so when I'm sitting in my harness or catch my climber, the strapping digs into my legs too much. Lesson learned for me - I need to pay more attention to leg circumference and padding.
Okay. So I want to buy this, but i'm not...
Okay. So I want to buy this, but i'm not sure about the size. My waist measures 38 and my legs are 26, and i'm worried that if I get a Large then it will be too small. Any help?
This is perfect for those just getting into climbing but know they want gear that is going to last. Great fitting harness, cool chalk bag and a solid atc, what's not to like.
What better way to motivate my girlfriend to climb with me than buy her some cute gear to go in? This was my theory anyway and it paid off big time. She loves the harness and we climb 2-3 times a week. After 3 months in the gym she's knocking down 5.10's in this thing. Now I can't attribute it all to the package here, but it was definitely a catalyst. Perfect setup to get into climbing.
so, i haven't climbed in a long time and never bought a harness, so looked this one up and found it to be a pretty sweet deal. I suppose i can consider myself a beginner, finding this harness/package great for a beginner...i find the harness comfortable and easily adjustable, a little pinchy on the leg straps where it all connects, otherwise i recommend it!
I want to buy the Black Diamond: PRIMROSE...
I want to buy the Black Diamond: PRIMROSE AL Harness package for women and need a size "SMALL". However, I see that you only have sizes XS and L. I have to order it online inorder to use a 15% doscount voucher...pls let me know by when this will be available
this package really is a great deal! with this and a pair of shoes you will be set for gym climbing or heading outside with some friends. it's hard to say when the size you desire will be in stock though, your best bet is to ask backcountry directly via their live chat, the button is in the upper right corner.
This is a great deal for a new female climber, like myself. It was nice to get everything but the shoes. Main drawbacks, for me: from an aesthetic standpoint, it'd be nice if you could choose the color of the chalk bag, as mine came with gray, and I'm not a gray sort of person... and also, it's a shame the Primrose Speed-Adjust didn't come in this set, as I know I'd have preferred that to doubling back, all the time. Nonetheless, it's a great kit. I agree with the reviewer who said it'd have been nice if the chalk bag had come with an easier way to clip and unclip to the harness.
Just bought this for my girlfriend. We're both getting into indoor climbing together. It's everything she needs minus the shoes. Great package! It's sturdy and comfortable for her. The only hang up is the tie in mechanism for the chalk bag. We kind of wish that it had been included with a clip for fast attachment/detachment. The tying in and untying gets annoying real quick. All and all though it's a great product!
Great for the girlfriend!
I bought this for my girl friend who's never climbed before. I go climbing a lot and knew that she'd want a solid, comfortable harness. She loves this kit and has only used it a few times but hasn't complained about wearing it or it being uncomfortable at all! She really enjoys it. Great choice if you're trying to get your "girl" to climb with ya.