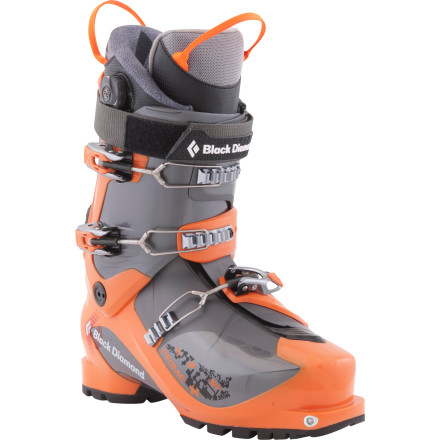 Videos
Description
One boot to rule them all.
Sacrifice nothing when you pull on the Black Diamond Men's Prime Alpine Touring Boot before a marathon ski tour or dawn-patrol powder mission. This lightweight boot offers power, precision, and comfort in an AT package that's just as comfortable and warm as your alpine boot. In walk mode, you're treated to 40 degrees of buttery-smooth cuff flex to keep your stride natural on the skin track, and in ski mode, the cuff locks into place against the boot shell so you lose nothing in the way of performance. Push this boot into technical descents worthy of a freeride boot and tackle ascents that would otherwise demand a too-light, minimalist AT boot—the Prime takes both in stride.
Triax pivot frame is a touring-focused frame design that offers alpine-style power transfer and smooth, natural striding motion when you're touring
110-rated flex index provides enough stiffness to precisely control your skis and just enough forgiveness to make long days of touring easier on your foot
Efficient Fit AT Light liner is stiff and lightweight, designed specifically for touring
V-shaped last has a 103mm toebox to give your toes room to move and allow ample circulation for warmth
Truelasted liner fits your foot right out of the box or it can be easily thermomolded for a truly custom fit
Liner secures with the Boa closure system that you can tighten or loosen with the spin of a dial
Liner also features an antimicrobial treatment to stop funky odors, a smooth interior finish so it's easy to slide your foot inside, and a multi-density Achilles pad insert
Three-buckle design keeps your foot secure and ensures power transfer when skiing without hampering the free-flexing design of the boot when you're in tour mode
Buckle closeout dents have a hooked shape that locks the QuickWire buckles securely in place once the buckle is flipped down
Pivoting cuff design offers resistance-free movement in tour mode so you get a whopping 40-degree range of motion with each step: 20degrees back and 20 degrees forward
Pivoting cuff locks into the edge of the instep cuff in ski mode, pressuring against the boot shell for stiffness and power
In walk mode, the pivoting cuff naturally slides up and out of the way of your instep buckle to allow the boot to flex further forward
Rubber outsole has a rockered shape that dramatically increases traction and allows for the most natural foot roll when you're hiking or bootpacking
Tech inserts give you the option to use this boot with Tech-style touring binders
Share your thoughts
What do you think of the
Black Diamond
Prime Alpine Touring Boot - Men's
? Share a...
Will these boots work with a marker frame AT binding?
Hey jul105800778,

These guys would fit just fine in some Marker frame bindings, however just know that it won't be a DIN-certified set-up. If you have any questions as to what this means, feel free to give me a ring or shoot me an e-mail.

Ben
1-800-409-4502 ext. 4767
brabinowitz@backcountry.com
Sooooo many better options out there
Familiarity:

I've put it through the wringer
Like many folks, these were my first touring boots; my first ski boots actually.

Pros: They're comfy, wide, fairly light, and tour well. If you have super wide feet, these may do well for you. If you can find them on a great deal, a great 1st boot for sure; well, maybe for a few months...

Cons: Downhill performance leaves a lot to be desired, so I was forced to upgrade within 3 months of owning these. They're so high volume and flexible that downhill can get a little rowdy, and I'm a pretty damn intermediate skier. Also, the liner is a lightweight, flimsy piece of garbage. Some aftermarket liners would really help this boot, but you'll end up spending as much as a 10x better boot.

Bottom line: They work, sure, but there are a ton of better options that tour well and ski significantly better . Black Diamond is definitely quite a few years behind the curve on ski boots. I have friends with Quadrants, as well, who aren't exactly in love. After using something like Scarpa's Maestrale or Freedom, BD boots are kind of a joke.
I know these at AT boots but is there any...
I know these at AT boots but is there any leeway for it to fit into regular bindings? I'm curious to see if it will fulfill all my needs (probably not). Thanks!
Best Answer
You would be skirting with disaster. This boot is designed for a Tech binding which will release properly. Even if you could fit it into a downhill binding, the release mechanism may not work properly and you could seriously injure yourself. You only get one set of knees and really not worth the risk. I know it is more money but your health and safety are much more important. I would follow BDs recommendations for bindings, they won't steer you wrong.
solid shells
Familiarity:

I've put it through the wringer
I've skied the older version of these boots for two seasons, and plan to ski them to dust. As others have noted the liner seems to fit very very small. I think the BOA system is a cold and finicky solution to a problem that does not exist. When I bought them I sized the shell, and tossed the boa for an intuition power wrap. These shells have plenty of room for my big toes, and do a reasonable job of keeping my boney heels down. They are light for their price and the walk mode is smooth and generous. The buckles stay engaged when de- tensioned and are just a flip away from going downhill. While a little floppy I have found them completely adequate to drive 190-200cm x 110-130 mm skis with tech bindings. I suppose you could moan about them being a little heavy and a little sloppy, but if they were any lighter they would be more expensive, and any tighter they would be less comfortable. They feel great to me. Fix the damn liner BD and you'll have a winner.
Yes
Gender:

Male

Familiarity:

I've put it through the wringer
boa liner: actually pretty neat. no complaints. but, also totally unnecessary. assuming you care about comfort while touring. i've heard that when they break, they are very difficult to field repair.
weight: slightly outdated for a 3-buckle boot. i'd be more inclined to go to a TLT or something similar, which I believe would perform just as well.
buckles: solid. i really like them.
walk more: not super easy to trigger all the time, but usually works just fine.
on/off: easy to put on and off with pull tabs and the liner.
walkability: there're better out there, but there are also much worse out there.
soles: great, durable, grippy vibram.
I very much see these boots as filling an important void between your first pair of touring boots (which are bound to be some ridiculous 5-buckle heavy monsters to use with your Dukes or whatever), and your third pair of touring boots (which are going to be lightweight, proper, and actually a good decision). In that vein, I would put these in the same category as the Dalbello Sherpa.
Oh yeah, and I've spent a week park skiing with these things in regular DIN bindings. That may or may not have been a mistake.
Overall, they're great boots. Really. But, at the same time, they kinda suck.
I would recommend them to all of my friends using the BD Quadrants or whatever the other heavy boots are called. But to someone using a Dynafit or Scarpa boot, I'd probably recommend that they keep what they have.
These walk better than they ski. And I rarely object to that concept. But given their weight, I'd expect the opposite.
Black Diamond Prime Alpine Touring Boot
work horse!
Familiarity:

I've put it through the wringer
It is a work horse. But paln on buying a new liner. Teh liners are pretty bad fir wise. I have been told they are simply too small for the shell. Mine were for sure. But great skiing boot. Heavy and doesn't walk well by comparison. It si a boot I would only buy on sale and use if you worked on the hill.
I use thes eboots inbounds and out. Work Ski patrol in them all day long and never a complaint. I do use an older intuition liner...just couldn't get the liner to work for me. But didn't try very hard. Wish they had a swapable sole but I think that is one of the things that makes them so light.
Great walk mode and plenty of traction for scrambling.

I do have a big foot so if you have small feet you probably will be un happy. Go to a boot fitter and find somehting that fits.
Not for me.
Gender:

Male

Familiarity:

I've used it once or twice and have initial impressions
I tried to like these, but in the end they were to wide and mushy. I have a fairly wide forefoot, but these boots were just too wide. They had no 'snow feel' at all and were just too sloppy when skiing. They do tour well and have good range of motion. Went to the scarpa maestrale and am much happier.
Boomstick
Gender:

Male

Familiarity:

I've used it several times
I had the older version of these boots, but I'm sure BD has only improved on them. They are a good boot for the beginner backcountry skier. I took them to Southern Alaska for a 24-day tour, and they were great on ascents and in camp (warm, great walk mode, very comfortable, super lightweight); however, the descents were not as impressive. I wouldn't feel comfortable doing, and I actively avoided doing lines that were too extreme; they simply don't have the response I would want to feel comfortable navigating through all-or-nothing chutes, which is too bad.
I have a pretty fat foot, so I like the BD fit, the BOA lacing system is awesome because you can tighten them up for ascent and then even more at the top if need be, and the heat-mold liners are great if you do them (I considered intuition liners, but didn't feel the need after my trial runs in the Sawtooths). I still use them after putting them through a considerable amount of wear of the mountaineering variety, and I got them on sale for 4 hundo, so they were definitely worth the price. Overall, I've warmed up to them for the intermediate level backcountry terrain and more advanced mountaineering that I do. If you want something more serious and want to be aggressive downhill, go with a higher flex definitely. I would recommend them with reservations.
weak
Gender:

Male

Familiarity:

I've put it through the wringer
these things didnt last a season of touring. cracked both bootboards under the arch, 2 wire buckles failed, soles are torn up from walking on rock, super roomy/unresponsive (i have a pretty normal foot), pebax shell has some serious gouges/ is just plain beat up, flex is sloppy non-progressive and harsh at the end, locked open buckles will shred your pants, boa liners blow, and the shell around the canting pivot has ovaled.

so if you are still considering these boots then read on: amazing tour mode, light, roomy (if you have giant feet), warm (but just do yourself a favor and get intuition liners), cheap (you get what you pay for), good traction, and i would be stretching to find another pro.

unless you have high volume feet just dont even bother
Great Boot...but...
Gender:

Male

Familiarity:

I've put it through the wringer
It's a great light weight boot. I used this boot for about a season and a half. But for some reason these things just won't stop rubbing my inner ankle bones. After long tours my ankles are actually bleeding. I thought after a while they'd get broken in. The only thing breaking down are my ankles. I'm going to have to return them for a different boot.
Great backcountry boot
Familiarity:

I've used it several times
I really like this boot. It is very comfortable on the skin track with plenty of flex. Both cuff buckles, when unratcheted have hook-shaped catches for the bails so they dont pop open. This makes transitioning from climb to descent very fast and efficient. After you de-skin, lock your heel, lock your ankle, flip the two ratcheting buckles, repeat on the other foot and go. The liners seem fairly warm in weather down to 0 deg. F but not something that, by themselves will keep your feet toasty on sub zero days. One thing I especially liked about the liners was the use of what appears to be at least 3 if not 4 kinds of foam to achieve a great fit with flex for ascending, insulation under foot and some intuition foam for final shaping. And, the boa system remains a favorite of mine even though this boot has dental floss-looking boa laces instead of super thin cables. I have low volume feet and found the fit to be pretty good but they probably fit mid volume feet best. The length seems to be just a tad on the short side converting US running shoe sizes to mondo on the BD sizing chart. They appear to be pretty decent easy to mid grade ice climbing boots too from my back yard simulations. So, overall, a well put together backcountry AT boot. They ski well in the area too by the way but if you are mostly skiing challenging terrain you probably would want a higher boot there.

One final thing- the price. I think you get a lot of boot for the money. There are lighter backcountry boots out there but you save 2 kg for $200 more boot. Im just sayin... These boots from what Ive seen (never owned any though) dont seem to ski any better but of course, you save 2 kg on the uphill. For price-conscious skiers I think the Prime is a very good choice.
Other than the color, what is different...
Other than the color, what is different about this boot from previous editions of the Prime? The only thing I can tell by comparing pictures and descriptions is the added dial on the cuff of the liner. What is this for?
The Dial on the cuff is for the BOA system, which the previous boot also had. This years Prime has a wider toebox, other than that I'm not sure.
The liner is supposed to be the most significant difference. It is tweaked to provide better flex in ascent mode. This is according to the BD tech support folks.
Improved liner. Old model was too short. They improved the length...but not by much