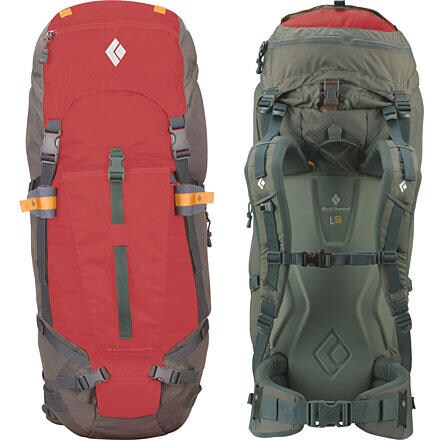 Description
Take on the biggest mountain routes with the durable Black Diamond Predator Backpack.
Black Diamond designed the Predator Backpack for alpine and ice climbers who hunt down and climb the most demanding winter routes in the mountains. This durable pack uses 1260D nylon to make it tough enough to take on hauling, ice tools, crampons, rock fall, and all the other fun stuff mountains use to attack your pack. The Predator Backpack holds enough gear for a three-day push on a technical route, and securely holds your ice tools and crampons on the hike to the base. Strip this Black Diamond pack of its lid, aluminum frame, and waist-belt to drop the weight from 3lb 15oz to 2lb 3oz (50L size) on routes where ounces count.
Share your thoughts
What do you think of the
Black Diamond
Predator Backpack - 2746-3357 cu in
? Share a...
Posted on
Black Diamond Predator
Climbed Mt. Hood & Ranier in this backpack. It rivals but is not quite as good as the North Face Prophet. Still, this is an excellent, excellent Mountaineering and Summit pack. Expands HUGE for several day affairs. Tapers down super small for final ascents. I like the crampon bag. It's material is tough. It lacks the "hold off your back" design of Osprey so your back will sweat, leading to getting cold. Overall, A-
Posted on
You Fall we Haul
I picked this pack up at the start of the summer for a Rescue Pack
So far it I am very happy with this pack and hope it will serve me as well in the winter as it has so far this summer. The crampon pocket can also be used to hold a harness or extra radio. It fits well, though because the bottom hangs down a bit it takes a little getting use to. The bonnet has a great deal of room in it and holds my 10 essentials and headlamp bags, along with a map and some other random things, though because it is detachable and my bag is not completely full the bonnet sometimes slides off to the side while I am hiking. Moving the straps to the inside of the shoulder straps has seemed to help this problem . The helmet holder, a mesh covering with elastic sides and hooks that stows away in the top of the bonnet when not in use is pretty sweet. Though I have found the hooks secure it so well that sometimes it is hard to get the helmet off when you are in a rush.
There is a built in bivy pad that is very small and shaped sort of like I diamond, best for sitting but it would also help make a very uncomfortable night a little more tolerable. I have not had the pleasure of using it other than pulling it out in the living room. It does take some effort to first find it and then get it out as it is buried in the guts of the pack, which are canceled by a flap that has both a zipper and some Velcro to hold it in place.
The side zipper and hydration compatibility were a major selling point for me. The Zipper allows me access to the webbing that lives in the bottom of my pack along with a heavy duty space blanket. I will generally pack my harness next to the zipper as well for easy access and as a time saver. Since stopping for a break is not really an option in SAR I wanted to make sure that I had enough water and that I could get to it when needed to without having to do the awkward behind the back reach for the water bottle. The Sleeve inside the main compartment is great, and my 70 oz bladder takes up hardly any room. The Sleeve can accommodate a 100oz bladder.
I find the hole for the tube in the back of the pack a little tough to maneuver because you have to slide the tube in at a angle to get it through and I always seem to flip the valve to open and get water everywhere. This however could be due to the fact that I am normally in a hurry and it is usually late at night.