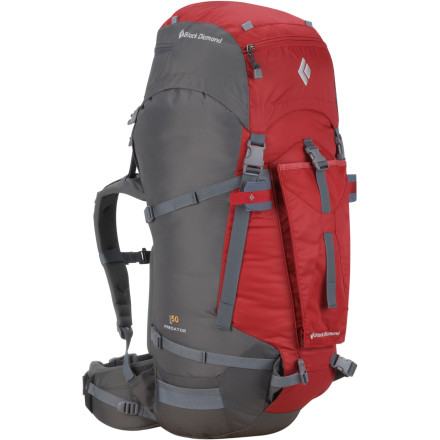 Community Images
Black Diamond designed the Predator Backpack for alpine and ice climbers who need a functional pack with all the features needed for the mountain's most demanding routes. This durable pack uses 1260D nylon to take on the onslaught of hauling, ice tools, crampons, rock fall, and all the other fun stuff the mountain uses to attack your pack. The Predator Backpack holds enough gear for a three-day push on a technical route, and securely carries your ice tools and crampons during the hike from base camp. Strip this Black Diamond pack of its lid, aluminum frame, and waist-belt to drop the weight from 3lb 15oz to 2lb 3oz when you really need to shave grams. Backpacker Magazine labeled this pack as best for all season versatility, so you know you can count on it for nearly anything.
Share your thoughts
What do you think of the
Black Diamond
Predator 50 Backpack - 2929-3052cu in
? Share a...
Is this pack waterproof, or should I get...
Is this pack waterproof, or should I get a pack cover for rainy conditions?
No pack is waterproof, I always keep a pack cover on hand, they're light and pack down to the size of a lemon.
8 liter of water +slepingbag, tent and food. and the backpack feel like no weight at all!

3 days in a tem of up to 39C. it was hot like hell
alot of water was on the backpack. and the terain was rocks and rocks for 40km.
But with the "Black Diamond Predator 50" it was like a dream.
It felt light and the canvas is strong.
I love it!
I'm looking for a solid winter day pack...
I'm looking for a solid winter day pack that can obviously store winter insulation gear, hardware and a few odds & ends. Another issue is snowshoes. Has anyone attempted to strap snowshoes to this pack and if so, is there a best way to do it? Does anyone think 50 Liters may be a bit overkill for day hikes trekking 5000 ft peaks in the winter? Thanks!
It is to big for one day. try a smaller size of the BD packs.
I strap snowshoes to the side of the pack. and it great. in the front I put the crampons
Some people like to go into winter hikes with the amount of gear one would go into with a three day in case anything changes in the weather or conditions. Not my cup of tea, but some like to be overly safe. I've seen people on day hikes with 50 liter packs (summiting over 5000+ft.). But my 30 is usually with me on winter day hikes. I don't have the BD series though, never tried one.
How does this pack compare to the Millet...
How does this pack compare to the Millet Peuterey 50? Anyone tried them both?
I haven't used the Millet, but I have the Predator 50 and LOVE it to death. It is the greatest pack I have ever owned. What specific features are you looking for in a pack? What will your primary use and environment be? Time of year? Type of travel (vertical, horizontal, etc.). Anyways, let me know and I'll give you info on how the predator matches up (or doesn't match up) to what you're planning on doing.
I've bagged peaks, gone graggin, traveled with the wife and for each trip i've taken this pack.
The crampon pouch worx just as well for a guide book and water bottle.

The only downside is the side entry zipper since it's fairly short and rarely gets used.

Still a great pack that will help you cut the weight without sacrificing the important details.
I'm 5'9" and thinking about going with the...
I'm 5'9" and thinking about going with the M/L. Is that the right size for me?
The S/M and the M/L have the same volume so it pretty much comes down to torso size. The M/L is listed as fitting a torso of 18.5 to 21.5 inches (47 - 55 cm). If that's you then great. If not, the S/M fits 16 to 19 inches.
Comparing this to the Mountain Hardwear...
Comparing this to the Mountain Hardwear Direttissima for backcountry ski overnights, alpine ascents, ice etc. What are the opinions and comparisons of the two packs.
I had the same question as Geof. The MH bag seems to be much more durably built- the predator material felt thin by comparison. But do folks find that it holds up well enough? Any other differences to consider? I'd use this pack for mountaineering and shorter cross country backpacking trips in the Sierra. Thanks!
Good bag for climbing and hiking
The review I wrote below remains true, however I had to return the pack. On seriously long hikes the issue with the pack not resting distributing weight through my hips became unbearable. I returned and replaced the pack with a Northface pack. Felt bad returning it after I put it through its paces. The pack is perfect for climbing approaches, but 10 plus hours hikes were absolutely brutal.

I've used this bag for climbing and hiking through the late spring and summer of this year. I have been impressed with its durability as I had a mishap where my pack flew end over end down 1000ft of snow, rock, dirt, and ledges before finally coming to a stop. The material is showing some scuffing and there are some small pin size holes here and there but really it held up like a champ! The rope holder is great although I often leave my rope in the small abc dirtbag rope tarp and stuff it into the main compartment. I have taken several long hikes where I packed my North Face Big Fat Frog tent, sleeping bag, sleeping pad, jacket, two silos of water, hydration pack, small alcohol stove, fuel, and food. With all those items I still am able to cinch it down without expanding the top area.There are some downers that I've noticed. One is that it seems difficult to keep the load on my hips. Loosening the shoulder straps tends to leave the bag leaning too far from my body, and over tightening the belt causes bruises on my hips and even stomach pain. The pack also breaths little in the back area, even on short hikes I'll soak through a shirt in no time.I've really enjoyed this pack so far and think it's earning it's place on my gear list buy putting up with all the punishment I've put it through.I mentioned in reply to another post that the fit of this bag is odd. Again I'm 5'8" and 160-165lbs and the M/L fit me, this is not normal compared to most other things that would fit as a S/M on me. For this reason I would advise that you try it on, load it with some weight and make sure it fits correctly.I'm looking forward to slapping some ice gear on it and taking it for some vertical winter fun!In the attached picture you can see the bag way down the mountain. That's where it bounced, and crashed, and slid, and successfully pissed me off before coming to a stop. Bag is in good repair after all that!
I've not bought a new pack in 6 years and my previous North Face pack was great, but I needed something more serious for climbing & mountaineering. I spent a lot of time researching price and features and found this pack had it all. Plenty of space for gear, solid ice axe loops and shovel pocket.

I think the greatest features are the side zip, adjustable lid and super comfortable back panel. Also, this is an ideal size for a quick trip up the canyon or a weekend pack.

This a light durable pack that I recommend for anyone.
I'm looking for a good alpine back pack...
I'm looking for a good alpine back pack and I couldn't decide between this one (Predator) or the North Face Prophet (45 or 65L). Can you give some some good tips to decide ?
Don't forget to take a look at my favorite, the Black Diamond Quantum.
Solid, smart multitasker for serious users.
This is my go to pack for ice climbing, alpine climbing, summer mountaineering, and backpacking trips of up to 3 nights.

Climbing features:
1. ingenious helmet carry ON TOP of the pack keeps the helmet secure and out of the way - avoids wasting space inside the pack and eliminates the clunky swing you get from clipping your helmet to the back of your other packs.
2. lid is removable to strip down for a summit push
3. smartest rope carry system i've ever seen. Rope is independently secured between the main storage compartment and the lid, but you have complete top side access to the main compartment without having to unclip & remove your rope.
4. Front and rear haul straps let you bring the pack up vertically, which reduces snags.
5. bomber crampon pocket lets snow/ice/water drain through the bottom, completely contains crampons adjusted to fit my size 47 boots, folds down and velcros flat against the pack when not in use (so it doesn't snag when you're in tight chimneys).
6. ice axe holders work equally well with my black diamond cobras and my petzl nomics (mixed tools with no adze/hammer). Sleeve keeps pick tips safe and out of the way.
7. padded hip belt is comfortable and has 2 sleeves for ice clippers.
8. padded hip belt can be replaced by an included lightweight hip strap (for summit days)
9. pack has a narrow profile to accommodate mid climb acrobatics & keeps the weight where you want it.
10. Sturdy frame lets the pack handle high density loads (ice climbing rack) with ease.

Backpacking Features:
1. due to an efficient use of space, this 55L pack holds more than most 70L packs.
2. Lid has 3 pockets (2 on the top/outside, 1 on the bottom/inside) - the small one (outside) is perfect for headlamp, cellphone/wallet, knife. The main lid pocket (outside) easily holds maps, guide book, camera, the day's trail snacks, bug spray, & sunblock. The inside/bottom pocket holds small first aid kit & TP.
3. Cavernous main compartment swallows everything you need for up to 3 summer nights.
4. Side access zip lets you get to key items.
5. crampon pouch is big enough to hold rain gear (jacket & pants - men's large)
6. side compression straps let you securely carry wands or tent poles on the outside.

Overall features:
1. Very durable outer fabric has taken lots of abuse scraping against rock and ice
2. I routinely fill this to 50 pounds with no problem. (I don't know of another pack that comfortably carries 1lb/liter.
3. remarkably inexpensive.
4. hydration compatible.
5. ski carry.

Cons:
1. the grommet from the lower of the two draw chord cinches on the top of the main compartment ripped out after about 8 months.
2. it does take a while to dry (though not longer than any other pack)
Hey where is the shovel Pocket that it...
Hey where is the shovel Pocket that it mentions in the Tech specs
No place for a shovel...but you have straps on the sides
The specs for this pack on backcountry.com say that it does not have ski carry option. I have this pack--it has ski carry slots on the lower end of each side. (This is visible in the picture. This is also mentioned on Black Diamond's website.) And with all the compression straps and special tool straps, rigging ski carry would be possible in several configurations (the ski slots wouldn't be large enough to hold super fat skis).
This pack is amazing. BD pulled out all the stops on this one. I use it mainly for ice climbing, but it also works great for regular backpacking too. I've had this thing loaded up--at least 50 pounds, yet the suspension is incredibly strong and supportive.
I just got a predator pack, What is with...
I just got a predator pack, What is with the Bivy Foam pad in the back of the pack??? Is it really meant to be slept on??? Just wondering, I don't think it is really crucial for my to have it in my pack.
It is an improvement over the old frame system, which had a mildly nasty habit of wearing holes through the face fabric or messing up the back-padding over time. It's kinda a silly thing to advertise it as bivy foam, as it is pathetically thin. I guess in an emergency, sure, I'd use it.

If you do take it out, I'd put vinyl tape around the aluminum stays, else you'll end up with a bag with some rub-holes in the bottom, like my old Jackal 45.
Versatile for All Sports and Backpacking
I bought this pack mostly for winter sports and mainly as an overnight pack for ski touring.

The pack is large enough for your layers, food and even sleeping back on overnight ski trips. It fits comfortably and adjusts nicely to accomodate your needs. I especially love the compartments for ice tools or axe, crampons and helmet - helps keep you organized on a technical trip/route and on long days out mountaineering, no matter what the season.

One of the only major negative parts of this pack is the weight of it. At over 3 lbs, you can definitely feel the weight of the pack on certain activities, such as multi-pitch iceclimbing. As the description explains, though, you can remove various parts of the pack to make it lighter.

I took this on a backpacking trip for 3 weeks in Costa Rica and found it to be the perfect size - not too big and not too small, with lots of compartments to keep things in, including a zipper underneath the lid to keep things safe as needed.

Definitely a great pack for the all-around sportsperson who needs verstility.
This pack became my staple. It's on my back in winter descents in Utah, Rock climbing in summer...Climbing the Grand or Mt.Rainier...For me, it does it all...Worth every penny