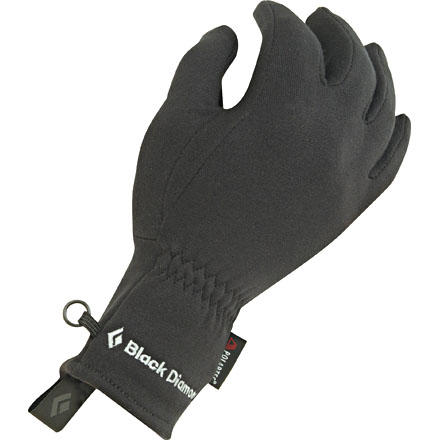 Community Images
Awesome Liner or Lightweight glove
Great to wear on the approach, backpacking or while doing anything active. The fit is amazing, in that the finger lengths are perfect. Adds warmth in a layering system, or running them solo. Good stuff!
I've turned this into my everyday glove and only need to use it as a liner when skiing. For everyday use around town it's warmer than I expected so I just stuff em in my coat pockets and use them when necessary. For skiing, it's thin enough to fit in any gloves or mittens that I have and adds a great layer. The only negative on mine is that after a few years of use the wrist stitching has come undone on one of the gloves, but this doesn't really influence how it fits, so it doesn't really bother me. All in all, a great lightweight liner that can be used as a glove in itself for ligher use.
I love these liners... for beneath my shells, alone while backcountry skiing or mountaineering, or in my truck driving to work. These are my second pair; I didn't want the line discontinued and not have a backup pair. Fits really comfortably.
they did a good job, they are soft, thin and warm and fit perfectly with a ski glove.
I have had a new pair of these every year for the past five years ... I keep coming back for more because they are so versatile ... they are warm, great driving gloves because of the leather palm, and wonderful under my heavy mittens as a liner when I'm in the back country ... this year I ordered an extra pair for me and one for my daughter because I wear holes in the fingers by mid February and thought an extra pair would carry me through the whole season! Thanks for a great glove.
The perfect light glove/liner
I use these gloves for skate skiing and they are perfect. Just warm enough, but breathable to ditch the heat when my mitts get toasty. The leather palm grips poles securely. Is also nice under a ski glove on those extra cold alpine days.
This is my second pair of these gloves (I lost my other pair). I tried a pair from a different company and they did not stand up to BD's quality. They fit a bit small, size up if anything. Surprisingly warm for their weight--great for cold biking or anything really active in cold weather--great for a liner glove. Everyone should own 1 pair of powerstretch gloves.
Look good, very good adjustment to the hand, allowing manipulate anything, do not seem to protect both, but are ideal for places not so cold, or as a first layer
Just What I Was Looking For
These gloves are great! I already have a pair of Black Diamond Kingpin ski gloves and they worked really well when I last went skiing. I needed a liner though because my fingers were just a little cold. These liners work great because they are very form fitting so you can take the ski glove off, and not have your liner coming off to. I also use them for driving. Great product!
look good, but don't don't feel good
I couldn't keep the gloves on for more than 30 seconds because the stitching around the palm leather was driving me crazy. It seems like it would be really bad if you were trying to grip poles for an extended period of time.
I bought these gloves because I had a pair that wore out. The pair I had I purchased form a local shop and were of outstanding design and quality.
Perhaps Black Diamond changed their design and materials or maybe this is not the identical glove, though they appeared identical on the website.
In summation, these gloves are crap and I gave them away 2 days after purchase.
These are great all around lightweight gloves. I use them for cold weather running and driving to work in the winter. I also clip them onto my harness with a lightweight fleece beanie (MHW MicroDome) for long rock routes where it's either going to get chilly or a night out is a possibility. Not that I've ever been benighted...wink wink.
Very comfortable liner with grip, could be windproof...
Use this Black Diamond glove for warm touring or driving my car to work when it is very cold! These are my general use gloves, always in my backpack or in my car or on my hands. Great as a liner also when you need some extra warmth. If windy, your hands will get cold though.