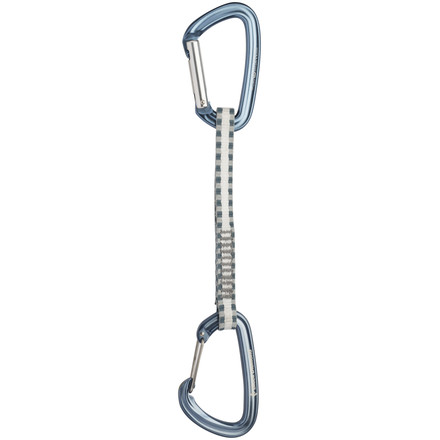 Colors
Description
Best of both gates.
Black Diamond's PosiWire Quickdraw combines the Positron's snag-free carabiner for the bolt and a light HotWire carabiner for your climbing rope. The HotWire has an open-angled nose so you can clip your rope quickly, and the Positron has a keylock nose so the carabiner doesn't snag on bolts while cleaning. Black Diamond placed a StraightJacket retainer on the durable Dynex dogbone to stabilize the HotWire for even easier clipping.

Positron bolt-end carabiner
Snag-free keylock nose
HotWire rope-end carabiner
Durable Dynex dogbone
StraightJacket carabiner retainer
Great combo of light and smooth
Familiarity:

I've put it through the wringer
In my experience, ultra-light draws have small gates, floppy slings, no stabilizer and stiff gates. Beefy sport draws weigh 4 pounds and cost 22 dollars each, but have a precision and finish deserving of a German sports car.

The posiwire is the best of both worlds. At less than 4oz, these are not heavy, but the gates on both sides are smooth and easy to clip. The keylock on the wall side is great, and the wire on the rope side is, you guessed it, great too! I find these tremendously easy to clip and I don't mind the weight when racking my harness full of them. For $12 a draw if you get them on sale, you really can't beat the price. Highly recommended.