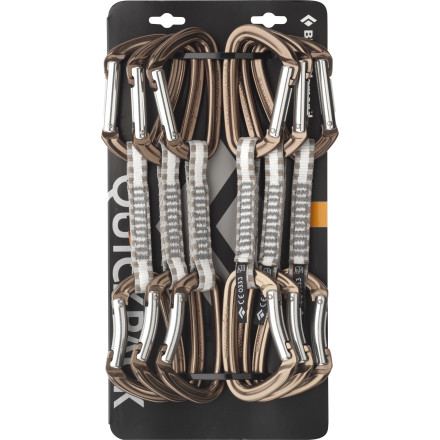 Colors
Description
Almost too much value to handle.
Boost your collection of Black Diamond Positron quickdraws times six with the Black diamond Positron Quickpack. Climbers looking to beef up their sport rack with smooth-clipping draws will rejoice in the jangling of a dozen keylock Positron noses. On top of snag-free clipping, the six draws in this deal of deals feature Straitjacket inserts to help maintain bottom 'biner orientation.
Solid construction, great value!
Familiarity:

I gave it as a gift but have feedback to share
These quick draws are easy to use and essential for sport climbing. I have enjoyed using them on the rock, and I am confident they are durable and will last a long time. I'm happy BD sells the multipack for added value!
Exactly what I expected...Awesome!
Familiarity:

I've used it several times
I was going to list pros and cons, but I legitimately cannot find any cons about these, so...here's a list of PROS:
-Very durable.
-Amazing quality for the price.
-Lightweight.
-Excellent for both sport and trad.

Solo un par de ocaciones
Familiarity:

I've used it once or twice and have initial impressions
He escalado con las "Black Diamond Positron Quickpack" y han sido muy cómodas. La seguridad de las puertas enteras, y no solo de alambres, me gusta mucho. El tamaño es cómodo, aunque tendré que comprar un par de cintas más largas, para pendientes negativas. Para su utilización en pared han sido muy cómodas.
Great draws for a great price
Familiarity:

I've put it through the wringer
Things i like:
-Rubber thing on the rope end helps keep the gate oriented nicely
-Bent gate is nice for me vs. a straight wire gate, could be preference but i find it quite easy to hit the sweet spot
-Really smooth/quick action
-Light enough, especially for the price.
-Noseless makes it easy to clean bolts when the rope is under tension/changing direction
Things i dislike:
-Only one length available in the 6-pack
-Could always be lighter, but hey, so could everything!
Positron? Positively.
Familiarity:

I've used it several times
I have been the proud owner and user of a dozen of these - I wouldn't change my decision to go forth with the purchase of these when I did, especially because they were on sale at the time that I bought them.

As others have pointed out, the fact that they don't have a hook nose has proved invaluable at times when I'm attempting to retrieve the draw from an anchor with tension still on the rope. Moreover, the included "Straitjacket" insert in the rope-end of the draw is a feature I appreciate immensely, so I don't have to worry about that segment of the draw flipping around onto the minor axis of the carabiner when climbing.

Although I have no detailed or prolonged experience with other draws, I do recognize that these are a bit on the weighty side of the draw market, but for the performance they offer and the value they ultimately provide for a solid starter set to your sport rack or as an addition to a developed gear bag, I believe this is one of the best quickdraw deals that can be found on the market at this time.

One other qualm I have is that, from time to time, the anchor-end 'biner of the draw will flip around due to jostling from the rope for whatever reason, and it will land on the minor axis of the anchor-end 'biner, which leaves me with some concern, since those anchors can etch rives or "incisions" from general use, and when those flip around while in the anchor, those ridges left in the 'biner are rubbing at the sling part of the quickdraw, which I presume causes slightly quicker wear of the sling segment of the quickdraw as a whole.

For that reason, I do feel a star drop is necessary, since I think that is an issue that could have been obviated with installation of a Straitjacket on both ends of the sling section, instead of one.

Also, I WISH the Quikpacks came in varying lengths, instead of being stuck with the 12cm length! If they did, these are the only draws I would ever buy. Aggggh!


Mr. Clean loves these draws.
Familiarity:

I've put it through the wringer
These were the first draws I ever bought. I didn't know what the hell I was supposed to buy so I got these based on price.... and color. Years later, I still use them sort-of. They've found their way onto a mish-mosh of different dogbones but when I'm in the market, I will go with these versus a higher-performance draw with a fat dogbone.



Here's why.

The noseless key-lock makes it very easy to clean and clip and unclip and open your beer and whatever else you might do with this thing. Seriously, the shape, gate-opening and orientation, spring-tension, weight; it all comes together to make the spiciest clip just a little less picante.



The dogbones are a dyneema/nylon blend, so a draw that's burly enough to leave on your project but light enough so that 18-bolt full pitch isn't any harder than it has to be.



Back to the dogbones. The rope-end retention system sucks. The spirit has that thing on lock. This has a flimsy rubber tube sewn into the runner. Removing biners from the rope end will be a major pain in the ass.



Value. I love mine. I have 6 different kinds of draws, excluding the ones I've made from spare parts, and these are honestly the best for the money.



Solid-gate. Gate-flutter is a myth on par with the tooth-fairly, so clip, clip go buddy!



Overall, excellent except that silly rubber grommet holding the rope end biner. It might break on you.


My Favorite Draws
Familiarity:

I've used it several times
This was my first pack of quickdraws, and so far they are my favorites.



The Good:

--Hook-free nose, which is invaluable when it comes time to clean a steep route

--Silky smooth clipping action, on both ends

--Bent gate on the rope end makes it that easier (at least for me) to clip the rope compared to a wire gate

--25-30% cheaper than Hoodwire or Oz draws

--Rubber gizmo on the rope end keeps the biner oriented properly and prevents cross-loading



The Bad:

--Heavier than draws with wire-gated biners

--Only one length of dogbone (short) available in Quickpack form



While they're not the lightest out there, they are the cheapest with a hook-less nose. While Oz draws are lighter, I just couldn't justify the added cost for my everyday sport climbing needs. If you're looking for a solid everyday draw that won't hang up on the bolts when you clean that 30+ degree overhang, AND won't break the bank, you're home!
really great, dependable draws. bd dogbones have great durability, and i've never had issues with bd gates sticking. the keylock noses are a must and will be appreciated when cleaning steep routes. i persoanlly like the feel of clipping a wire gate more, but both are pretty easy.



only issue is that apparently, it is possible for a wire gate to work open during a split second of impact, ie lead fall with a really hard catch. i don't know of that ever causing a fall, but it's what the researchers say. if you can get wire gates on the rope side, probably worth it.
The best quickdraw pack for the price. Have always used this product and trust is for all on my climbing needs.
what can brown do for you- a lot!
Gender:

Female

Familiarity:

I've used it several times
I like the look and feel of these quickdraws. For me the biners are the perfect size and shape, and weight. Not too rounded, not too giant or small. My one climbing partner has lighter draws, but I don't trust draws that feel like thin hollow aluminum or plastic. Yeah I'll carry the extra few grams to save my life or give me the confidence to climb harder (just hold off on drinking that extra sip of water). I prefer bent-gate to wire gate because it's easier to push the rope into having more surface area. I know wire has its advantages - less gate flutter, lighter, cheaper... but with less surface area to push it requires an small additional force. And the corresponding BD pack for wire is a prettier blue, so I was torn (ended up getting both, can always use more quickdraws). But my climbing partner works for UPS so he likes this color, and I have grown to like it too. It is a nice soft glowing neutral which isn't jarring against the rock, and isn't so obvious with scratches- all biners will get scratched up. The gate action is smooth, it feels strong to catch falls. It is so great and such a good value (who would buy a single quickdraw not in a pack?) my other climbing partner unbeknowest to me got this same pack. But we noticed mine was from the 2011 batch and hers was the 2012 batch, the year of manufacture is marked on the tag (for safety so you know you aren't getting brittle old stock! important for the dogbone) so we separated them at the end. Also the tag has a small white spot for the BD logo you can mark with a color to separate your gear faster. I'm gonna stick to BD for its size and shape! Like to have everything a simiar size. But for variety, get the other colors and variations such as the posiwire, hoodwire, free wire, but I think these are my favorites so will get more of these too.
These things feel like they will last forever. Nice smooth action as well.



Seriously good deal, especially if you can get them on sale.
I'm a huge BD fan and they make quality products throughout their line and especially in climbing gear. Can't go wrong here for the price!
Started off with this pack of draws when I was strapped for cash but wanted to climb real bad. I settleed for these and they have never let me down since!
Solid choice! Always gonna hold you up
These wont let you down unless your belayer does! Silky smooth clipping action and a really solid feel inspire confidence.
Black Diamond Positron Quickpack
Everything you'd expect from Black Diamond - super high quality that won't break your bank account. Highly recommend getting a quickpack like this for cost reasons.
Biggest bang for your buck!
I've priced draws in the past and these are the best for your money! It is cheaper to buy them in a pack than to buy them individually or buy 2 carabiners and a sling. Although now that I climb trad I prefer to make my own draws with long slings instead of using draws with short dog bones. Over all these are great if you sport climb and need some quikdraws!
Excellent bang for your buck, especially if you can snag them on sale. I'm just bummed I bought a pack right before they made them key lock and beefed up the dog bones.

Pick up a set if you're getting into sport climbing, you can't go wrong.
6 biners at this price!! Great deal
Great Price. Great Product. I'm not usually a fan of Black Diamond, but for the money look no further.
Very goos quickdraws, the best set you can find for the price