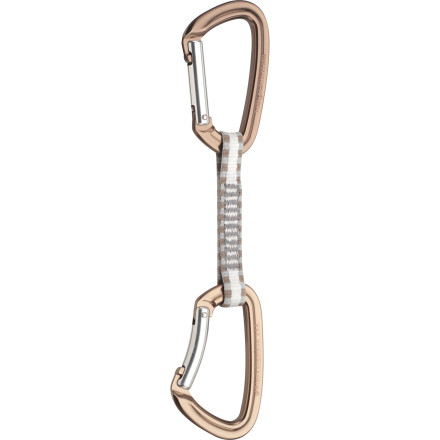 Description
Bulls-eye.
When Black Diamond designed the Positron Quickdraw, they aimed for value and utility. We'd say they hit the mark. Thanks to dual Positron carabiners, climbers can enjoy full keylock convenience and not have to worry about snagging a rope while clipping. A Straitjacket insert maintains bottom carabiner orientation for fumble-free movement.
my quickdraw of choice
Familiarity:

I've put it through the wringer
Given the monetary investment required to accumulate climbing gear, I've approached my kit with a bit of a buy once mentality. I've sought a balance of economy and quality. Clearly this product meets industry standards. It's been tested and rated far above my ability. The feel of the Positron Quickdraw instills added confidence. Each carabiner design makes it ideally suited for the ergonomics of the task at hand. They're exceptionally easy to deploy and equally easy to clear. I love black diamond and the Positron is my quickdraw of choice in the field.
Great Quality
Familiarity:

I've put it through the wringer
Bought these to replace my older, cheaper draws and they work great. I use them almost every week and they're holding up amazingly well. They clip smoothly, easily, and rarely snag on the rope or bolts. They're also not overly heavy, despite having solid gates. These are a great product for the money.
Sport climber best friend
Familiarity:

I've used it several times
Light, cheap and strong. Another BD great product


Positron Quickdraws
Familiarity:

I've put it through the wringer
I've used these quickdraws since I first started climbing and I keep adding more and replacing the ones I lose with the same. If there's a better draw for the money I have yet to hear about it. These draws are fairly lightweight and have a very sturdy feel. In the years I've been using these draws I have yet to have one feel even slightly sticky on either end. I love the straight gate on one end and the bent gate on the other. Overall these draws are a solid choice for climbers at any level.
Great draw
Familiarity:

I've put it through the wringer
I love the 18cm version of this draw! Gives me the little extra length i need where often times i would use an alpine draw. They work great for trad and sport, but be careful since they can spin on you on the side for the rope.
Best Value in Quickdraws
Familiarity:

I've used it several times
These were the first draws I bought, and they remain my favorites.



The Good:

--Hook-free nose, which is invaluable when it comes time to clean a steep route

--Silky smooth clipping action, on both ends

--Bent gate on the rope end makes it that easier (at least for me) to clip the rope compared to a wire gate

--25-30% cheaper than Hoodwire or Oz draws

--Rubber gizmo on the rope end keeps the biner oriented properly and prevents cross-loading



The Bad:

--Heavier than draws with wire-gated biners



While they're not the lightest out there, they are the cheapest with a hook-less nose. While Oz draws are lighter, I just couldn't justify the added cost for my everyday sport climbing needs. If you're looking for a solid everyday draw that won't hang up on the bolts when you clean that 30+ degree overhang, AND won't break the bank, you're home!
Another quality piece
Familiarity:

I've used it several times
The narrow dogbones were a bit unnerving, since I had some older, wider, Petzls before. But they're rated to 22kN so if manage to break them I did something way wrong anyway. Aside from that, the biners are as smooth as I'd expect from Black Diamond.
Hey I was wondering what the difference...
Hey I was wondering what the difference is between a 12mm draw and an 18mm (besides length of course) but which one would you prefer to buy and why I guess is what I'm asking?
Best Answer
Brianna, there are a few uses with a longer sling on a quickdraw:
1. If the quickdraws are already on the wall, a longer sling will allow you to clip the rope a bit sooner.
2. When a climb is not "centered", the longer sling gives the rope more lateral maneuverability on the wall and decreases carabiner drag.
3. When a piece of protection is placed (ex: in a deep crack on trad climb) a longer sling will allow the bottom carabiner to hang freely outside of the crack.

The downside to the longer sling is that it does increase weight.
If your building a climbing gear "rack", versatility is nice and you could get a few of each size.
Thank you so much, my really good friend who usually guides me on all rock climbing is doing an 80 mile hike through the colorado mountains and i have no way to talk to him for a week. But they are on sale so I wanted to get them soon. I really appreciate you taking the time to give me such a helpful response.
whats-the-difference-between-this-and-th...
whats-the-difference-between-this-and-the-posiwire
On the Posiwire, the bottom 'biner is a wiregate.
I've had these for 3 years, and they've withstood a lot of random conditions. They still look great, and obviously have worked out well with falls. The early production of this carabiner had some issues with small burrs where the gate closed on the keylock. They seemed to have solved this issue, and through all the wear and tear the dogbone has stood up nicely as well.
i'm trying to get some draws for my...
i'm trying to get some draws for my boyfriend, i was just wondering what the difference was between positron and posiwire?
Best Answer
Positron uses solid gate carabiners on both the rope and bolt end, whereas Posiwire uses a wiregate on the rope end and a solid gate on the bolt end. Posiwire will be lighter, and less chance of the biner breaking on a crazy whipper. If it was me, I would go with the Posiwire.
I went with positron. I dont see how the wire would be stronger. It is minimally lighter and the positron is definitely stronger. Also I hate the way that the posiwire has the hook (where the wire snaps closed) That little hook can be really annoying when cleaning a route on a repel etc.
I have two of these bad boys and they are always my first QD on the wall. I dont know why, but I just like the feel and the strong "clip" it makes when you put it on. Very strong and easy to use, I think these are the best QDs out there personally.
These draws are great!

They're pretty much an upgraded version of the BD quicksilver draws, in that they changed the gate so that it won't snag anymore. Lightweight, versatile, awesome.

If you aren't a fan of wiregates, you can't go wrong with these.