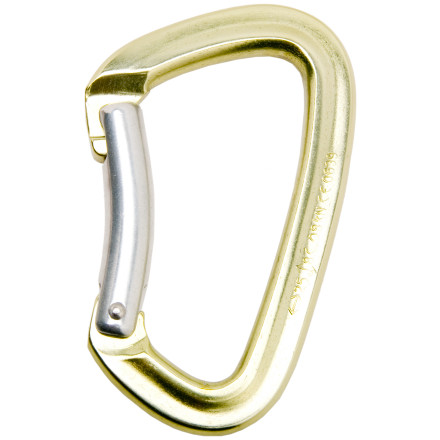 Colors

Detail Images

Community Images
Description
Designed for clippability and easy cleaning; bent-gate version is a great rope-clipping biner.
Black Diamond designed the Positron Anodized Carabiner to bring the anti-snag benefits of a keylock biner to the 'working class' climber. There simply isn't another keylock biner on the market that can rival the Positron in terms of quality, design, and value. This season the Positron features a solid (non dual-trac) keylock gate, an anodized body…and a lower price. The Positron's keylock nose doesn't snag on pro, ropes, or slings—which translates to easier clips and reduces the chance of open-gate failure. Plus, cleaning overhanging routes is a breeze with the Postiron. The functional shape of the Positron makes it easy to hold, and its bowed back, smooth action, and deep basket add up to make this the most versatile clipping, racking and anchoring biner ever. Bent and straight gate versions available.–Vendor
Not much else to say about this biner. I got it to rack some nuts and wanted the smooth nose to place them easily. Another quality carabiner from Black Diamond.
Versatile non-locker
Familiarity:

I've put it through the wringer
I always keep a few of these little guys on me whenever I hear out climbing. They're great to keep as throw aways and for putting together some long draws with sling if you need them. If they came in more colors I would probably use them for draws more often but they're great to keep and cheap!
All-Purpose Non-Locker
Familiarity:

I've put it through the wringer
Light, smooth clipping hookless nose design. Great for use with cams, quickdraws, accessories on your rack. The only question that remains is: bent gate or straight gate?
Versatile, durable, cost efficient
Familiarity:

I've put it through the wringer
The Positron is a solid, easy clipping biner at a great price. I have then on all my sport draws, paired with the Petzel Express sling. Makes a top-notch draw, plus they're great for just about any use, including uses beyond climbing.


I use these mainly for trad gear...i like that they are easy to clip. i would like to see them a bit cheaper, come in more colors, and be a bit lighter. Other than that, these have been a great addition to my rack.
These are amazing... I carry some as throw aways, link with webbing for cutting rope drag in weird spots, etc



GREAT ALL AROUND PRODUCT AT A BARGAIN!



Highly recommended!
Bought to bent gate variety to round out my rack. I'm very pleased with the cost/weight ratio. Quick, snappy clipping. As its been said, this is a great bolt end 'biner. Get a half dozen and enjoy.
Quality meets Function and Price
Not only are these nice biners, but they aren't going to break the bank. Snappy and tight fitting keylock gates on these means less fumbling with your gear while on your way up or down the route.

I've been enjoying these as my bolt-end biners and haven't noticed anything negative about them. They feel pretty darn good in your hand, but I'm more of a fan of the nitron's for my straight gates due to the gate being shaped differently with a bit more grip on the biner with overall less weight. For the price, these keylocks are really hard to beat.

The most comparable biner in size/shape that I own are the Mad-Rock ultra-tech biners, but the nose on these is MUCH nicer for cleaning. The positron has less of a 90 degree angle behind the keylock nose to eliminate snagging for a smoother clip or unclip.
Would these be a good utility biener'? I...
Would these be a good utility biener'? I already use BD oavals and they work fine but I would like a more technical stlye than an oval. to be used with BD dynex runners as anchors
Yes, it would work fine as an all around biner. The notchless nose is great to keep things from getting hung up on it.
I'll gladly jump on the 5 star bandwagon for these. Very easy to clip and unclip and smooth to use. For a keylock biner too this is also the cheapest I've found with no disadvantages (so hey, why not save the money, two of these is only slightly more expensive than one Petzl Spirit, which is still a great biner, just much pricier without much additional gain in my opinion). I will be adding more of these to my rack.
I own a lot of these because they are so cheap and work great! I use these for pretty much everything! I like the size and I think the weight is fine and I love the lime color. I will continue to use and buy these biners!
They had these on SAC for $4 a pop so I bought 4 of them. Good action, non-snag keylock design, large gate clearance. However, I am a fanatic when it comes to cutting weight, especially when leading, and these guys are HEAVY. It comes in a 39 g, compared to my Camp Nanos (23 g), and Metolius FS minis (25 g). I use these are general purpose biners, or just to store things.

Bottom line: Solid, well designed carabiner, but much too heavy for my taste.
Been using these with runners to make extendable draws (or alpine draws) for routes in the obed and foster falls. they work great. easy to clip, good clearance for rope to fall in and can take a beating!
This is my favorite carabiner. Very easy one hand use, and never snags on the rope or runner. I wish I bought more then I did. Cant go wrong...