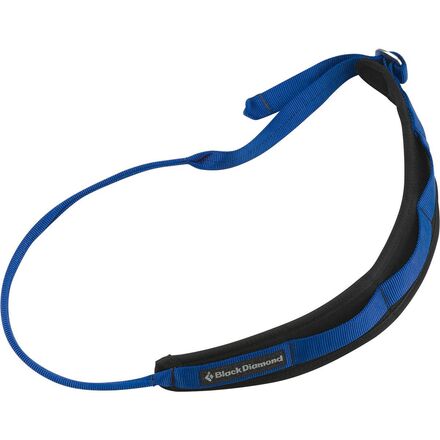 Description
Rack for the lead with the Black Diamond Padded Gear Sling.
A soft fleece-backed shoulder strap and anatomical shape make the Black Diamond Padded Gear Sling a comfortable way to carry your massive rack on an epic trad lead. Throw some cams on this adjustable sling, toss it over your shoulder, and fire the next pitch.
My Gear is all together finally!
Familiarity:

I've put it through the wringer
Before I got this sling my gear was all over my bag. I had to dig around and find all of my pieces of gear that I needed for my climb. Now this this I can attach all of my quick draws and gear to this and have it all together in my bag. I love it!
At first it's a little stiff and sits weird on your shoulder but once it gets some use it's a perfect. Fair price for something so simple and I like it more than using one of my slings.
Sits funny on my shoulder and no matter how much I adjust and rearrange it it just doesn't feel right. Wish it had more loops it it would make it a lot easier to use. For the gym though it's good to just have shoes harness and chalk bag attached to.
I like to split my trad rack between my harness and this. Me and my partner both have them and swicth between pitches.
Pleased with the padding and is a nice change from just using a daisy chain thrown over my shoulder lol. It would be nice to have multiple loops, but it is very adequite for the job.
Comfortable & Substantial
Durable & lightweight. Easy to add & remove hardware. Adjustable size. Soft fleece padding is easy on a bare back.