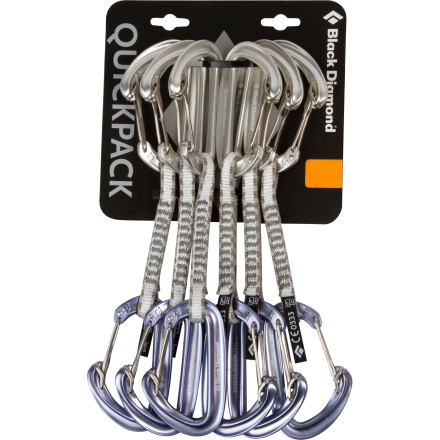 Colors
The six-pack Black Diamond Oz Quickpack is the light-and-fast choice for alpine or trad climbs. Go with these quickdraws (Black Diamond's lightest) and you won't lose anything beyond a little weight off your rack.
Oz carabiners are hot-forged and feature a stainless steel wire hood design that clips without snagging, stays closed securely, and eases cleaning
Wiregate design eliminates dreaded gate flutter and won't freeze up in alpine conditions
10mm wide Dynex dogbone is strong, light, and uses Black Diamond's Straitjacket system to keep the bottom carabiner positioned correctly when clipped
Love 'em!
Familiarity:

I've put it through the wringer
The Black Diamond Oz quickdraws are light, easy to clip, and durable enough to use everyday. I'm currently on my second set.

In particular, the wire gates make them light enough that you won't feel encumbered when starting up a long route. Additionally, I'm a fan of the hoodwire around the tip so that your rope doesn't catch during a precarious clip.
Super light!
Familiarity:

I've put it through the wringer
These draws are hands down the JAM! Smooth gate action and the hood design makes them super easy to clean when aiding or under a little bit of tension. I would highly recommend a set of these to any Trad/Alpine climbing looking for a light and fast quickdraw.
Silky Smooth
Familiarity:

I've used it once or twice and have initial impressions
Used the Oz Quickpack for the first time in the Obed for some sport climbing. Gates open and close great. On sport routes the weight difference is probably negligible but hopefully I get get some trad in soon and ditching the weight will come in handy. Hood wire design seems to accomplish its goal.
favorite draws
Familiarity:

I've used it several times
these are awesome

the hoodwire tech is great and the biners are super easy to handle
These are Awesome.
Familiarity:

I gave it as a gift but have feedback to share
Although I have not had a chance to use these yet, I am pretty excited. Not only do the Oz Quickpack have great reviews on performance, but they also give me a measure of peace of mind as a beginning climber with the extra securing closure.
Great clipping, lightweight
I'm a big fan of the Oz draws. The wire gates and hoodwire make it super easy to clip and unclip, and the weight savings makes them easy to schlep around.
Great draws...
Gender:

Male

Familiarity:

I've put it through the wringer
This is my second set and I have used these draws on rock, ice, and everything in between.



The new Oz biners are arguably the best biners on the market period and buying them as part of this set makes them very flexible. Last weekend I used them as is to officially open the rock season in the Red, now this weekend the bones come off and I am just using the biners for alpine draws when I go to Jtree.



Solid product and much better deal then buying the biners and bones separately. Couldn't ask for more!
VERY LIGHT
Familiarity:

I've used it several times
Purchased these last year since I didn't want to be weighed down while climbing. Made the right choice. They're light as described and the wiregate also doesn't catch on the ropes because it has a little wire that wraps around the nose. My favorite feature is probably the rubber gasket that really helps the biner from getting upside down or being flimsy. I was really bummed when I had to ditch one of the draws on a route I did late last year, but I'm planning on ordering another set soon!
Lightweight!
Familiarity:

I've put it through the wringer
Love the weight of these, but my one complaint is that the color difference isn't really noticeable for me while climbing. Tape one side for less confusion and to keep it consistent.
Perfection in a Quickpack
Familiarity:

I've used it once or twice and have initial impressions
These are Black Diamond's offering in the snag-free wiregate race.



The Good:

--Super light weight

--The wiregate's nose is hooded, so the hook is protected against snagging hangers or the rope.

--Great clipping feel, as usual from Black Diamond.

--Cheaper than Petzl's alternatives.

--Slightly cheaper than buying six individual draws.



The Bad:

--Much more expensive than other (heavier) draws.



These provide all the goodness of a wiregate with the snag-free clipping of a Positron. I plan to replace the carabiners in my current draws with Oz 'biners as the old ones wear out, and any new draws I buy will likely be these. These are an excellent place to lighten your load without compromising safety!
for these does the purple side or the...
for these does the purple side or the silver side go on your rope? or does it not make much of a difference
Both top and bottom caribiners are Oz wiregates so there wouldn't be a difference. Generally if one of the two carabiners is a wiregate or bentgate while the other is straight, you should be clipping the wire/bentgate into the rope.
Best Answer
Michael is correct, but I'd recommend reading some instructional manuals first. Check out this helpful video of how to clip a quickdraw: http://www.youtube.com/watch?v=PPCAa6Xj0lo



To elaborate on your question, the purple-ish colored Oz carabiner has a rubber gasket holding the carabiner in place which keeps the carabiner oriented correctly for clipping into the rope end. The silver carabiner is loose for the bolt/gear end so when clipping into traditional rock gear it has room to move around w/o knocking the piece of gear loose or walking it further into the crack. In regards to clipping bolts, it allows the sling to rotate while the carabiner stays correctly positioned on the bolt, preventing it from cross-loading or snagging the nose on the bolt and opening the gate accidentally.
They are so light they almost float!
Familiarity:

I've put it through the wringer
These are the lightest carabiners I've ever used. They don't weight me down at all, I can barely feel their weight on my harness! I like to joke that they almost float their way up the wall with me. The color difference is subtle but effective. I like them... I like them a lot.
Quickdraws of Choice!
Familiarity:

I've put it through the wringer
I've had these for about a year now and I'm thrilled to death with the performance they have given. I use them for all my trad and sport climbs. The weight they drop on my trad rack is amazing. They are light, manageable, strong, easy to clip and have great feel to them. I've taken a good amount of falls on these and they continue to keep their strength. Only thing is the purple-ish look they have isn't as dark as it appears, so tape on the bener-to-bolt side would be a good idea to keep from confusion. Overall, very pleased with the OZ draws
I like them a lot
Familiarity:

I've used it several times
These carabiners are really good. I use them mostly for trad paired with BD dynex slings. I was looking for keylock biners that were lightweight and not too expensive. Keylock is a must for me and I think these represent the best combination of price, weight, and design. I was a little unsure about the keylock design on these, it's not the most elegant solution for wiregates, but it works pretty well. If money is no issue, I would probably go with the Wild Country Heliums or Petzl Anges.

Out of the box the gate seemed a little stiff but I didn't notice it all one I was actually using them.



Overall, these are great. For trad, they're maybe the second or third best of the wire gate keylocks out there.



Update: I still think they're a little stiff, but not a deal breaker. Also, I've gotten my dynex slings caught on the nose between the wires. I still like them ok, though.
Does anyone know why these are recommended...
Does anyone know why these are recommended for trad and alpine rather than sport climbing? Thanks!
Best Answer
Jamp,

There is absolutely nothing about the Oz quickdraw that prevent their use as a sport climbing quickdraw. The small carabiner size and lightweight size makes these a bit overkill for basic sport climbing, but would be ideal if you're planning to travel internationally and want to cut down on weight. For alpine routes, the minimal weight of these carabiners make them an ideal option.