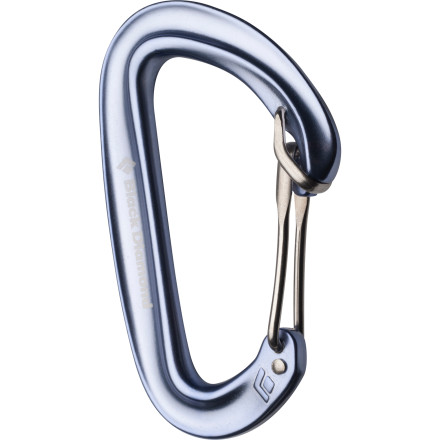 Colors

Community Images
Black Diamond revamped the Oz Carabiner with HoodWire technology to help eliminate snags during cleaning. When you consider that in combination with the tried-and-true design and low weight of the Oz, it's a hard deal for gear-loving climbers to pass up.
Full strength ratings for total climbing and anchor functionality
HoodWire technology prevents snags during cleaning
Wire gate makes for easy clipping action while keeping weight down
Is it perfect for a starter trad rack where you have 15,20 extra biners or I should see something esle?
The Oz biners are the lightest biner Black Diamond makes. They are basically the same design as the Neutrino just lighter. On my rack the majority of my cams have Oz or Neutrino biners. Performance is the same with either. I would suggest buying either of those based on your budget.
I want to buy them for general purpose not for cams like a climber should must have 3 locking HMS and few non locking which non locking carabiners are perfect for having on big wall?

Sorry for my bad english i sometime couldn't explain well.
Just a note, the specs list this as a locking carabiner, which is not true. This is your standard non-locking wiregate carabiner (although if you can't see that in the photo you're probably blind and perhaps should reconsider your life choices when it comes to leading a climb...)
Best Answer
Although it still is listed with the non-locking carabiners in the shopping categories... weird
Oz vs. Hoodwire
Familiarity:

I've used it once or twice and have initial impressions
Very similar to the standard Hoodwire carabiners but lighter and just a little smaller.

The main difference is that they are thinner, meaning a drop from 24/8/8 kN to 20/7/7 kN. Still, if you're using these with cams (SLCD), keep in mind that standard size cams max at 14 kN, and most cams are 10 kN or less.

Note that the biners curve very thin along the top between the gate and the spine, so I wouldn't use these for a garda hitch.
superlight, snag free, full strength
Familiarity:

I've put it through the wringer
They get the job done and are cheaper than an ange or helium.
Oz Carabiner
Familiarity:

I've put it through the wringer
As you can see we really dig Black Diamond's carabiners, and the Oz are nice to have in the mix. They are the lightest weight carabiners BD makes, strong, and anti-freezing. These hot-forged bener's Hoodwire technology keeps from snagging and boost 8 grams lighter then the Neutrino while maintaining the same size wire gate. Really solid beners! My only negative experience with them is the gate on maybe half of mine were rather tough to open, a very stiff spring made these suckers a tad difficult at first.
The evolution of the BD Oz...
From Left to right...older to newer.

They used to stamp the kN stats into the metal.

Then they printed it.

Then there was a batch of weird bluish ones. (anybody else get those?)

Now they're doing this hoodwire thing.

The hoodwire versions are consistently 2g lighter than the older versions. Not sure where they squeezed that out. The spine is wider but pretty significantly thinner. Maybe that's where.

One thing to note about these new hoodwire ones is that the gate opening is a little smaller. Not much, but enough to "feel" it.

(I'll post a photo...)

I've always thought that Oz biners were rad because they are super small and light, but didn't really feel that way. When I got a couple of the new ones, I instinctively went right to the gate to obsessively click it a few times and I was like, "WHAAA!!!??"

I never really had a huge problem with my carabiners hanging on runners, that's why my non-locker rack consists of entirely of Oz and Hotwire biners and not HoodWires. Hoodwires are basically the same biner, just a little heavier and a little beefier, but not enough to justify completely phasing out an entire line of otherwise great biners by adding a similar feature.

I mean...the Oz is now a HoodWire Mini(tm)...

I don't know...maybe the world was desperately struggling with snagged runners and I'm just out-of-step. Maybe I'll grow to love them. Maybe I'm wrong and they'll still offer the non-hoodwire versions. Maybe it doesn't really matter. (probably doesn't really matter...)


Black Diamond Oz Carabiner
hooded gate rocks
Familiarity:

I've used it several times
Solves the one problem I always had with wiregates - snagging.



These things are still plenty big but really light. They are now my 'go to' for alpine draws and spare biners, though i still prefer the color-coded CAMP 23 Nanos for racking my cams
Big improvement for a small biner
Gender:

Male

Familiarity:

I've put it through the wringer
The hooded gate on this biner is a large step forward, so much so I will replace all my old oz's as they often mysteriously unclip from my harness! The old gate could easily be pushed open on the rock, but this gate solves that problem. Super light, easy to use, really nice.