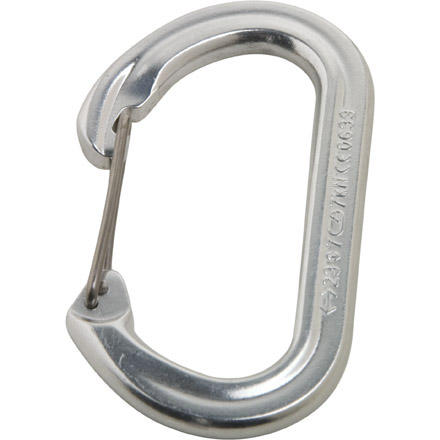 Community Images
The Black Diamond OvalWire is an lightweight carabiner for everything from big wall climbing to alpine routes. The classic oval shape is ideal for racking and eliminates dreaded 'biner shift while aid climbing. The OvalWire's wire gate cuts weight to a mere 1.6oz and resists freezing on ice climbs.
Great Oval Biner
Familiarity:

I've put it through the wringer
I'm using this primarily to set up top ropes. Rope runs very smoothly through oval design. Great biner for price.
I have 4 and looking for more.
Familiarity:

I've put it through the wringer
Title says it all, I keep all my protection on these biners to keep everything organized. Nice and light.
Racking Stoppers and Hexes
Familiarity:

I've used it several times
This biner is great for racking extra stoppers and hexes on those long multi-pitch routes when you want to prevent long run-outs. Lightweight and able to carry a lot of stoppers.
Perfect for racking multiple pieces of gear i.e. stoppers, tricams, hexes and random other stuff (cordallette, puffy, shoes ...). Light, smooth gate, no complaints.
Perfect for splitting up your gear. Rope also runs smoothest through oval biners.
biner
Familiarity:

I've put it through the wringer
I use these to rack my gear. Good size and light weight. No problems with gates.
Does everything you need it to, except be perfectly oval-shaped. I got a few of these because I don't like running non-loadworthy gear on my harness and needed some extra gear clips and something to hold my chalk bag. It's a little awkward for the chalk due to the shape, but it ultimately works. Other than that: super light and no issues. Love the wire gate.
Since this biner isn't perfectly oval, can...
Since this biner isn't perfectly oval, can you use it with a pulley as part of a crevasse rescue system? Would it be better to go with the regular Black Diamond oval to ensure that the load is evenly balanced? I like the wiregate a lot but in a crevasse rescue situation I'd want to maximize the efficiency of the system, and I'm not sure if this biner's "oval-ish" shape would affect that. Thanks!
It is te picture....the ovals in person are just as "ovalish" as the hardgate sstem...but...if i were in a crevasse situation i would want a pulley, not an oval biener
I think you misunderstand my question. I am asking about the biner you use to connect to the pulley... Not using a biner in place of a pulley. And the shape is definitely slightly more of a D when you compare this one to the standard oval BD makes. Has anyone used this for crevasse rescue?
Your pulley should attach just as well to this as the hard gate. I haven't really seen a difference in efficiency in the carabiners, just in the pulleys.
these things are great. super simple and easy to use. i use these to rack my nuts and a few other pieces. they're nice and light and seem pretty durable. i haven't used them long but the gates seem smooth as ever.
Versatility
Utility
Versatiliutility.

These are great for everything. I use them to rack stoppers and keep my gear organized on longer climbs.
These biner's are sweet. I have a bunch of them on stoppers, hexes, and cams. The oval wire is an affordable high quality biner that will stand the test.
Simple, strong, light, quality, cheap. I have nothing bad to say about this carabiner. It has many uses from anchors to just racking up gear.

Go out and get one, or ten!
bomber strong, pretty light. Makes for great earrings!!
Great product! Easy one hand use, and still lite weight for it's size. I use them on all my runners. This is a very good all-around biner.
these are great biners i love them for racking stoppers and other bulk gear, i also love these for throwing a sling in there and making some alpine draws. they are light, cheap, sexy and the wire gates wont freeze up on you. just buy ten and have them handy!
You need them for racking, and these are most definitely the most versatile carabiners you can buy.