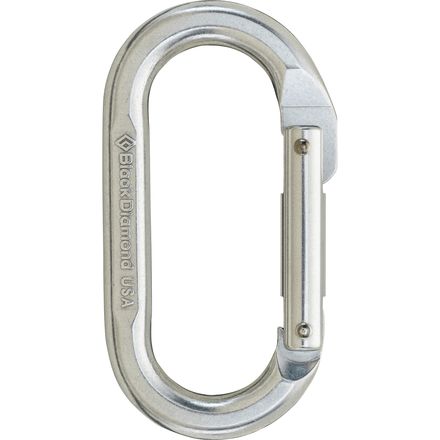 Community Images
Description
The Black Diamond Oval Carabiner is the big wall standard.
Big wall climbers, stop looking at those anodized new-fangled 'biners and pick up the time-tested Black Diamond Oval Carabiner. The Oval Carabiner's rounded design eliminates 'biner shift on aid placements and is ideal for racking gear on both trad routes and aid climbs. The Black Diamond Oval has remained unchanged for years. After all, why would you mess with something so simple and functional?
What I use on the water.
Familiarity:

I've put it through the wringer
The Black Diamond Oval Carabiner is a great piece of kit for use on the river, something anyone can find a use for be you a first time kayaker or experienced river guide. I keep 1 clipped to the shoulder strap of my pfd and the other serves as the buckle for my guide belt (a flip line or sling constructed from 1 inch mil spec webbing wrapped around the waste and secured via a carabiner) This is perfect for fabricating any number of items in the field be it an anchor mooring your raft/kayak to shore or a makeshift harness for safety on and around slick rocks. Many unpin kits instruct you to clip your carabiner to your anchor and then attach a pulley.. often times simply passing your line through the biner givers you the leverage necessary to unpin a stuck kayak.
i like using one of these on my guide belay. cheap n smooth, just like my alcohol. always does the job!
I bought one of these specifically for hanging part of my rack on and i plan on buying more. It's cheap, so leaving one or two behind isn't gonna break the bank. I would call it a little on the heavy side especially if you're carrying a ton of them, but they provide a lot of bang for the buck when it comes to usefulness.
Solid, simple
Familiarity:

I've put it through the wringer
These carabiners are great. Very solid construction and simple.

Excellent for clipping gear to you, top roping anchors, or even setting up your hammock or slackline.

In the off chance you find yourself on a route above your reach of completion you can always use this as a bail biner, although I hope that does not happen to you.
I bought these for top roping. Nothing fancy, just solid BD gear.
golden standard
Familiarity:

I've put it through the wringer
for anything non-cutting-edge or alpine, these are awesome. Heavy duty, easy to clip, easy to load and tension with. A nice workhorse carabiner
Hammock Support
Familiarity:

I've used it several times
I've had a few of these for big wall use, but most recently I wanted to upgrade the carabiners on my ENO hammock. These work great. Nice and light and strong.
Slacklining Staple
Familiarity:

I've used it several times
Bought these for my 1" slack line. These are a great biner for slack line anchors because of how simple they are. I ordered 4 to use with my 80 foot line.
nice, inexpensive, no complaints on performance. lacks vanity points in color.
These are great for starting out top roping, quickly increasing your trad rack, or if you can afford it to use as a bail biner. I like to keep a few of them around incase I get turned away from a route.
Great all-around biner
Gender:

Male

Familiarity:

I've put it through the wringer
Great for topropes, hauling, anchors, slacklines, and who knows what else.
Solid build. Reliable performance.
Novice question... Why would the oval be...
Novice question...
Why would the oval be more appropriate for top roping, considering the BD Light-D cost $.50 less and rated 5kN higher? Or is it just the visual symmetry when doubled-up and opposed?
Best Answer
Honestly, you''ll be totally fine with either one, as long as they're opposite and opposed. The symmetry does make it nice to TR trough, but it's not necessary.
Thanks! That's what I was thinking, but I also want to clarify something. My rope runs through a pair of opposed and opposite lockers, I use the light D's opposite and opposed to link runners/webbing/cord for the non-moving part of the anchor. Anything that moves get lockers.
It is recommend to use three opposite and opposed non-locking carabiners for an anchor master point. to ensure redundancy.
The bread and butter for a Big Wall rack. Honestly, they're light, cheap, effective and reliable.