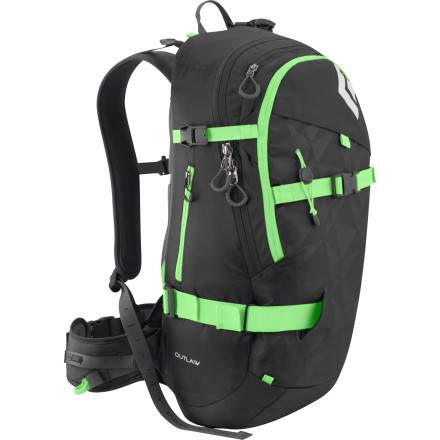 Whether you pulled the dawn shift on patrol or are just gearing up for a day-long backcountry tour, Black Diamond's Outlaw Winter Pack equips you with the essentials you need to stay safe and have fun outside the gates. Load up your snowboard or planks with vertical carry options before the boot pack, and stash whatever snacks you may need plus a camera in your hip belt stash pockets. You've got your avy-tool setup and know exactly where everything is thanks to a dedicated internal organizer pocket, and panel-loading access makes getting to your gear a snap.

ergoActiv suspension utilizes custom-shaped ball joint to attach hip belt to frame to allow unrestricted movement and comfort
Back panel access allows you to access your gear without removing pack
Insulated hydration sleeve means you have a supply of water to stay fueled on grueling stretches of vertical
Ballistic nylon withstands use and abuse for longevity
Love it so far
Familiarity:

I've used it once or twice and have initial impressions
This pack is a bit big for its planned purpose(winter day trips). That being said it is a great bag with all the features I wanted. I really like the back access panel. The pack felt pretty solid with skis strapped to it, and didnt bother me on the descent. The hydration sleeve is nice to have, but its a zipper along the strap so you have to either unzip the sleeve every time you want to drink (more difficult with gloves) or leave it unzipped. This pack easily fit all of my backcountry gear, and an extra layer. I could probably use this pack for an overnight trip if I didnt already have a larger pack. The construction of this bag seems pretty sturdy and durable.
Everyday backpack
Gender:

Male

Familiarity:

I've put it through the wringer
I was shopping for a durable dual purpose backpack and the outlaw nails it. I am a college student so I need a pack that can fit books, laptop, and school supplies. I also was looking for a pack with organization. I was skeptic when reading reviews complaining about too few pockets but I took the chance on it and found that there are plenty of pockets to keep all my school supplies organized. Beyond the classroom I was looking for a pack that can serve as a comfortable day pack in the summers and also for backcountry riding. This pack was definitely made for the winter backcountry riding but I find it to be the pack I grab on my day hikes. I don't think I could bring justice to the room in this pack. Not only have I taken this on day hikes, I have taken it on a couple overnight trips. The pack is definitely everything I was looking for and seems to be holding up just fine. If your looking for a spacious, organized, comfortable, and versatile pack look no further than the black diamond outlaw pack
Fit all of my requirements
Familiarity:

I've used it several times
I was looking for a pack with four main features: Ski Cary, H20 Compatible, back entry and ( being female) good colors/liked the look of the pack. (helmet carry and fleece goggle pocket are great + features) With my requirements it came down to this pack or the Osprey Kode. I chose this as other friends had the Kode and I wanted to be different. Ski Cary is very easy to use weather it is A frame or Sideways. Back entry is key when you have skis or gear on the pack. I used the snowboard carry for snowshoes and it worked with no problem. Also nice to have those additional straps for whatever you may want to put on the outside of the pack. With the hydration sleeve - it only fits a 2L bladder (pretty much the smallest they make) I also plan to use this pack for hiking in the summer so this will be an issue. I do get some rubbing on the shoulders when I am hiking in a tank top but it has not caused and skin breakdown. Somewhat concerned with ventilation for the summer hikes. The front pocket on the hip belt is not large enough to fit my iphone that has an otter box case.
Decent Pack but I Miss the Old Covert
Familiarity:

I've put it through the wringer
So my old Covert pack finally wore through the bottom and back panels beyond what duct tape can reliably and water-proofly accomplish. Talked to BD and they sent me the Outlaw for a good deal. Several months and quite a few adventures later and I've decided that while the Outlaw isn't nearly as good as my old Covert, it is still quite a great pack and I prefer it to a lot of the Osprey and Deuter fits. Some things I've run into: this pack gets a little warm during the summer. The back panel is long for the Large size and sweat is an issue as is sweating through the panel and into items (always always always put your maps in a Ziploc, even if they're waterproof maps). In the winter, the pack is in its element. The pockets are very well designed for all the avi tools, layering and everything else we need for the backcountry. Hydration sleeve is insulated. The ergonomic fit works really well in a high-repetition-movement sport like skinning up and and buckles up tight for the way down. I hauled out an elk quarter in this pack this last hunting season and eighty pounds seems to be about the maximum weight this pack is good for. With other loads I sometimes feel the "saggy butt" of this pack; it has a much lower bottom panel than the Covert and if you don't pack right things tend to settle below the bottom of the ergo frame. Not a terrible issue and keeps me on point with packing techniques. All in all a great pack but I will probably be looking at BCA for the next pack; this one seems to be wearing out a lot faster than my old BD pack as well unfortunately. I think I'll have this as a dedicated winter pack from now on. I love the stash pocket on the side as well as the top! BD is a great company and works with their products and customers as well.
Fit for an outlaw
Familiarity:

I gave it as a gift but have feedback to share
The pack is build like a tank. Made specifically with backcountry skiing/boarding in mind, from the buckles to the zippers, the outlaw is built to be tough. At 3lbs its not the lightest option on the market, but far from the heaviest either.



The ability to strap this pack down, or strap stuff to it is unmatched. Whether you are going for a quick dawn tour before work or a full day expedition this thing will accommodate. I have yet to do any rappels or climbs with my skis strapped to the back, but for science I did strap my skis to the back to see how it performed, and they weren't going anywhere.



On hotter days I did notice a bit of a hot spot on the back panel, lack of ventilation isnt a problem when its colder out but while wearing the pack with a jacket on it can get pretty warm.



The organization pocket for probe/shovel is very well designed, I wouldn't have it any other way.



Bottom line: Burly, dependable, and bomb proof. 10/10 would buy again.
Great Pack for Snowboarders or Skiers!
Familiarity:

I've used it several times
I was hesitant to buy this backpack for my backcountry adventures because I am a snowboarder and Black Diamond is mostly a ski company. However, I was pleasantly surprised with this pack. It can carry my snowboard (vertically only) and snowshoes which feel very light while riding down (very important to me).It has lots of straps which give you lots of options for carrying your gear. This pack as lots of room for avalanche equipment and other gear (Layers, Food, and Water). My favorite part of the pack is the Ergoactiv Suspension that works with your body and makes the pack very comfortable to wear while riding down or hiking up. I recommend this pack to anyone looking for a great backcountry pack that is built to last, makes to load seem lighter, provides overall comfort, and movement.
Black Diamond Outlaw Winter Pack
still putting it through the wringer
Gender:

Female

Familiarity:

I've used it several times
Decided on this pack after spending 5 days rotating through two other packs. The thing that I love the most and that sold me on this pack was the swinging arm hip belt. I will be using this pack in chaparral fields and between the ballistic nylon and the hit belt I should have no problem picking my way through the dense shrubbery. I have no intention of using this pack for its actual purpose (snow/ski) so the lack of ventilation in the back my become a point of annoyance. In addition to the top/split zipper access you can also access the main compartment via the back panel. The external straps are quite long but the pack is designed as such that the straps and buckles tuck into slots in the back of the pack. There is a compartment designed with sleeves to hold tools. I will most likely modify these into stash pockets so that I have more organization for pens and electronic equipment. The zipper toggles are great. They are rubberized and large loops making it easy to open with gloved hands. I have a short torso and though the s/m is still a tad long it fits just as well as a woman specific frame would. There is a helmet hamock built into the pack which will come in handy on my grocery runs into town on my bike. Great pack seems solidly built. I will see how the zippers hold out.



So it spent a summer doing some offroading into the Sierras and Cascades with me. It battled through more than its fair share of chaparral fields and has held up like a champ. Something I did notice and was somewhat disappointed with is that the back is not water resistant. The first day of light rain and everything inside the pack was wet (not great for the electronics I was carrying).