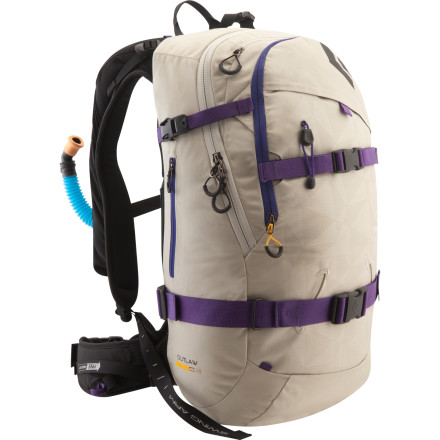 Videos

Community Images
Stash a day's worth of ski touring or snowboard gear and all your avalanche safety tools inside the mid-sized Black Diamond Outlaw Avalung Backpack. Besides a uniquely comfortable suspension system and both front and back panel access, this bag boasts a built-in Avalung system. Avalung improves your post-burial survival time by helping you breathe fresh air beneath the snow should you get caught in an avalanche. The Outlaw is the ultimate do-it-all backcountry backpack for sledding, skinning, or extra-long laps from the cat or heli.
Built-in Avalung system significantly extends your fresh air supply in case you're caught in an avalanche and buried beneath the snow
Fresh air is pulled from the valve box by your shoulder and through the Avalung mouthpiece, and when you exhale, CO2 is expelled from the exhaust port by your waist
Avalung mouthpiece and tubing stow away in the shoulder strap when not in use, but are easy to reach so you can extend the mouthpiece just before you drop in
Ski carry options include a diagonal ski carry cable that retracts when not in use and an A-frame carry system
Padded, adjustable SwingArm straps are linked on the bottom with a cable so they move in concert with any body movement
Padded, adjustable ergoActiv waist-belt uses a ball-joint to attach directly to the frame so it can pivot as you move and angle the weight to your legs
Hydration sleeve allows you to use a hydration bladder to stay hydrated, and the insulated design keeps your water from freezing solid
Enclosed shovel and probe organizer pocket makes it easy to find your entire avy tool kit quickly, and the enclosed design protects your essentials
Other features include a HiLo helmet holder, a fleece-lined goggle pocket for extra goggles, and PickPocket adaptability so you can carry an ice tool in your avy-tool organizer pocket
keeping it together
Gender:

Male

Familiarity:

I've put it through the wringer
Right off of the bat I'll let you know i don't have the newest model of this BD outlaw avalung pack I have an earlier one form 2012 and have used it over 150 days. The materials on this pack have really held together. I haven't had any rips,busted zippers, or broken clips. The internal frame is good but don't toss it in the car empty and pile stuff on top because it will tweak the frame. The shovel, probe, and ax pocket is a little on the small side so if you have an over sized shovel or one where the handle doesn't fully collaps it may not fit; however the pocket is nice to keep the sharp and possibly wet gear away from the rest of it. This pack has plenty of room in the main pocket for all you will need on a pretty substantial day. On the average day I stow 2 liters of water (call it excessive) some snacks, black diamond skins, extra gloves and hat, extra layer, gopro, bit if rope, and first aid. With all that inside one pocket its hard to keep from loosing the small things to the bottom. The avalung itself has never been put to the true test in an actual burial and I hope to keep it that way but if it ever does I hope it gets me through it so I can write a review for you.



ps: my sister wrote a review on hers below fairly different perspective.
Pros and Cons of Outlaw Avalung
Familiarity:

I've put it through the wringer
Cons:

1. This pack is relatively heavy for its size. Due to the internal Avalung (which you may not want/feel is necessary on all tours), you end up carrying a significant amount of extra weight for the size of the pack.

2. This pack doesn't maximize carrying capacity. For the weight, you really can't store much in this pack. I find that after my Avy gear and water is in, I have to pick and choose between snacks, layers, extra gloves, and a snow study kit... I definitely can't fit it all, which is frustrating.

3. It needs more pockets/compartments. Tiny things get easily lost in this pack since it doesn't have good small pockets to store things.

4. The google pocket is too small. It is a great place to smash your googgles.

5. The chest strap doesn't lock down if there is any snow in it. If you accidentally forget, and set your pack in loose snow, forget about strapping that down until you either fish it out, or melt it out. This leads to some really floppy backpack runs in the back country sometimes and it is frustrating.

6. The ski/snowboard carry usually block access to the zippered pockets. You basically have to wait to get things out until you take them off unless what you want is right on top.

7. It doesn't have any locations/space for an ice axe, rope, pro, etc so it doesn't make a good ski mountaineering pack.

Pros:

1. The helmet carry is fantastic! Instead of letting your helmet swing and flop around, it is stowed nicely in a snow free carry area when touring.

2. When the buckles work, it fits nicely to your body. You can cinch this backpack down pretty tightly with the waist and chest strap. I am a 5'9''ish woman and I found that the M/L fit me quite well.

3. Zipper functions well, even in snow. Although I prefer cinches to zippers, I've never had zipper problems with this pack as they are pretty heavy duty.

4. The ski and snowboard carry give you multiple options that hold the board/skis really tightly when properly adjusted.

5. This pack does give you backdoor access. It unzips in the back which allows your to get things from the bottom without fishing if you take your pack completely off and set it down.

6. The ergoActiv and padding makes it fairly comfortable to wear for long periods of time.

7. There is a water bladder and insulated area of the hose and mouthpiece. I would only recommend that option in the spring though, because your hose is still likely to freeze even with the insulation.

8. Last but not least, the AvaLung is a good piece of equipment that could save your life and definitely costs less than other options.
Could be improved upon
Familiarity:

I've put it through the wringer
There are many pluses for this pack...the suspension is great (don't even notice that it's on both uphill and downhill), it's not overly bulky and not so small that you're squeezing and stuffing everything you need in it, skis strap in easily and don't shift/move much for hiking. I'm 5'6", 125 lb and the S/M fits fine on me, once I've got it cinched down, it doesn't move or shift around when I'm moving and I barely notice it's there. Biggest downfalls are 1: could use a few more smaller compartments...snacks, motrin, dry socks, etc. 2: the goggle compartment sucks. I feel like I'm having to squeeze my goggles in which results in scratched lenses. While they're making the goggle compartment a tad larger, it'd be awesome if they also could include a tiny little separate sleeve to slip those replacement lenses in. Good bag, does it's job, could be worked up a bit though.
Great Winter Touring Pack!
Gender:

Male

Familiarity:

I've used it several times
Great Back country pack. I have the 2013-14 model. I've used it about 30 times split boarding. It fits great, doesn't bug me when riding. I think it is organized well. The avalanche rescue pocket works great for my gear.



Some reviewers say the helmet holder gets in the way of the avalanche pocket but that is not true. The avalanche pocket is just as accessible with or without a helmet in the harness. There is no interference on my pack. You need to connect the helmet holder to the base of your pack, not the top!



There is a spot for a water reservoir but its too small for me. I put a BCA radio in mine. Its a great addition to your kit I recommend.
Outlaw Avalung pack on the Perfect Glc.
Sorcerers Lodge, BC
Too big for a petite
Gender:

Female

Familiarity:

I've put it through the wringer
I am 5'3" with a relatively short torso and this pack was insanely uncomfortable on me. It never quite fit right, nor could I properly cinch it down with any degree of comfort.



The pack was bulky and difficult to ski with.

I used this for 3 seasons - and I wonder why I wasted so much time. I recently purchased a women's specific pack and it is significantly more comfortable and it fits properly.



While this pack is great and functional - it is not ideal for petite people. I absolutely hated skiing with this and just assumed skiing with a pack on was hard and awkward.



Do yourself a favor and find a pack that properly fits. This one is not a good choice for smaller riders.
Could use more organizational features.
Familiarity:

I've used it once or twice and have initial impressions
Considering the lack of belt height adjust ability I like the fit of the pack. It sits about right on me, but I have a short torso for a tall guy at 6'3". Belt straps are long and have no way to tuck them in so that is a minus here. I like the good sized belt pocket (some packs are to small to put an energy bar in and this is big enough for at least 2, big plus here in my opinion. One of the weak points is this only has two compartments, one for the avalanche gear (shovel, saw, probe, and just barely enough room for your skins). The other pouch is one large compartment for clothing and other stuff. There is a goggle pocket which is nice and a vented pouch in the main compartment. What would be nice to have in these bags in a dry compartment for cloths. At this point I just use a dry bag but it would be nice to have a separate compartment.

Another weak point is that when you use the helmet straps it blocks you from getting into the pocket with your avalanche gear, this is BIG HUGE minus in my opinion, and a serious design flaw. Time is or can be of the essence and the helmet strap isn't really easy to take on and off not to mention it will just roll/slide down the hill if you do when you're in a hurry. The second weak point is the main compartment is where you put your blatter if you use one and this should be seperated and ideally sealed if there is a leak. Not to mention the pouch for the bladder is a bit small and not really designed to work with any of my Camelbac bladders, my smaller Nathan running bladder works ok because it is smaller but there's no easy way to hang the bladder properly in the pouch. My opinion they should at least design a bladder to fit. Big minus points here again. I hesitate giving this 3 stars it probably should be 2 stars. I am going to keep the pack only because of the built in Avalung, which I hope works if I ever need it. I am not sure there's anything better out there but I would recommend that you look around.
Awesome Pack
Familiarity:

I've used it several times
I really like this pack. Weather I'm out chasing polar bears or shredding nar bar ridge in some psychedelic backcountry this is the pack that i want to be sportin.



In all honesty, this pack is great. It fits nice and snug, and has plenty of room. Its not too bulky and is fairly light given the avalung. My only 2 complaints are: 1) I wish it had a small compartment to stow snacks or small items. 2) I wish it had a way to better secure my poles on the outside of the pack. Therefore I give it a 4 star rating.
I am curious what size of hydration reservoir...
I am curious what size of hydration reservoir fits in the, seemingly small, hydration sleeve. If someone has a recommendation (preferably Osprey with the spine) I would appreciate it.
I can fit my Osprey 3L in without any issues.

EDIT: I don't think I put it in the actual sleeve however, just loose in that same compartment.
Pleasant surprises and disappointments
Familiarity:

I've used it several times
I shopped around a bunch for a new bc ski pack this year and the Outlaw Avalung came out on top in terms of features, weight, and price. Now that I've used it a bit I've found some things I really like and others that aren't so hot.



First, I use this as a larger bc ski bag. I carry it when I am out by myself and want some extra safety gear and when I am out in more demanding terrain/conditions.



Here's what I am really digging:

The suspension is awesome. I thought it might be gimmicky, but you can really feel the pack move with you while both climbing and descending. It's one of those packs that you forget you have on.



The backpanel access is great. It gives you access to the entire compartment, but doesn't extend so low that you risk losing any parts of your kit. I like the velcro and zipper combo as I find the velcro useful for temporarily closing the pack (like while changing into ski mode on a windy day).



The snow safety pocket is generous and will fit skins even when carrying other standard gear.



Here's the nitpicks:

The stinkin goggle pocket opening is too small. It's really tough to get your goggles inside and you may scratch them on the zipper. Also, the goggle pocket becomes compressed by the shovel handle/probe when loaded up. I've switched to keeping goggles in the main part of the pack and food in the top pocket.



The drinking system could be improved. First the insulated area for the hose is too small to put a L shaped valve on the hose. You'll need to find one that is in line with the tube if you want to close off the water supply. Also, the water bladder sleeve is too small and a.) compresses the bladder so that your water is pressurized and b.) presses against the back panel and may create a popping sound while the panel pushes against the bladder.



Overall, it's a sweet pack and would be amazing if it weren't for a few small design issues.
So far so good
Familiarity:

I've used it once or twice and have initial impressions
Used this for a few preseason tours and I'm really happy i choose this pack. Its got tons of room to carry all your gear, easy front and rear access into the pack and spacious and organized snow tool pocket.



The ergoActiv waist-belt is an awesome bonus too. It makes the pack move with you and makes touring and riding with a pack more enjoyable.



Awesome pack I look forward to using all season.
Black Diamond Outlaw Avalung Backpack
Outstanding Pack for Splitboarding
Gender:

Male

Familiarity:

I've put it through the wringer
Great size for daytrips in the backcountry. I carry a fairly extensive emergency kit (1st aid, tools, parts, bivy sack, poop kit, etc.), 1.4L Nalgene, Thermos, food, goggles, extra puffy layer, misc. small stuff (glove liners, sunscreen, etc.), sometimes misc. mountaineering gear (short rope, biners, ice axe), a full snow-study kit, snow saw, and full avy gear. This pack fits it all very nicely.



I upgraded to the Outlaw from the Dakine Pro II and I've been really happy with the extra space. The Pro II is also a great pack but you can really see the mountaineering background in the BD product. The splitty rides great in tour mode as skis A-Frame-style, and fairly well in vertical board carry style.



The only small complaint I have had so far is that the goggle stash is a bit snug, but it's not overly vexing.



The avy tool organizer pocket is outstanding. I roll with my probe, shovel handle, and saw in the sleeves and my shovel blade and study kit in front of those. Great fit.



Another stand-out feature is the swing-arm hip belt. Comparatively it's a huge upgrade both while touring and while riding.



I'm already plotting to grab a Anarchist for multi-day trips and hut tours.



Cheers.